This crunchy pastry is served in Persia typically at
Persian New Year (Nouroz) or Ramadan.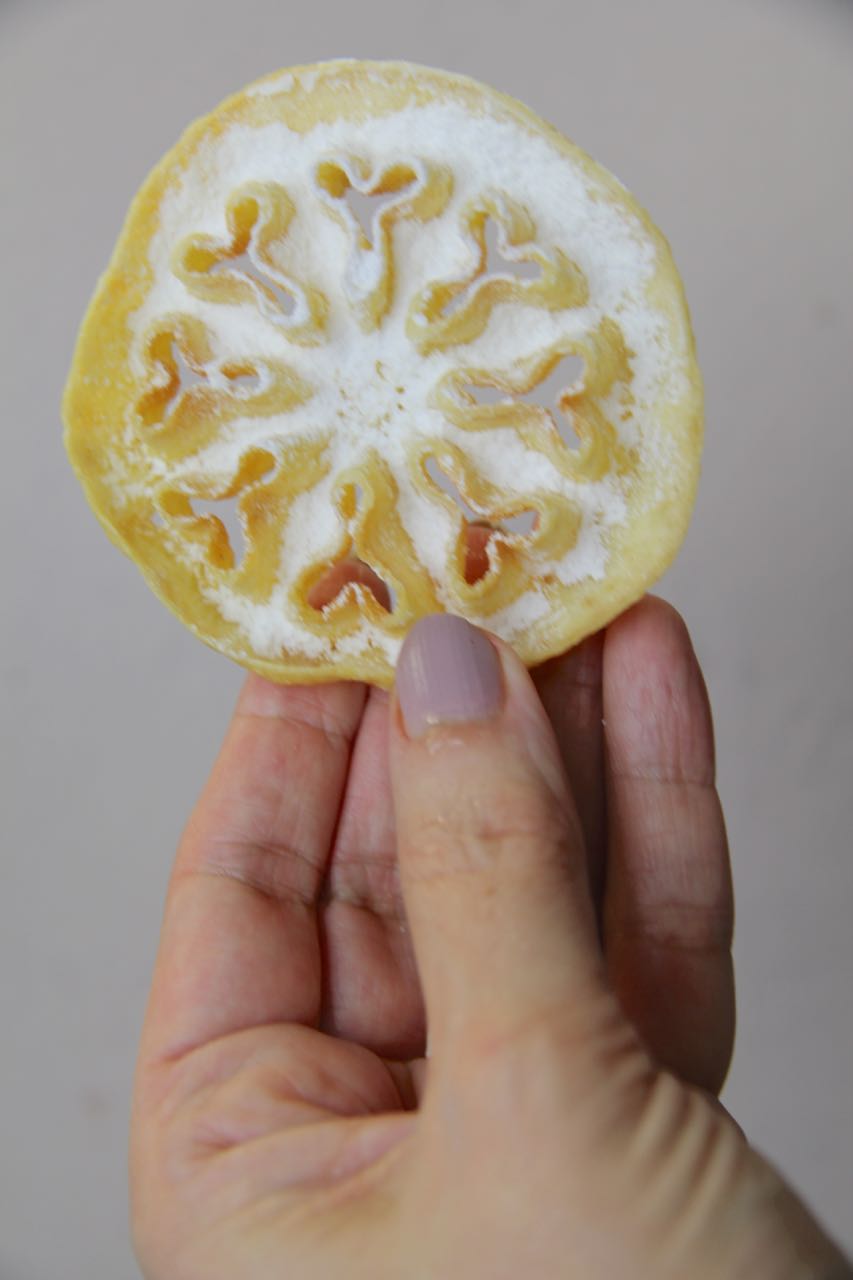 In scandinavia they like to eat this at Christmas time.
To me they taste yummy through out the whole year.
Now we have carnival and we like to eat deep-fried pastry.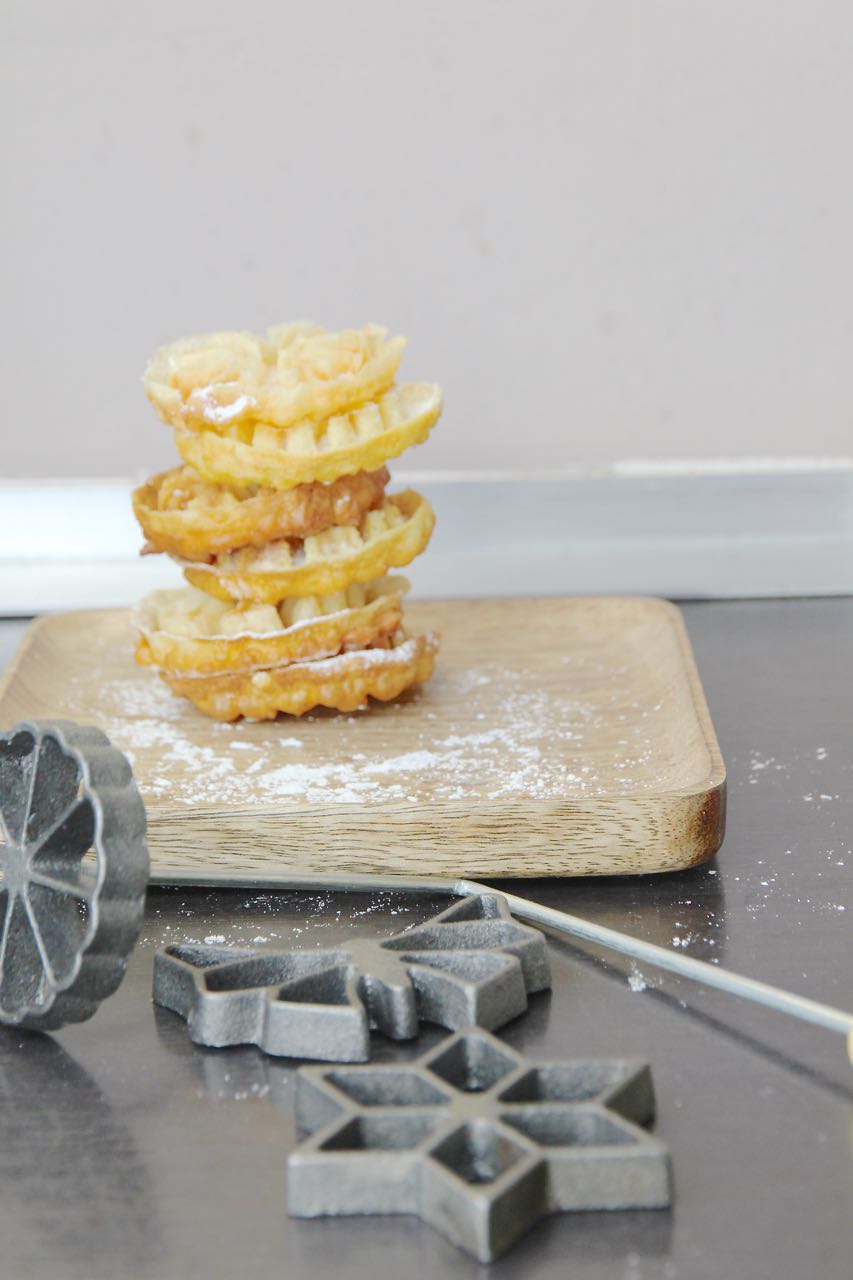 For this recipe you need a special rosette iron,
which you can purchase at a well assorted  hardware shop or via Intenet.
My iron has three different designs.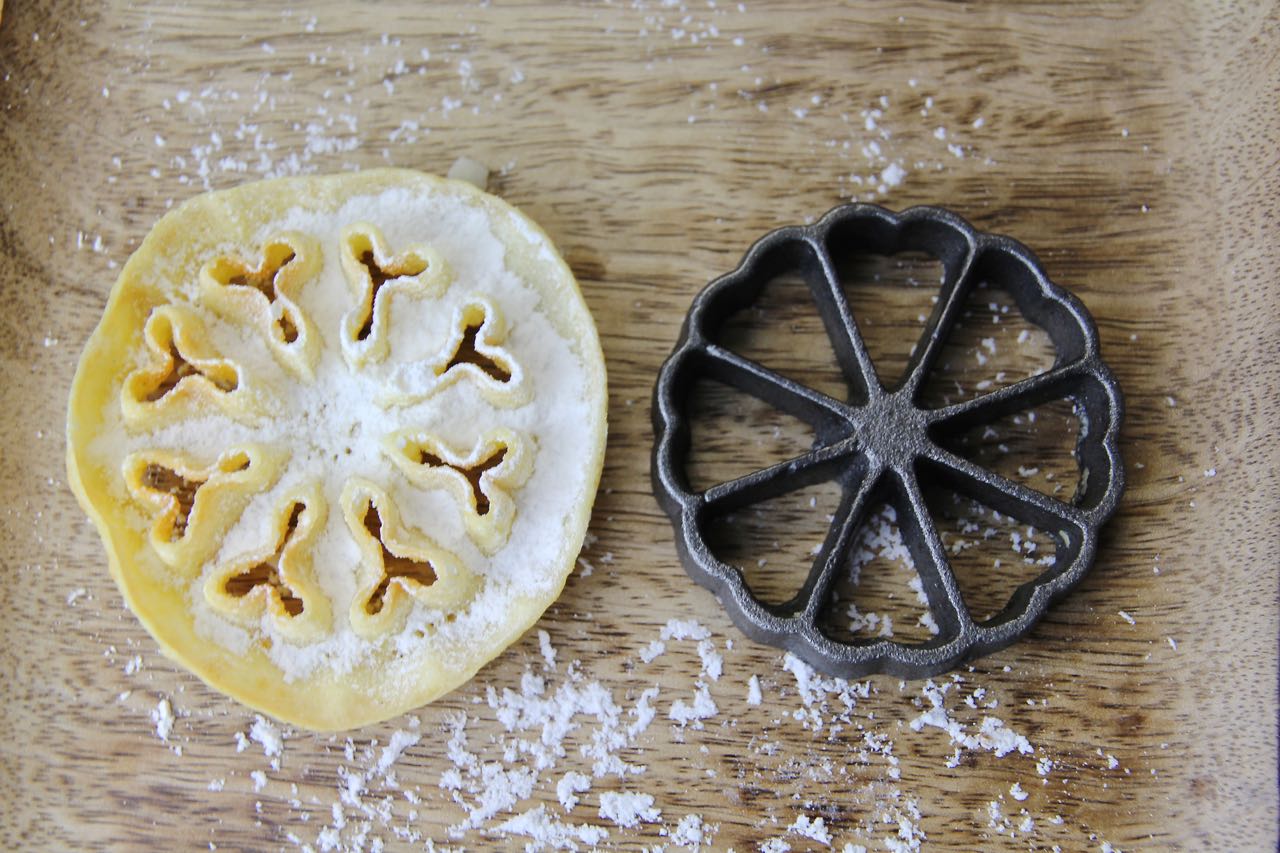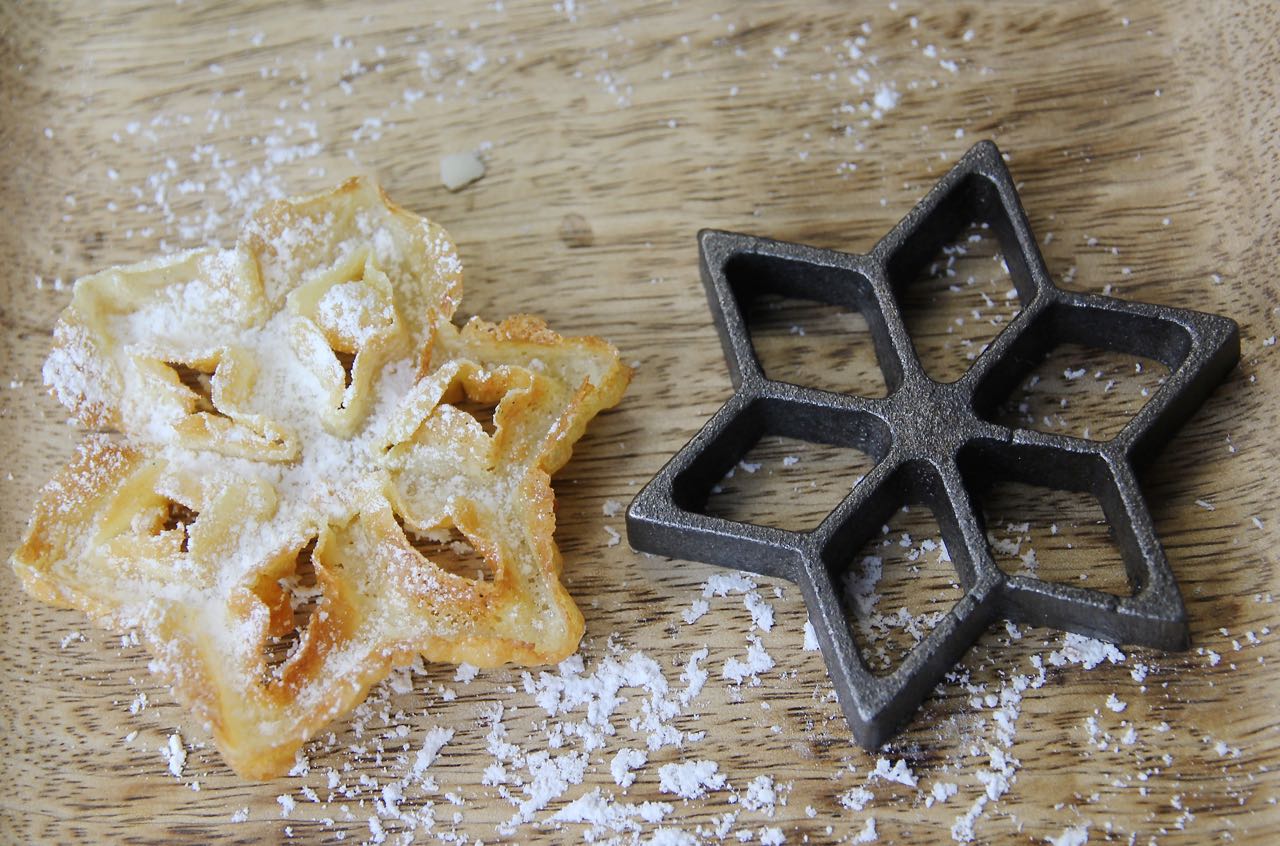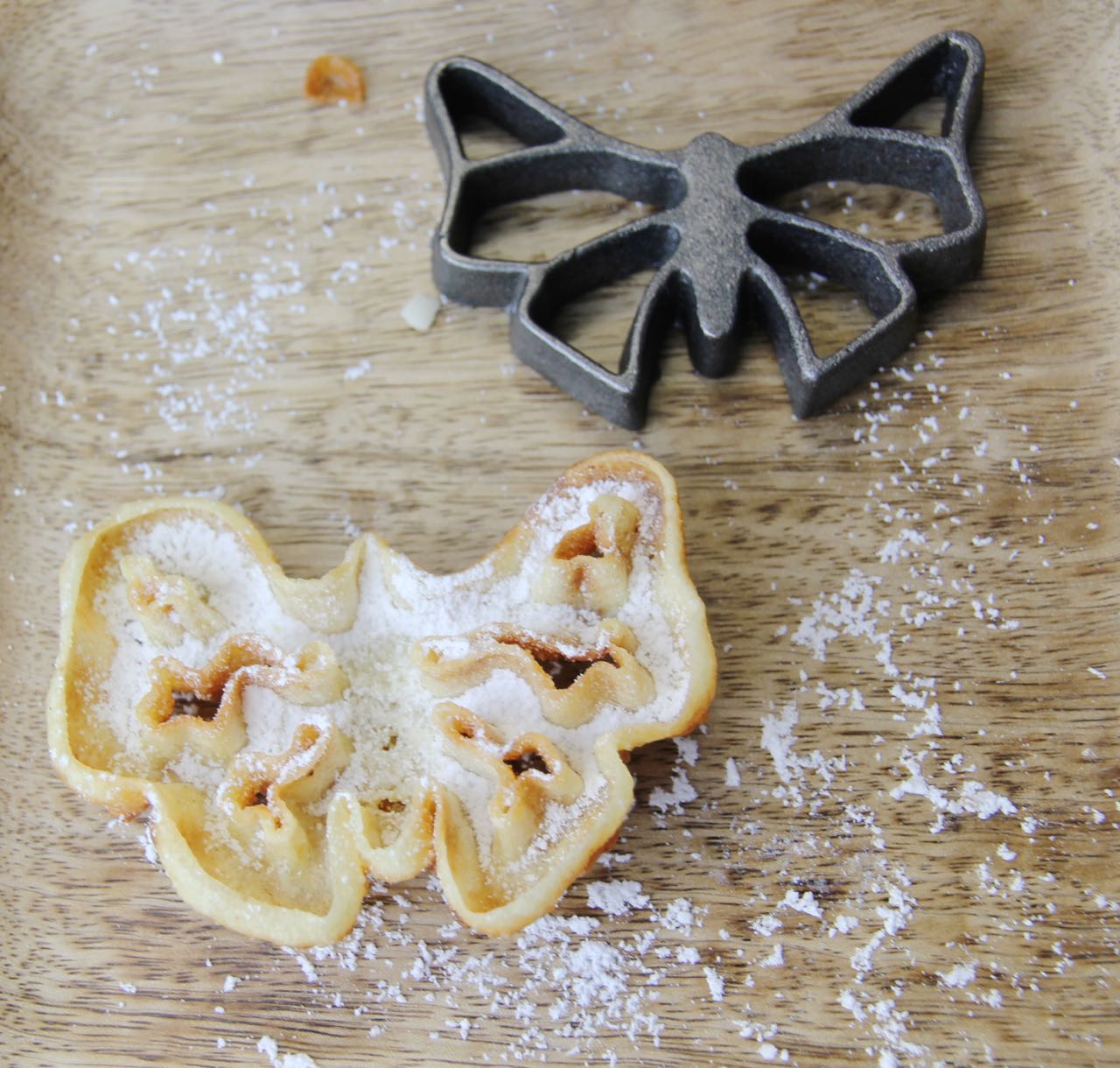 I tried all three of them and my favorite is the first one above with the hearts.
I even imagine they taste better.
Hihi! A feast for the eyes.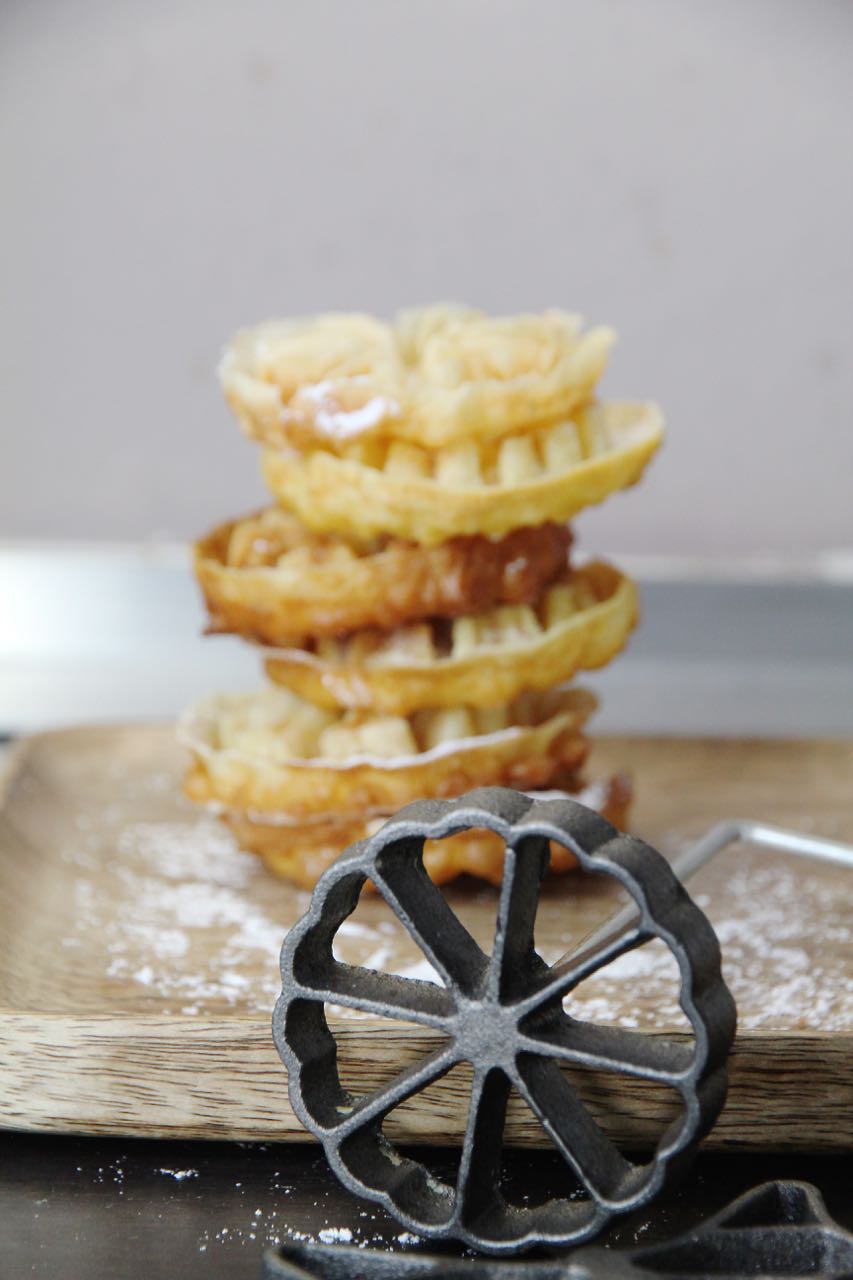 Ingredients
For the first bowl you need
1 Cup of sifted cake flour (rice flour)
1 Teaspoon ground cardamom
1 Teaspoon sugar
1 Teaspoon starch
For the second bowl you need
1 Cup of milk (coconut-, oat- or almond milk)
2 Eggs
1 Teaspoon rosewater
1/2 Vanillabean, scrape out the seeds
powdered sugar for sprinkling
4 Cups of vegetable oil (coconut oil) for baking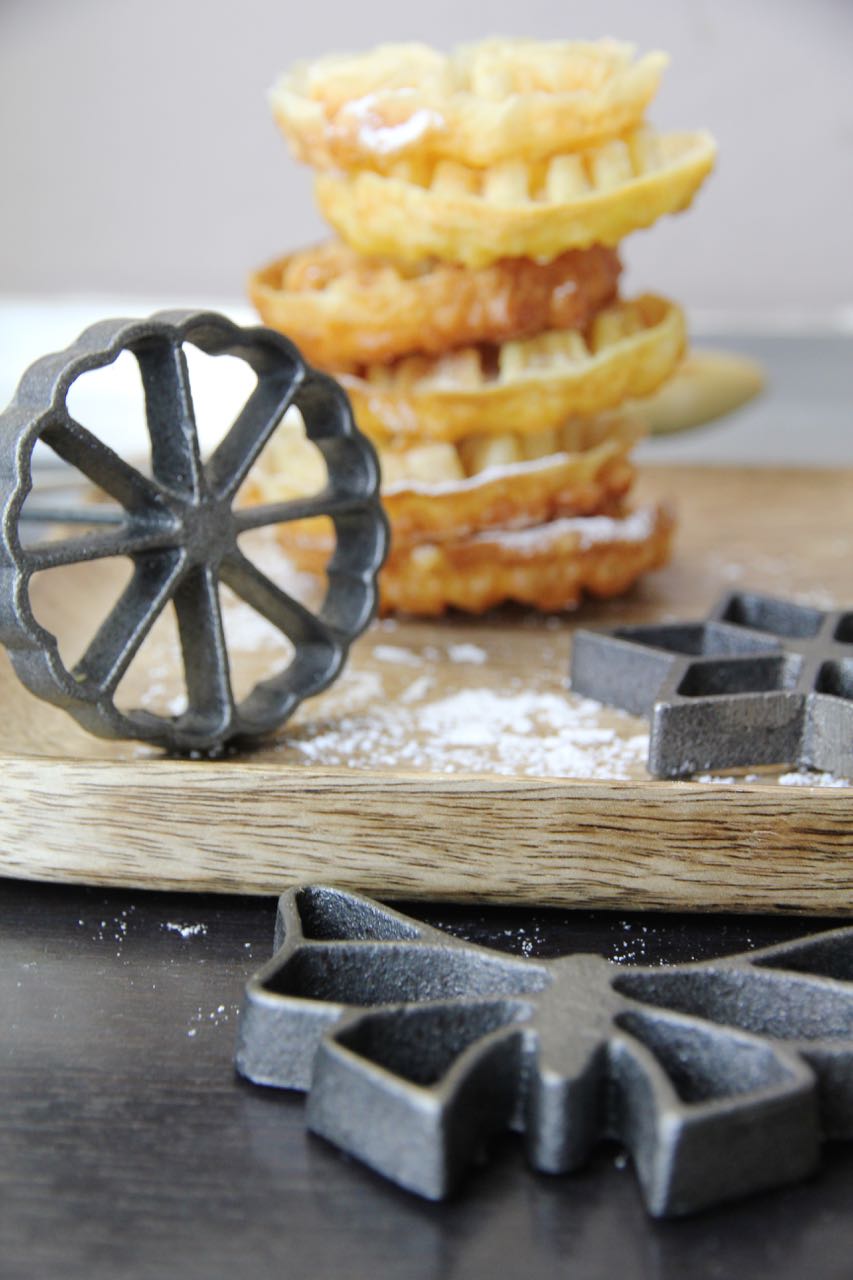 Preparation
You need two bowls, one for the dry ingredients and one for the moist one.
In the first bowl
Sift the flour 3x times and
mix with cardamom, sugar and starch.
In the second bowl
beat the eggs.
Add milk, rose water and the seeds of the vanilla bean
and mix well.
Combine the Ingredients of the first bowl to the second
until obtaining a homougenous batter.
Is your batter too firm add some milk.
Is it too liquid add a little flour.
In a small heavy saucepan fry the oil up to 365°F/180°.
The oil should not be overheated, but it has to be hot enough.
First immerse the iron rosette with handle attached without batter into the hot oil.
Let it throughly heat up for about 2 minutes.
Shake off excess oil and dip iron into the batter.
This is really important:
Please don't cover the whole iron with the batter, otherwise it will stick
all over your iron and has no chance to slide out into the oil. 
Dip the iron into the batter to cover only up to 3/4 of the sides
and  immerse in the hot oil.
Now it's getting exciting 🙂
Watch the batter developing, WOW, this is so awesome :)))
The rosettes will slide off your iron by themselves if you just shake it a little bit.
Look at them swimming in the oil.
As soon as they are golden brown fish them out with a flat ladle
and leave them on paper towels to remove excess oil.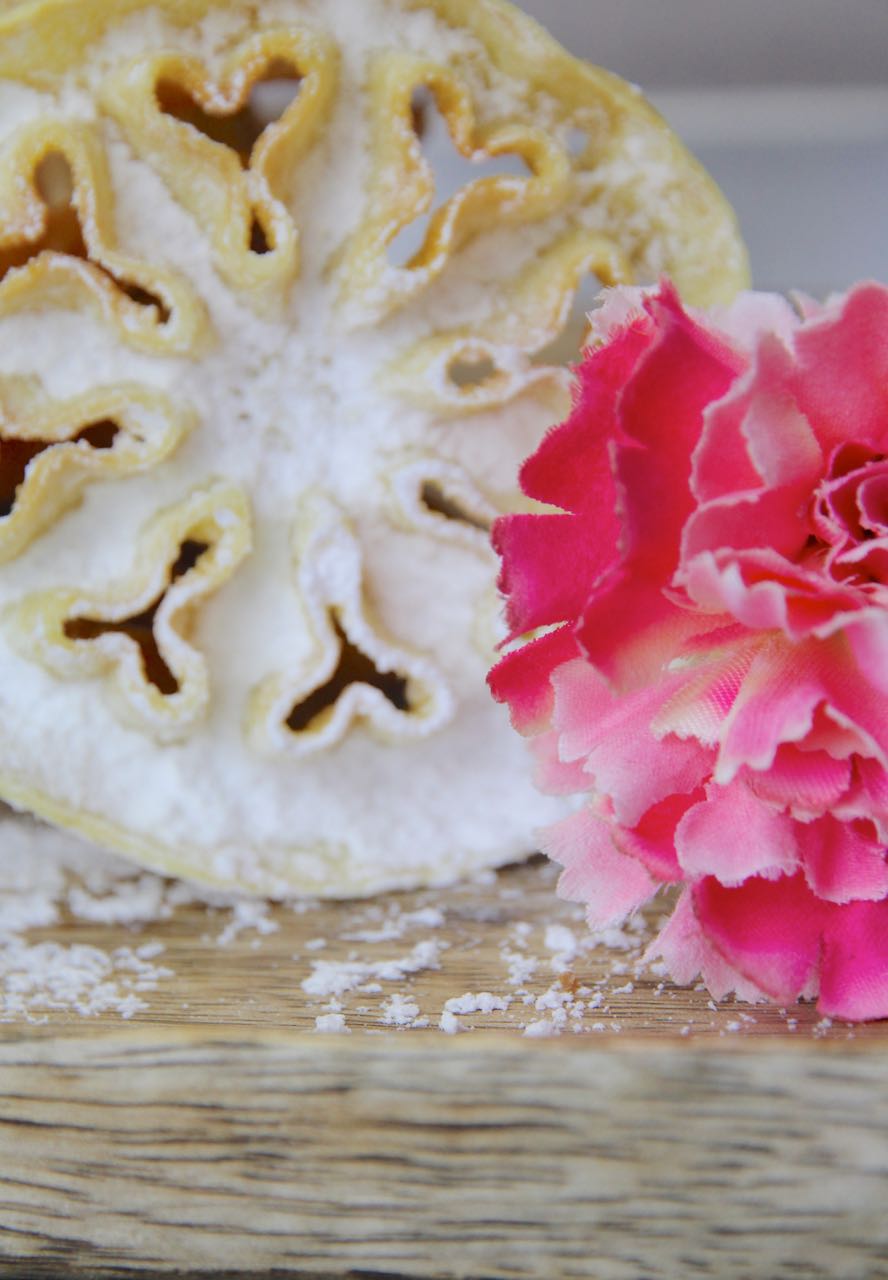 They simply look fantastic and taste great.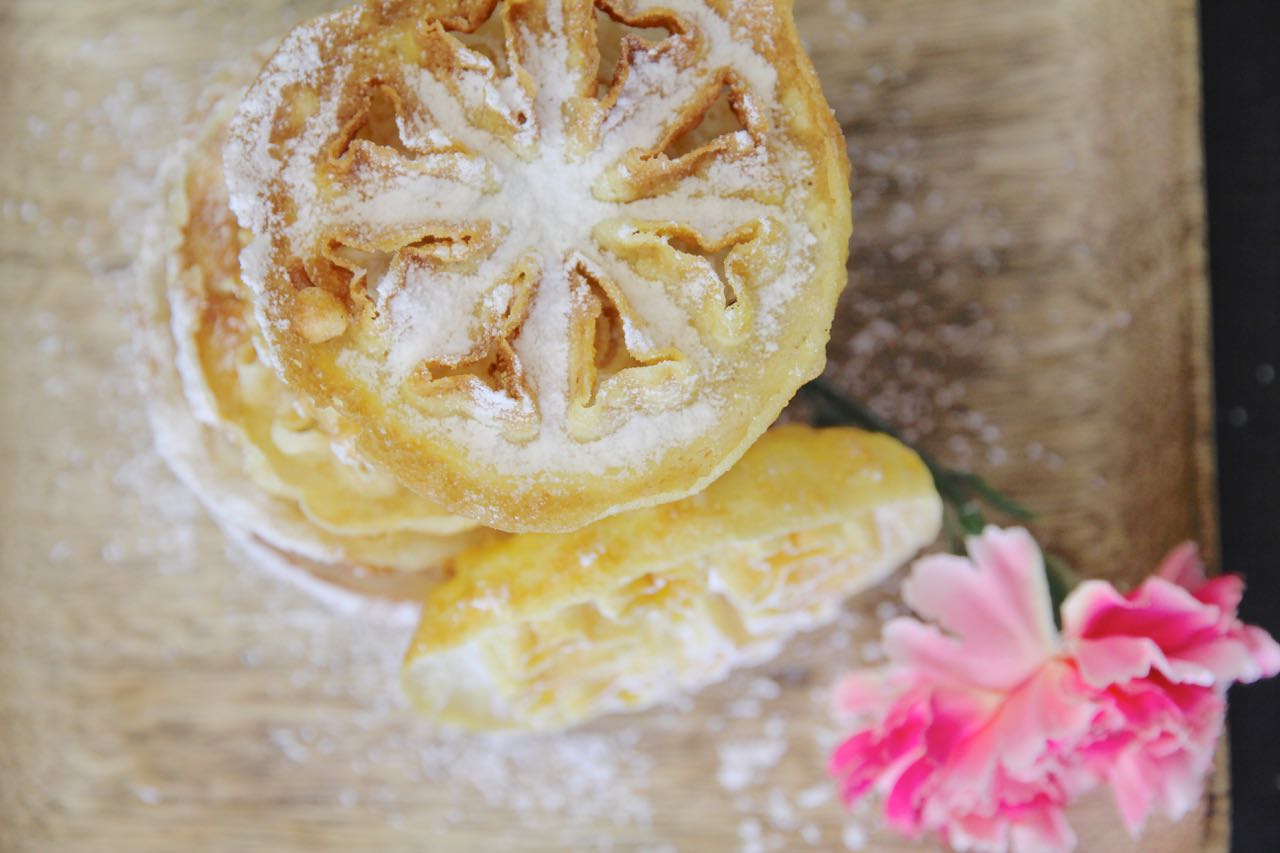 Sprinkle the rosette with powdered sugar.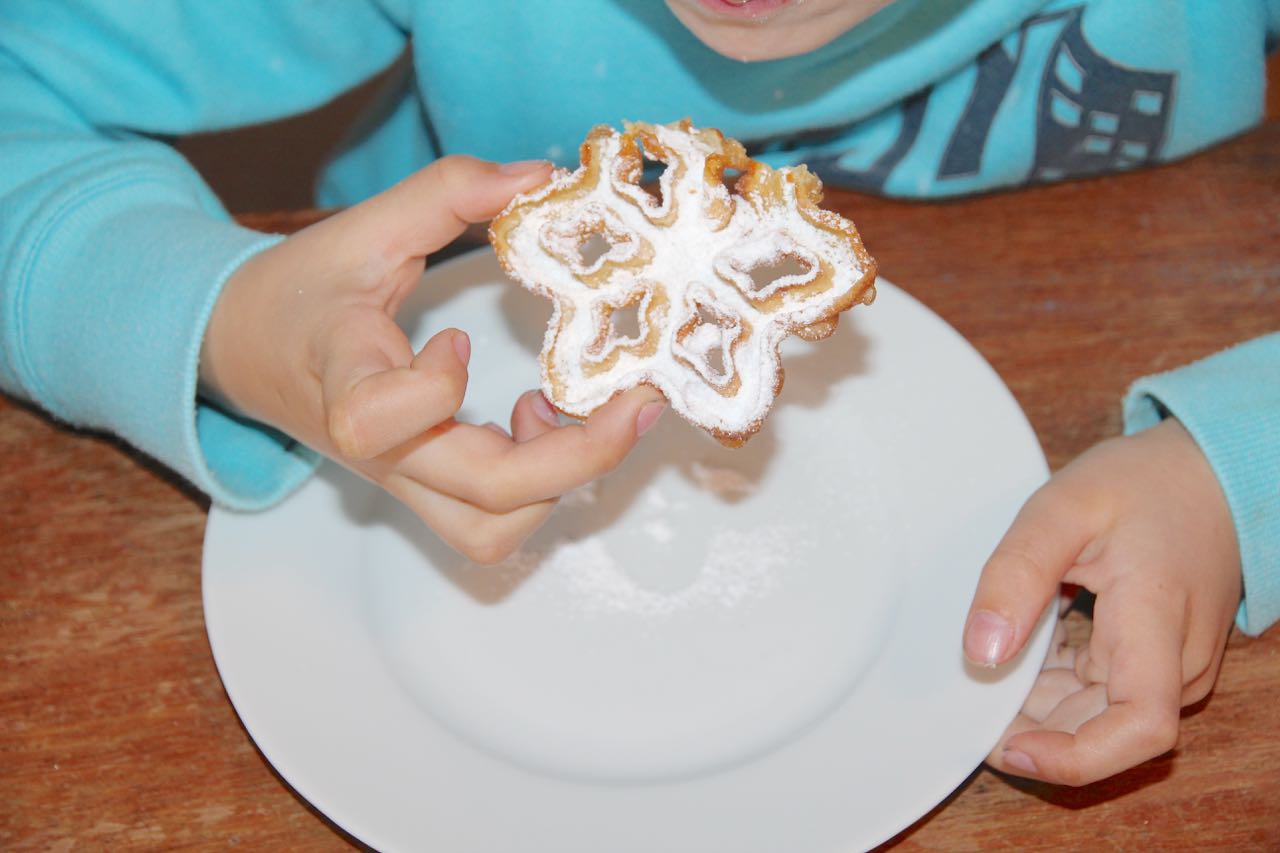 The crunchy rosettes are ready to bite in.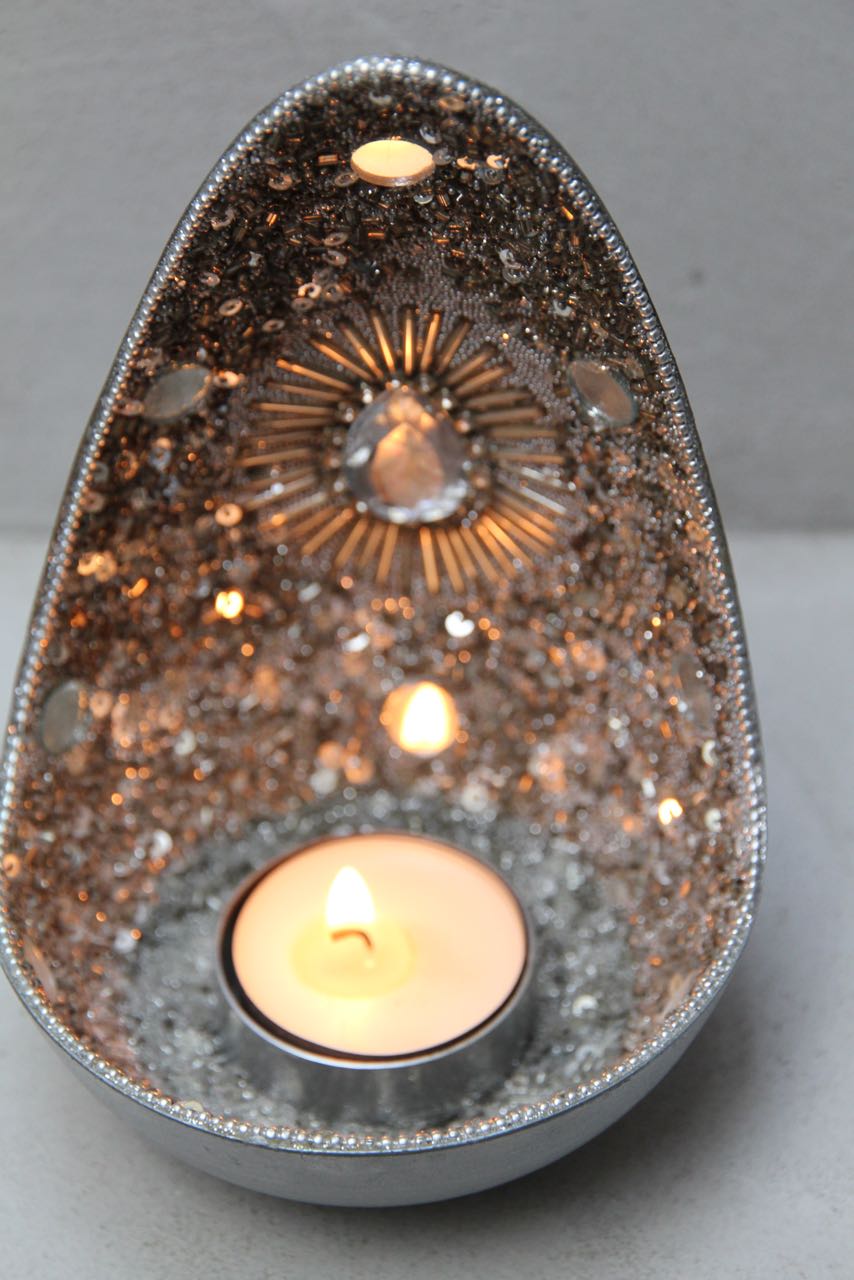 HEART <3 LIGHT
Susan