Morabaye Chagale Gerdoo – Green Walnut Preserves – مربای گردو is translated as Green Walnut Jam. Buttery soft, these black caramelized walnuts tastes so sweet and nutty. It is a specialty from the city of Jolfa in northwestern Iran. The jam is best eaten for breakfast together with Bulgarian sheep cheese with Nan-e Barbari or Lavash. Green walnut preserves are not only beloved in Iran but also very famous and popular in Azerbaijan, Greece and Germany, especially in the Pfalz area. The caramelized walnuts have been very popular in Greece since ancient times due to their medicinal benefits and are called Karidaki Glyko. The people of Pfalz know them as "Pfälzer Trüffel" or "Johanninüsse". This unique delicacy is highly appreciated in gourmet cuisine.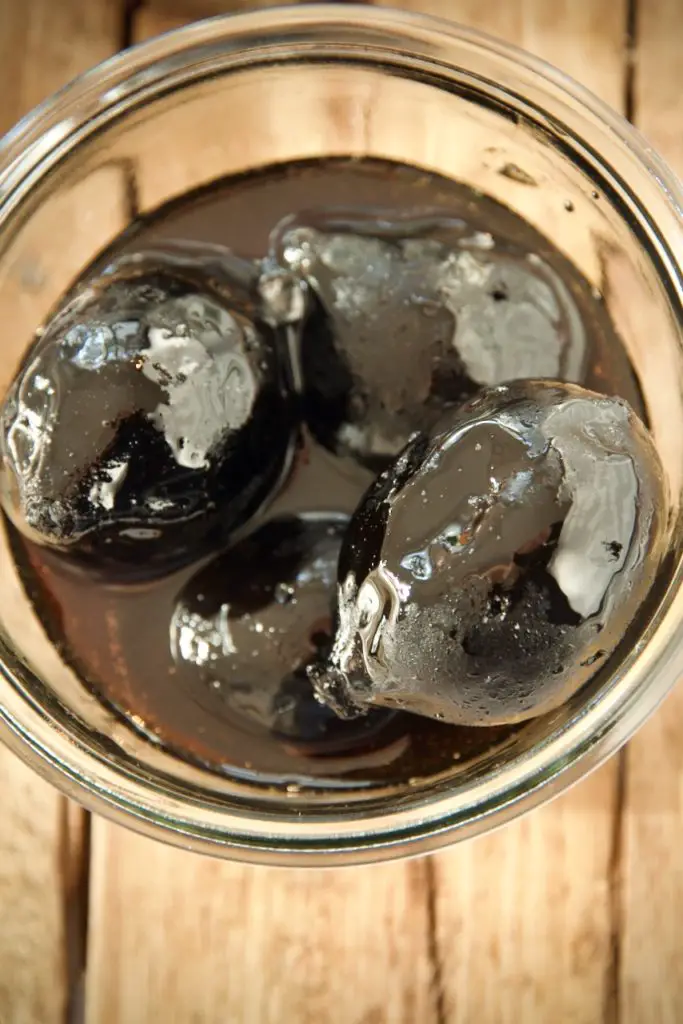 HARVESTING UNRIPE GREEN WALNUTS
This exceptional delight is made from unripe green walnuts, harvested in the second half of June or, preferably, directly on St. John's Day on June 24. During this time, walnuts reach a milky stage of ripeness, the shell is still soft, and a hard kernel has not formed yet. I harvested my unripe green walnuts myself very fresh in a friend's garden. The shell of the unripe walnuts should be so soft that you can easily pierce them with a needle or a toothpick. If you can't prick them, the walnuts are too ripe, and the inner shell has already formed and become hard.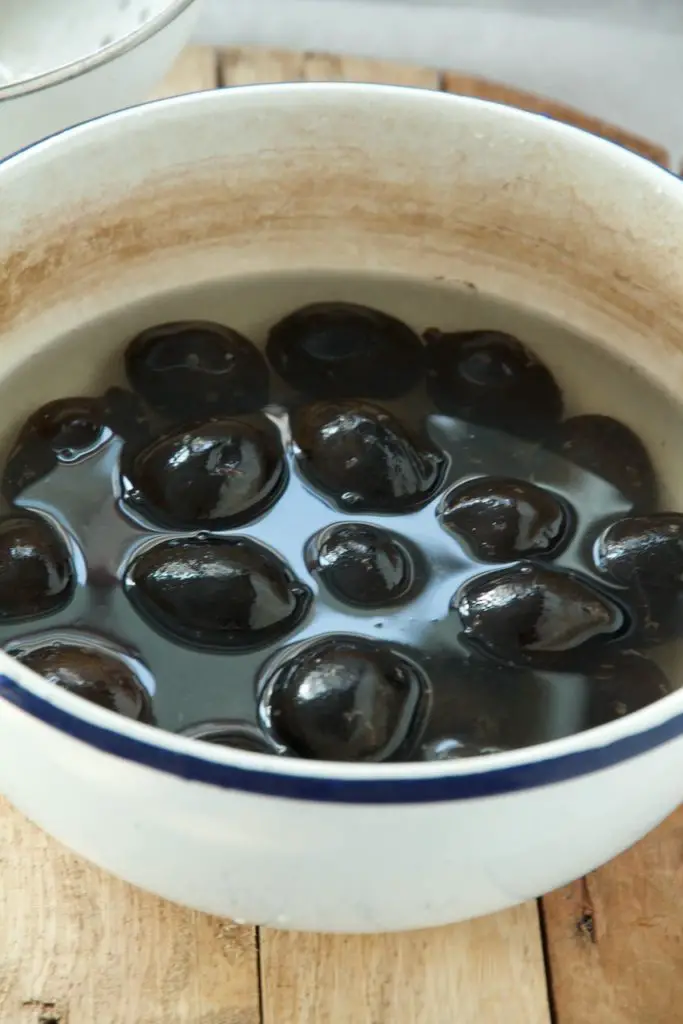 SOAKING GREEN WALNUTS
When preparing walnuts, wear gloves; otherwise, you will walk around for weeks with brown-black stained hands. The tannic acid in the walnuts is responsible for this staining. The green walnuts are washed well and then pricked with a needle. In Iran, the shell is sometimes peeled with a peeler and then watered. This way, they only need ten days until they can be processed further; after that, they are also first pricked and cooked. In my version, the peels stay on and the walnuts are soaked in cold water for 2-3 weeks after pricking.
The water turns brown quickly in the first week and should be changed 2x daily. At the same time, the containers and the nuts should be thoroughly rinsed under clear cold water. From the second week, it is enough to change the water only 1x daily. By soaking, the tannins dissolve, and the walnuts thus lose their bitter taste. Mine turned black after three weeks, and I boiled the black nuts in sugar syrup. They should infuse for at least six months; enthusiasts even let black walnuts ripen for up to two years. So making them is a bit time-consuming, but easy and worth the effort.
TIP: Don't use any enamel jars; mine are spoiled and can't be cleaned. Or maybe you have a suggestion for me, how do I get my bowl and my strainer clean again?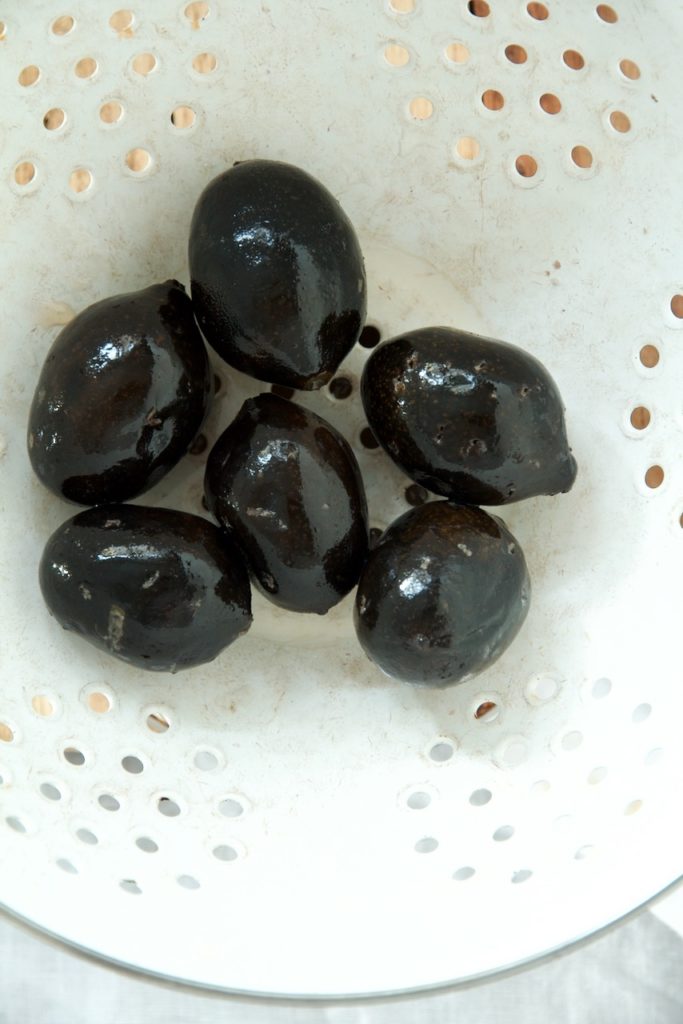 GREEN WALNUTS SOAKING WITH CALCIUM HYDROXIDE
In Persia, green walnuts are occasionally soaked in calcium hydroxide, better known as quicklime or milk of lime. I avoided this procedure and used lime juice. I would like to explain why quick lime is used in Iran. Calcium hydroxide, E 526 or milk of lime, is a calcium-containing mineral used for preservation. It is pretty harmless when appropriately used, alkalizing and even increases the calcium level of green walnuts. It also regulates acidity, removes the bitter taste and is even allowed in organic products. In addition, it has an antiseptic effect that prevents the growth of bacteria and mold.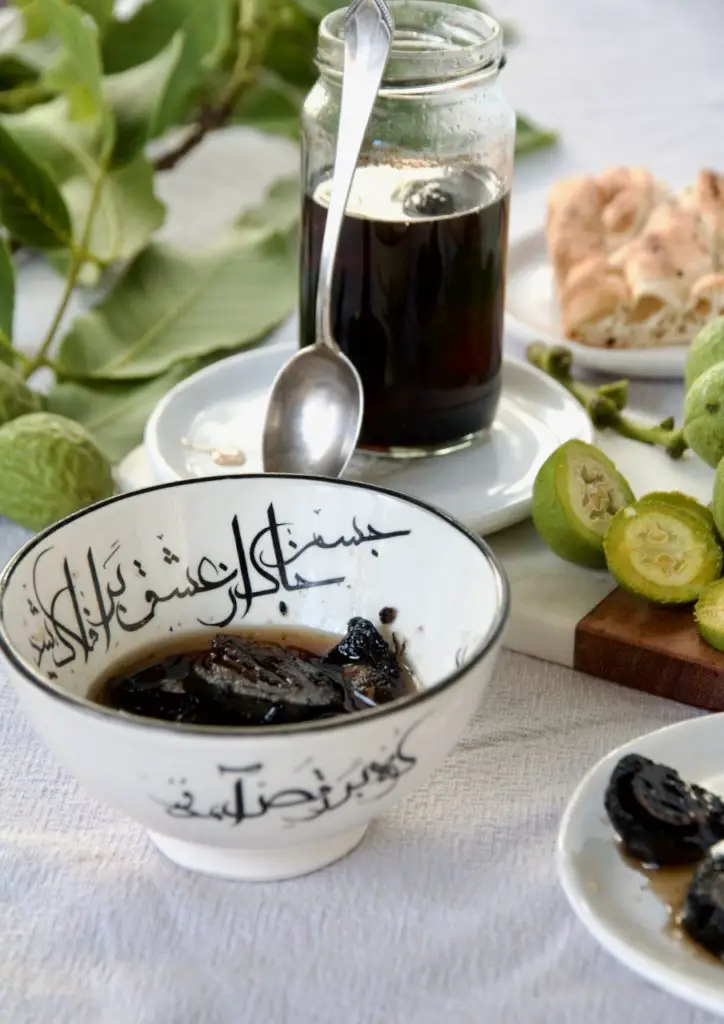 WHAT TO EAT WITH GREEN WALNUT PRESERVES
We eat them in Iran for breakfast with Bulgarian sheep's cheese on flatbread. Green walnut preserves are also excellent as a stuffing or garnish for wild dishes, like wild boar, rabbit or roe deer. A version with the saddle of venison is well rubbed with the nut syrup and juniper and braised slowly in the oven. Season the black walnuts with balsamic vinegar as a sauce base and serve it with stock to accompany the wild dish. You can serve them as a side dish with vegetables, such as spinach or chard. Sliced black walnuts also taste great with a cheese platter. They also go very well with sweet desserts such as pudding, cottage cheese or fruit. In Iran, we like them very much with vanilla ice cream and top them with syrup.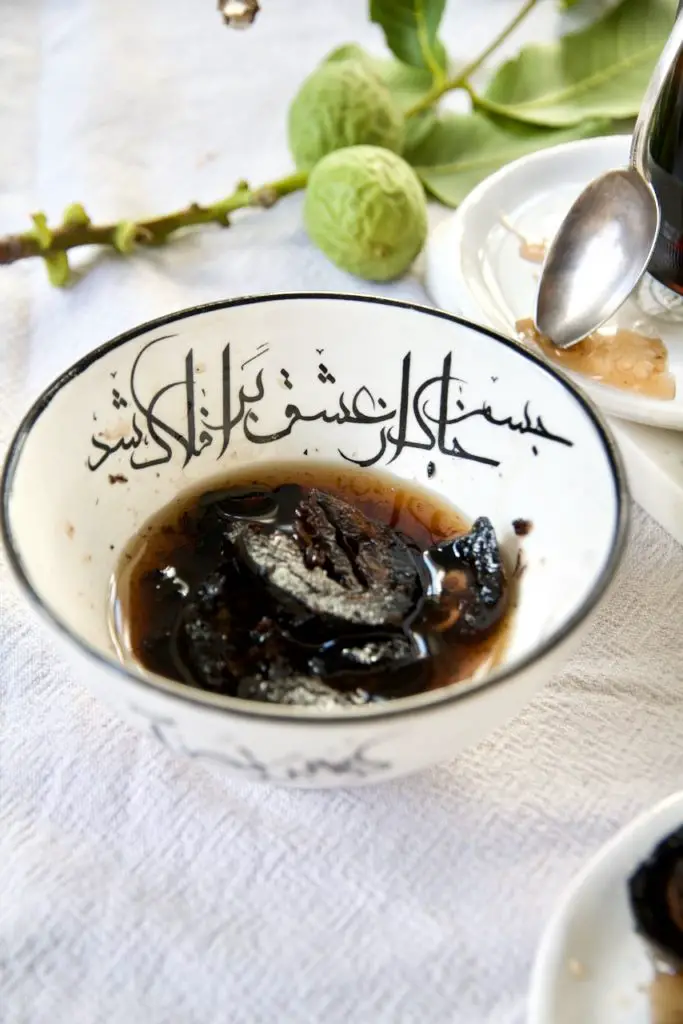 HEALTH BENEFITS OF GREEN WALNUTS PRESERVES
In Teb-e Sonati a health science from Persia, green walnut preserves have warm qualities. They are very healthy and nutritious, having high vitamin C (twice as much as a lemon), iodine and B vitamins. They are also rich in microelements and minerals such as magnesium, calcium, iron and zinc. Other special effects are their blood-forming and purifying or performance, concentration and nerve-strengthening properties. The amino acids in the nuts strengthen the heart system, for which 1 -2 black nuts should be consumed daily. Due to their fatty acids, they have a cholesterol-lowering effect and are also said to be anti-cancer. In addition, they act against parasites in the body and promote de-worming. The oils from black walnuts also help with various skin diseases, such as acne and herpes.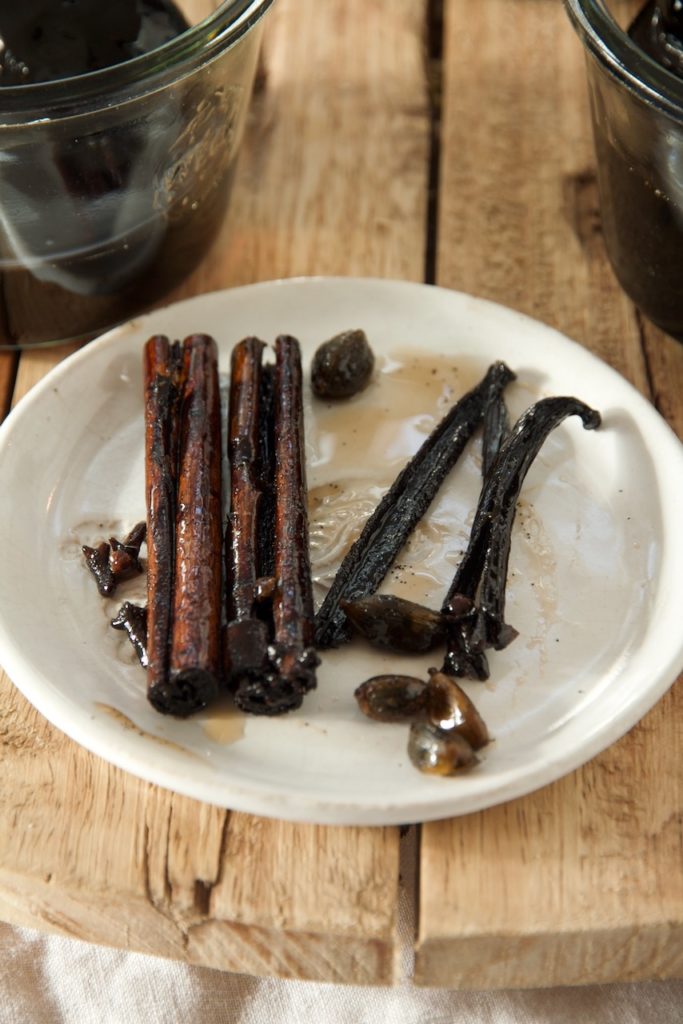 INGREDIENTS GREEN WALNUT PRESERVES
1 kg green walnuts (about 30 pieces)
500 g raw cane sugar*
800 ml water
1 tablespoon lemon juice
INGREDIENTS SPICE MIXTURE
4-5 cardamom pods*
5 cloves*
1 vanilla pod*
SOAKING AS PREPARATION
Put on gloves, as the tannins in the nuts will turn your hands black. Wash fresh green walnuts thoroughly and prick all around with a needle. Place them in a bowl and fill with water. The first week change the water twice a day; I did it once in the morning and once in the evening. The water is initially quite brownish to black, and after about three weeks, it remains clear. From the second week, change the water only once a day. Repeat this procedure for 2 – 3 weeks to remove the tannins and bitter substances, so your green walnuts do not taste bitter later.
The walnuts will float on the surface; first, you can weigh them down with a plate and a whole can. Mine took three weeks before they turned black, and the water stayed clear. Finally, pour boiling water over the green walnuts; after about ten minutes, transfer them to a kitchen strainer and rinse with cold water. In this way, the last remains of the tannic acid are removed.
PREPARATION GREEN WALNUT PRESERVES
After three weeks, first, prepare the sugar syrup. For this, bring the sugar and water to a boil. Add the spices, except for the lemon juice, to a tea/spice strainer* and boil until the sugar is completely dissolved and the mixture is clear. I kept the walnuts in whole; some people slice them or quarter them. Add to the sugar syrup along with the lemon juice and simmer for another 15-30 minutes until the walnuts are soft but not mushy. Pour into mason jars. The green walnut preserves should be well covered with syrup. Seal the jars airtight and store them in a cool, dark place. After the jar is opened, the green walnut preserves will last the longest in the refrigerator.
Tip: serve chilled from the fridge.
BEFARMAYID!
Susan
The items marked with * are affiliate links, referral links. If you buy through this link, I get a small commission. The price stays the same for you and you can easily support my efforts. A big thank you ♥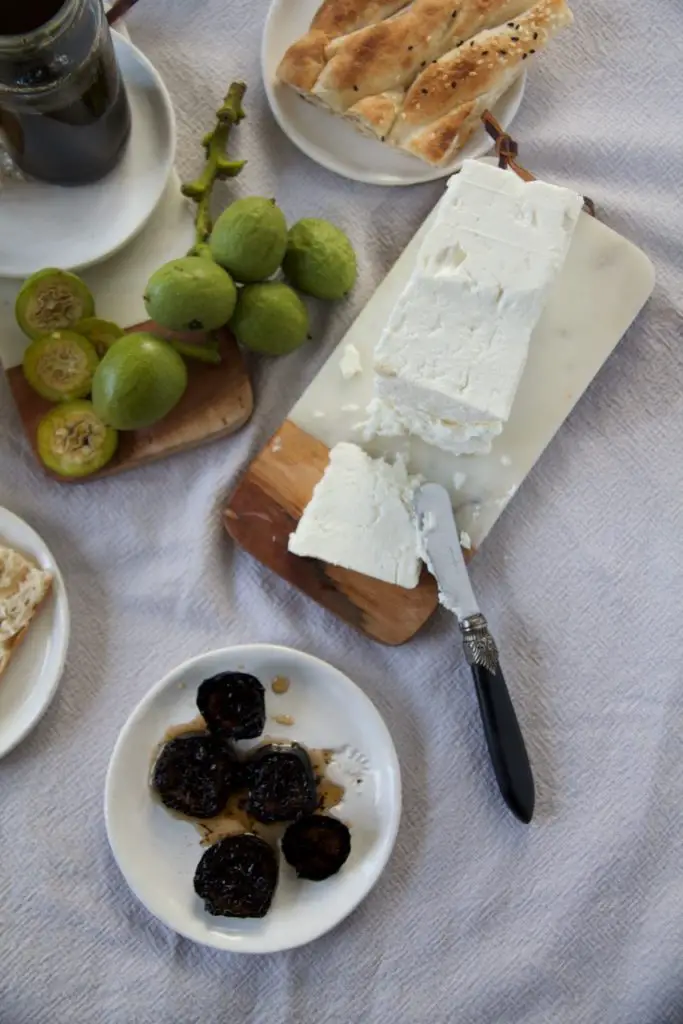 Save the recipe for later on Pinterest!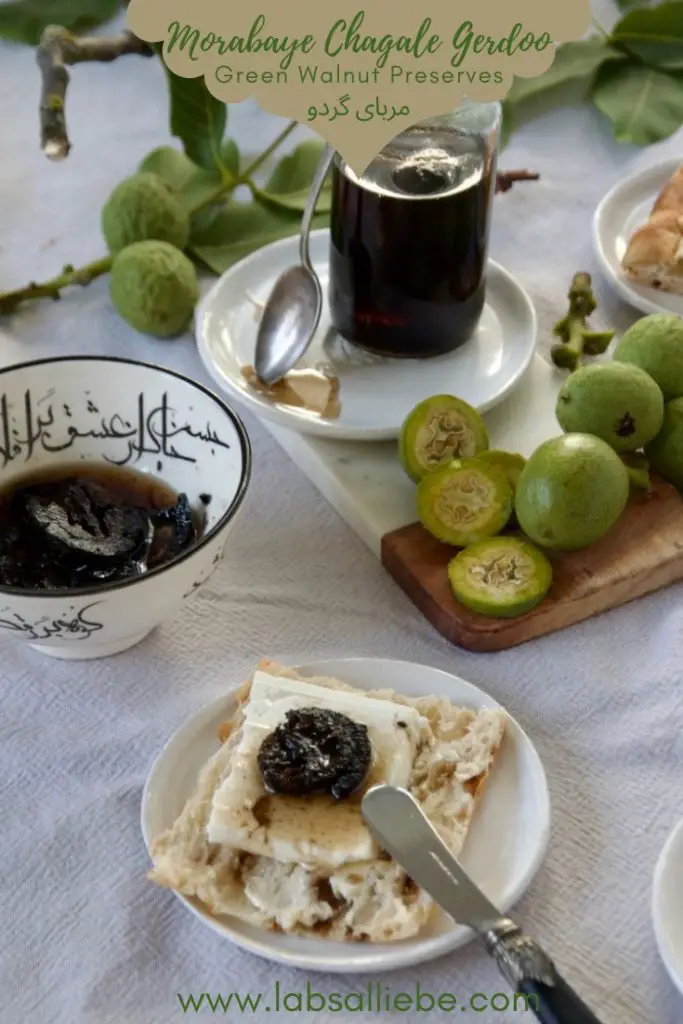 Have you cooked this or maybe another delicious recipe of mine? Feel free to leave me a comment below. If you tag your picture on Instagram with @labsalliebe  and use the hashtag #labsalliebe, I won't miss a post and will be happy to leave you a comment as well. Can't wait to see your creations.
♥♥♥♥♥♥♥♥♥♥♥♥♥♥♥♥♥♥♥♥♥♥♥♥♥♥♥♥♥♥♥♥
This website is created by me in my leisure under proper use of coffee 🙂 If you like my posts I would be happy if you donate me one or a few cups of coffee!
♥♥♥♥♥♥♥♥♥♥♥♥♥♥♥♥♥♥♥♥♥♥♥♥♥♥♥♥♥♥♥♥♥♥♥♥♥
Sign up for my newsletter and I'll email you my latest recipes, travel reports and trends 1 at most 2x a week for free.