Shirini-e Ghifi – Persian Cream Horns شیرینی قیفی خامه ای are a fluffy treat and a simple pastry made from puff pastry. With this recipe, a touch of nostalgia for Nowrooz blows into your kitchen. The crispy baked Cream Horns are filled with creamy rosewater-vanilla-cream and melt in your mouth. The best part is that although they look sweet, they aren't. They are slightly sweet and yet just irresistible. Serve them along with other sweets on holidays like Nowrooz and at weddings. They are easy and quick to make, and an eye-catcher on your festive table. If you've never tasted Cream Horns, you should do it!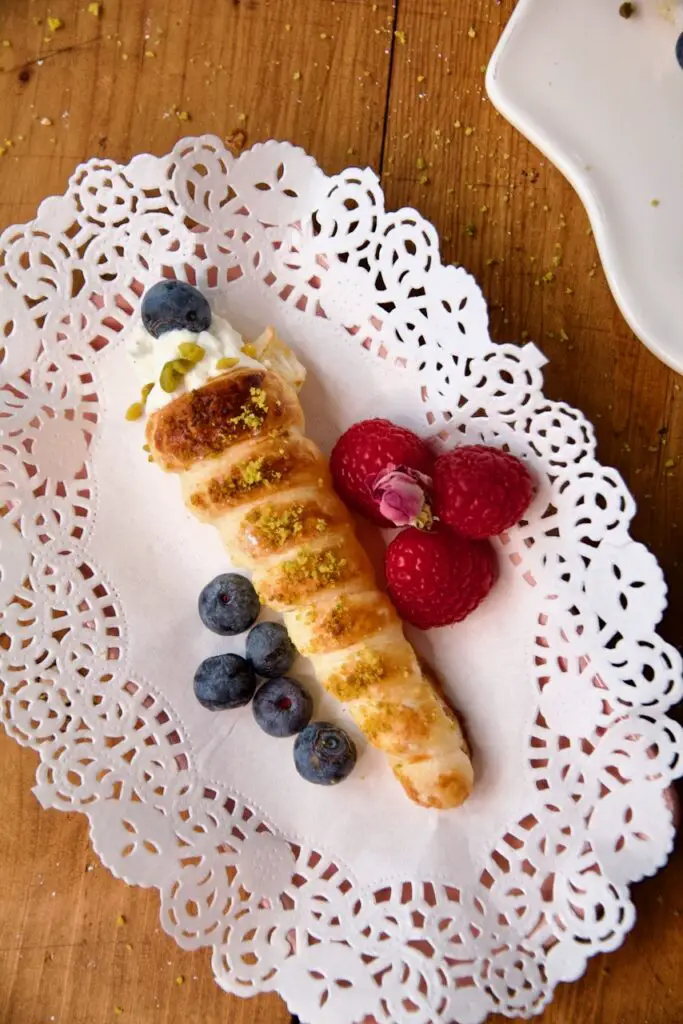 SHIRINI IN TEHRAN
My mom is a super cook, but baking was not hers. So she always bought cakes and sweets from the bakery. Most of the pastry shops in Tehran offer different types of Iranian sweets among Baghlava, Ghotab, Cake Yazdi (muffins), Shirini-e Zaban, Shirini Keshmeshi, and other Shirinis. After new pastries and cakes with cream came into fashion, things changed. Cream pastries quickly became one of the most popular sweets offered in bakeries. In Tehran, Armenians are famous and well-known for their baking skills, which also introduced Iran to the high art of patisserie.
When mentioning Hans Bakery in Tehran, memories of the past instantly come to mind for most Iranians. Located in an Armenian neighborhood in Tehran, the bakery is one of the most famous Armenian bakeries with classics like Shirini Ghifi. Especially on Nowrooz, the bakery used to be full of sweet shirinis, and it was most famous for its cream pastries and the most creamy cakes. On Nowrooz and Christmas, we used to buy these little sweet treats in the small and lovely Armenian bakery, the most delicious dessert of my childhood. To get this treat, we had to call ahead and reserve some. The bakery is even existing in the same place today.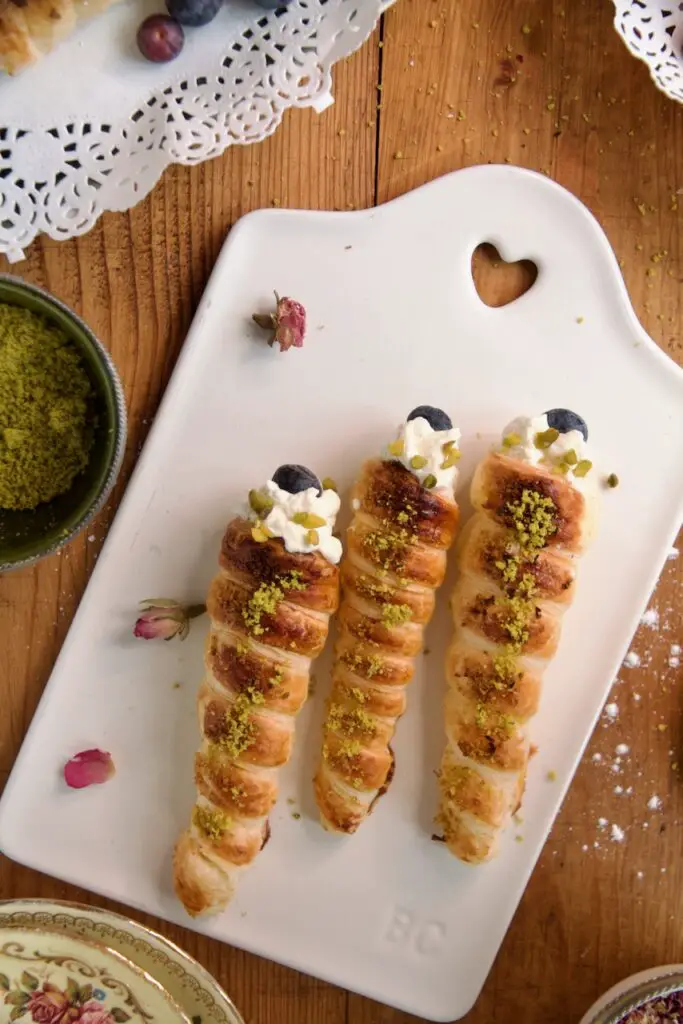 SCHAUMROLLEN OR SCHILLERLOCKEN
In Germany and Austria, they are also known under the name Schillerlocken. This pastry was inspired by the curls (Locken) of the German poet Friedrich Schiller. For this recipe, you need Cream Horn molds, or make your own out of aluminum foil. Flavor the cream with vanilla or rose water, depending on your taste. I also like to add some chopped pistachios to the cream.
TIP: Freshly baked, you can store the Cream Horns without filling for one to two days. So they are perfect to be prepared up to two days in advance for a party. You can freeze and defrost them as needed and then fill them with the cream. It's a fantastic dessert you'll always have on hand when guests arrive. Once filled, they should be consumed immediately or stored in the refrigerator for up to a day.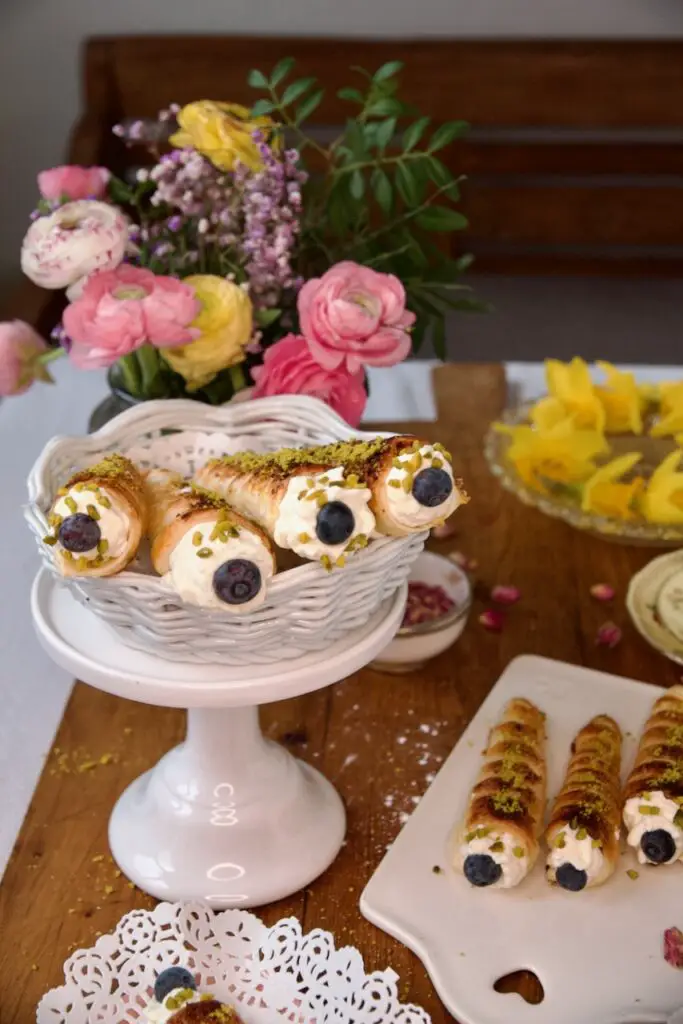 CREAM HORNS SWEET OR SAVORY
The cream horns are a pastry based product. Since they are baked without sugar, they are suitable and can be used for sweet and savory fillings. Today I have a sweet version for you, but try them with my Salad Olivieh and sprinkle the horns with light and dark sesame seeds. It's a treat, that is all I'm saying. You can prepare my recipe both in the oven and in the Airfryer* degrees and minutes remain the same.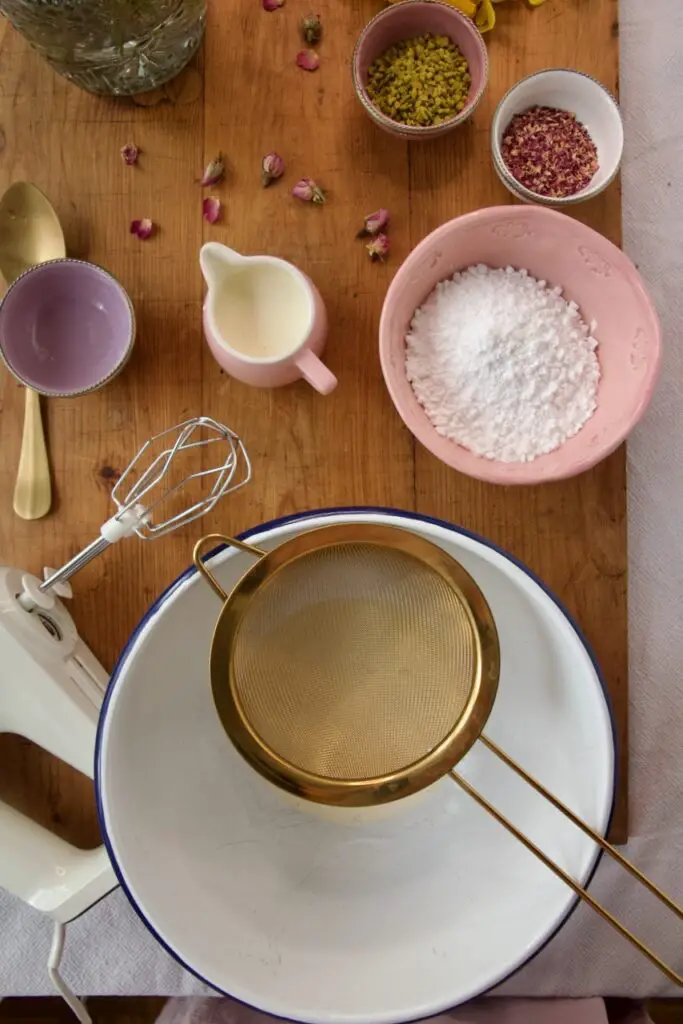 INGREDIENTS SHIRINI GHIFI
1 pack of puff pastry*
A bit of butter
1 egg yolk
1 tbsp. milk
a bit of caster sugar
INGREDIENTS ROSEWATER-VANILLA-CREAM FILLING
250 g whipped cream
1 tsp. vanilla extract*
1 tbsp. rose water*
50 g caster sugar
INGREDIENTS TOPPING
10 g ground pistachios*
5 g rose petals* (optional)
FRUITY GARNISH
50 g blueberries (optional)
50 g raspberries (optional)
PREPARATION SHIRINI GHIFI
Preheat oven to 200° heat top/bottom or 180° convection.
To prevent the dough from sticking to the molds, brush them with butter.
Spread the puff pastry on your work surface and cut the long side into 2 cm wide strips with a pizza cutter. Wrap the dough so that it overlaps on the form.
Mix egg yolk with milk and brush the Shirini Ghifi. Place on a baking sheet lined with parchment paper and leave in the freezer or refrigerator for 20 minutes. Once chilled, sprinkle with caster sugar and bake in the oven for 13- 15 minutes. Keep an eye on it. Sprinkle with ground pistachios and let cool.
PREPARATION ROSEWATER-VANILLA-CREAM FILLING
All ingredients should be cold. I place my whisk and a metal bowl in the fridge. Whip the cold cream with vanilla extract and rose water till stiff, adding the powdered sugar a little at a time. Fill the cream into a pastry bag with a star-shaped nozzle and pipe it into the cooled Shirini Ghifi. Cover the cream with ground pistachios. Dust the Shirini Ghifi with caster sugar and serve with the fruit.
BEFARMAYID!
Susan
The items marked with * are affiliate links, referral links. If you buy through this link, I get a small commission. The price stays the same for you and you can easily support my efforts. A big thank you ♥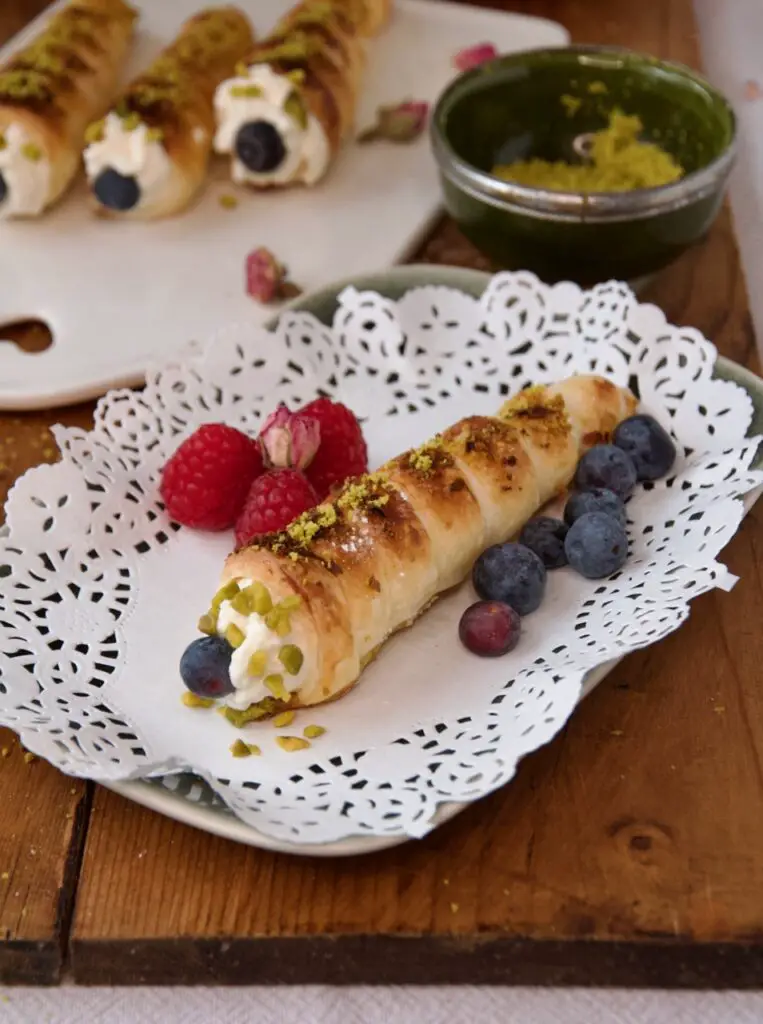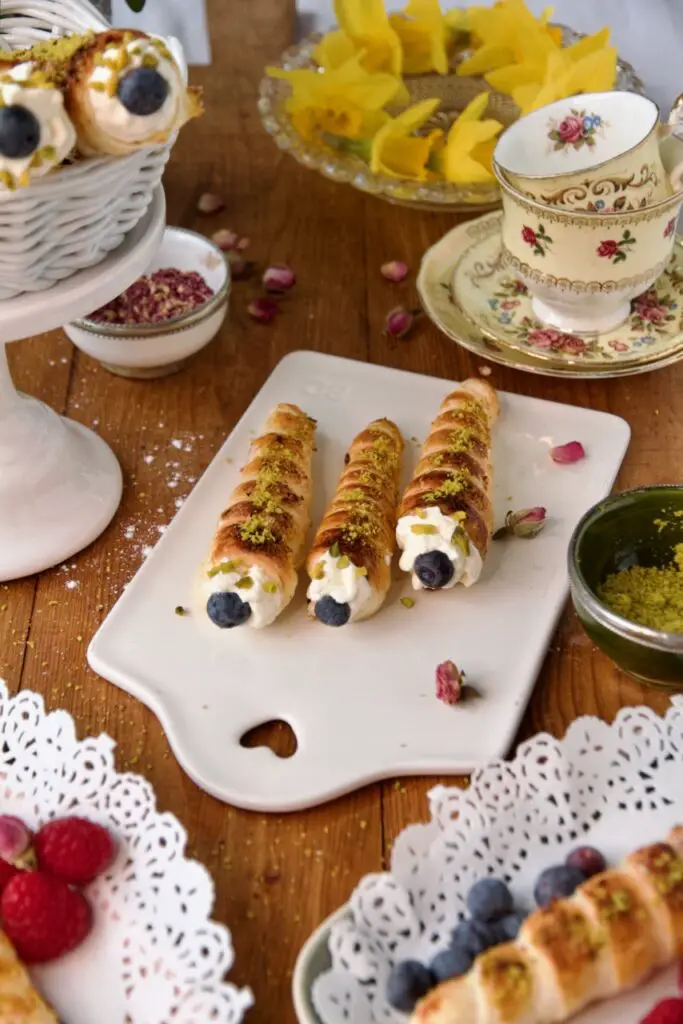 Save the recipe for later on Pinterest!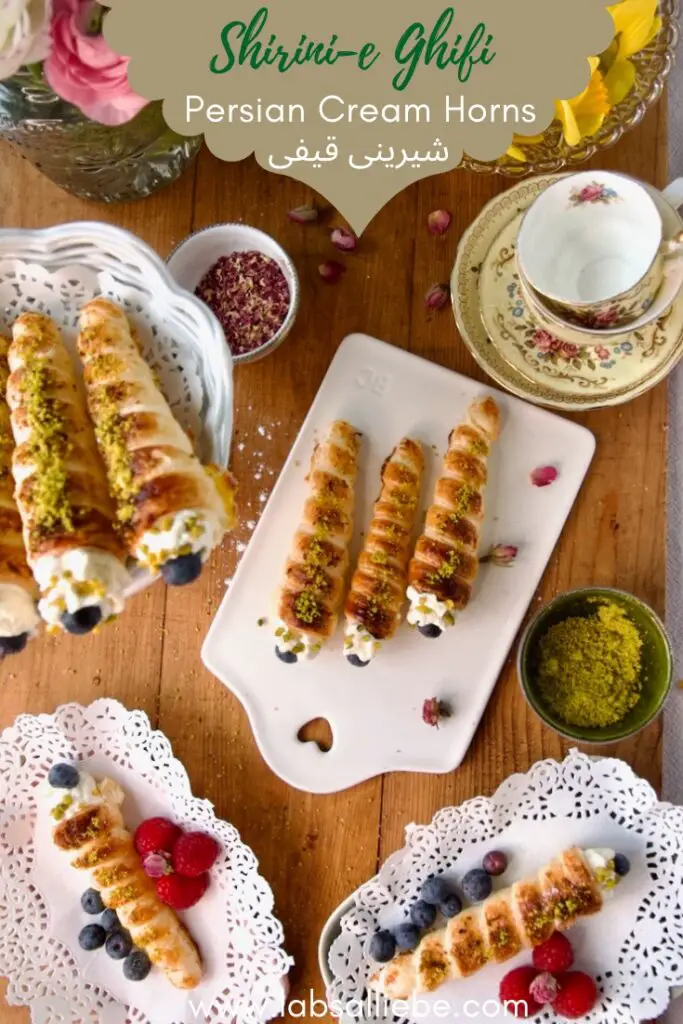 Have you cooked this or maybe another delicious recipe of mine? Feel free to leave me a comment below. If you tag your picture on Instagram with @labsalliebe  and use the hashtag #labsalliebe, I won't miss a post and will be happy to leave you a comment as well. Can't wait to see your creations.
♥♥♥♥♥♥♥♥♥♥♥♥♥♥♥♥♥♥♥♥♥♥♥♥♥♥♥♥♥♥♥♥
This website is created by me in my leisure under proper use of coffee 🙂 If you like my posts I would be happy if you donate me one or a few cups of coffee!
♥♥♥♥♥♥♥♥♥♥♥♥♥♥♥♥♥♥♥♥♥♥♥♥♥♥♥♥♥♥♥♥♥♥♥♥♥
Sign up for my newsletter and I'll email you my latest recipes, travel reports and trends 1 at most 2x a week for free.