I love wraps ♥ You can fill them with leftovers and pretty much anything. The preparation of my Chicken Wraps persian style is really easy. This recipe is a Persian way to fill your wrap. It is filled with chicken breasts, pomegranate molasses and syrup, young rucola leaves, baby spinach, red leaf beet and spiced with Sumac, a sour lemon-like taste, which has a kind of fruity-tangy aroma. Serve with a mint yoghurt sauce and homemade lavash Bread. In Persia we usually fill our wrap with sheep cheese, Walnuts and fresh herbs as peppermint, basil, parsley, cilantro and spring onions, which we call Sabzi Khordan. I hope you already feel like you are in orient with this spicy recipe. Have fun making this dish.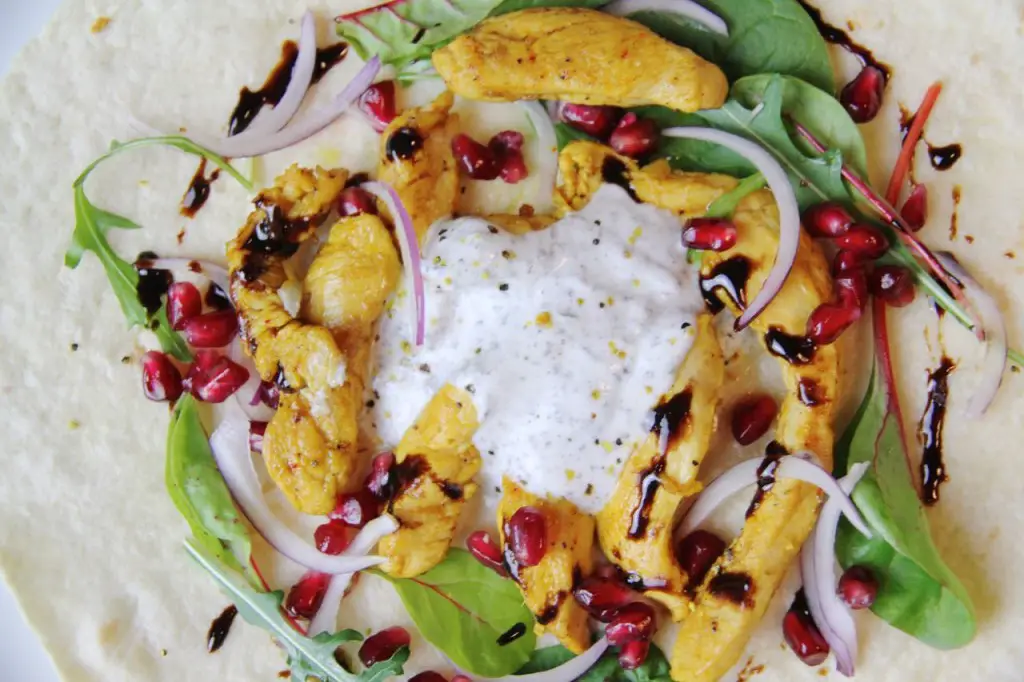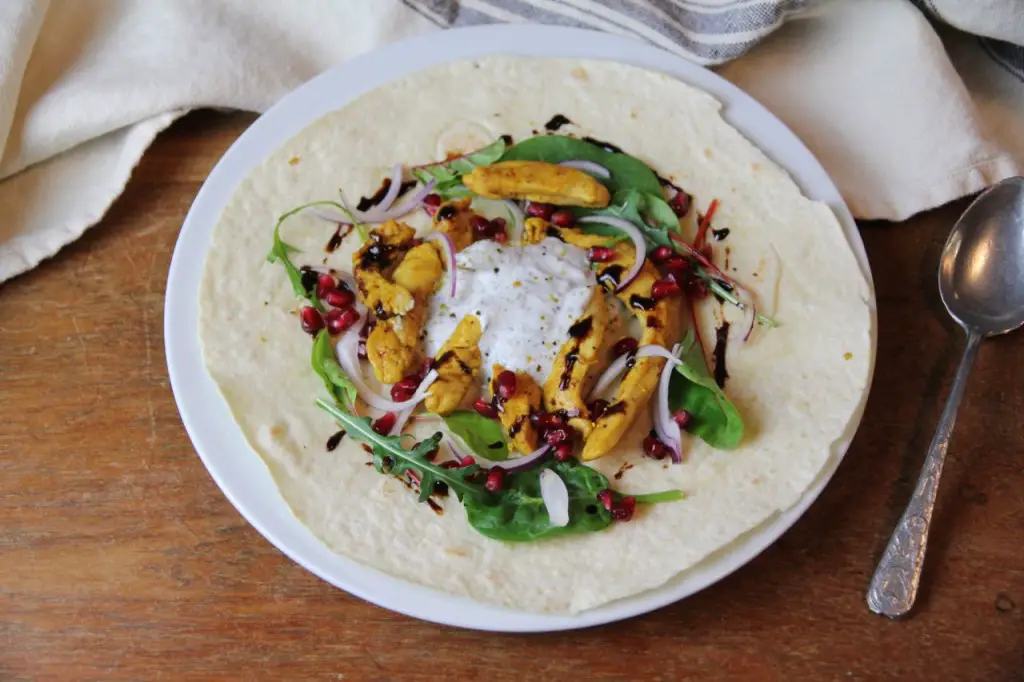 PERSIANA COOKBOOK FROM SABRINA GHAYOUR
I found this recipe in a wonderful recommendable cookbook. The Name of the Cookbook is Persiana from Sabrina Ghayour and is full of tasty oriental recipes.I slightly modified it from the original recipe, as I mostly have to change the recipes a little bit.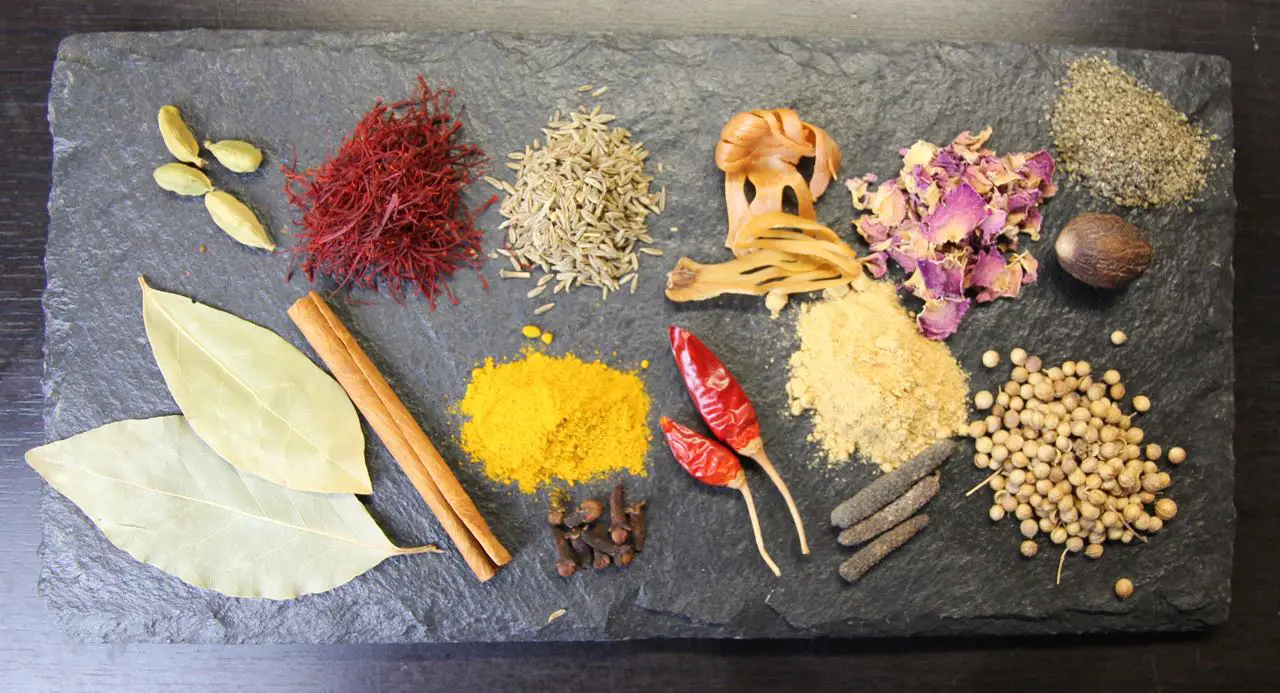 SELFMADE RAS EL HANOUT MIXTURE
The Ras el Hanout Mixture is Homemade by myself. The peppermint is from my garden. In the summer they sprawl all over my garden. As I can not eat so much, I dry them and use up the dried peppermint through out the cold winter days. You can also use fresh peppermint, instead of the dried ones.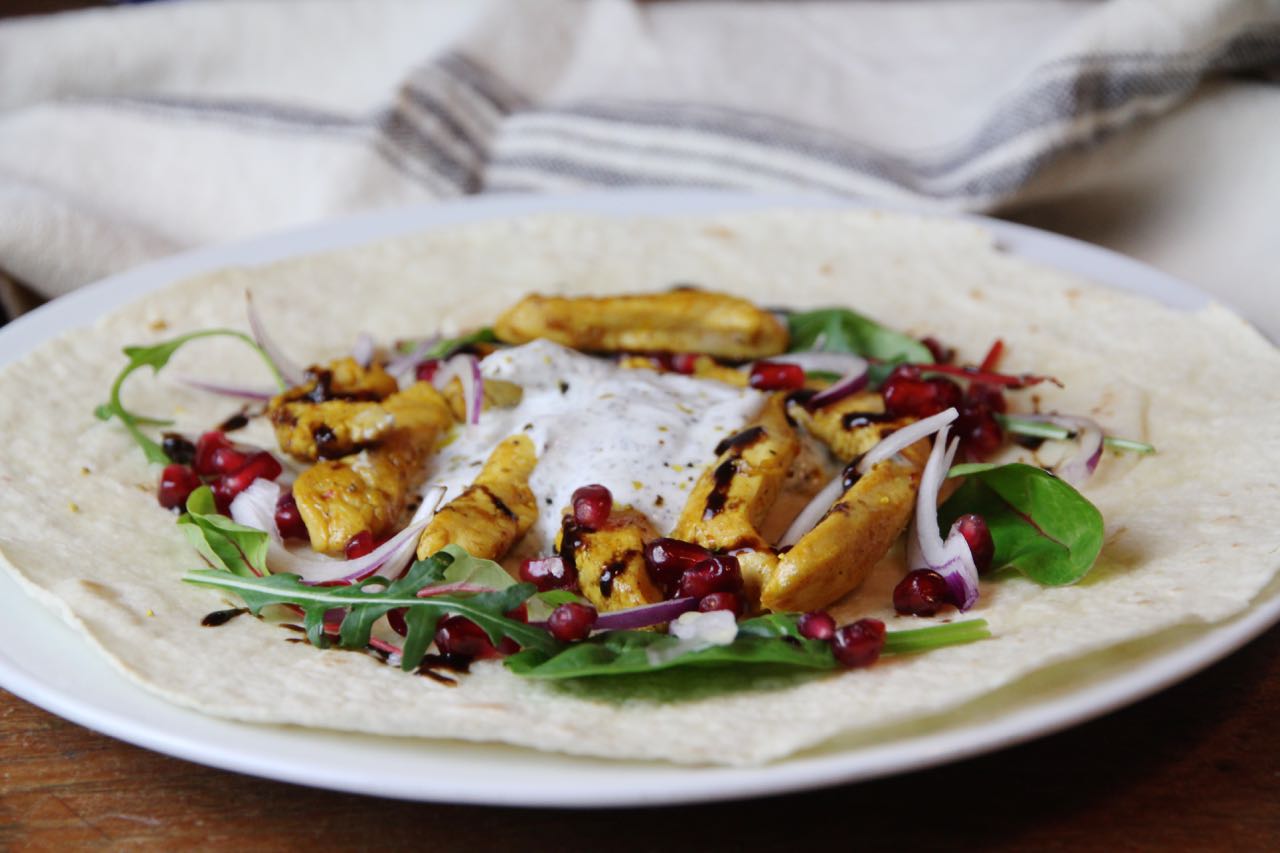 POMEGRANATE MOLASSES
The pomegranate molasses you can buy at the persian grocery store. Its sweat and sour taste gives the wrap a special touch. The pomegranate syrup I ordered via Fet a Soller in Mallorca. I often use it instead of balsamico vinegar in the salad dressing.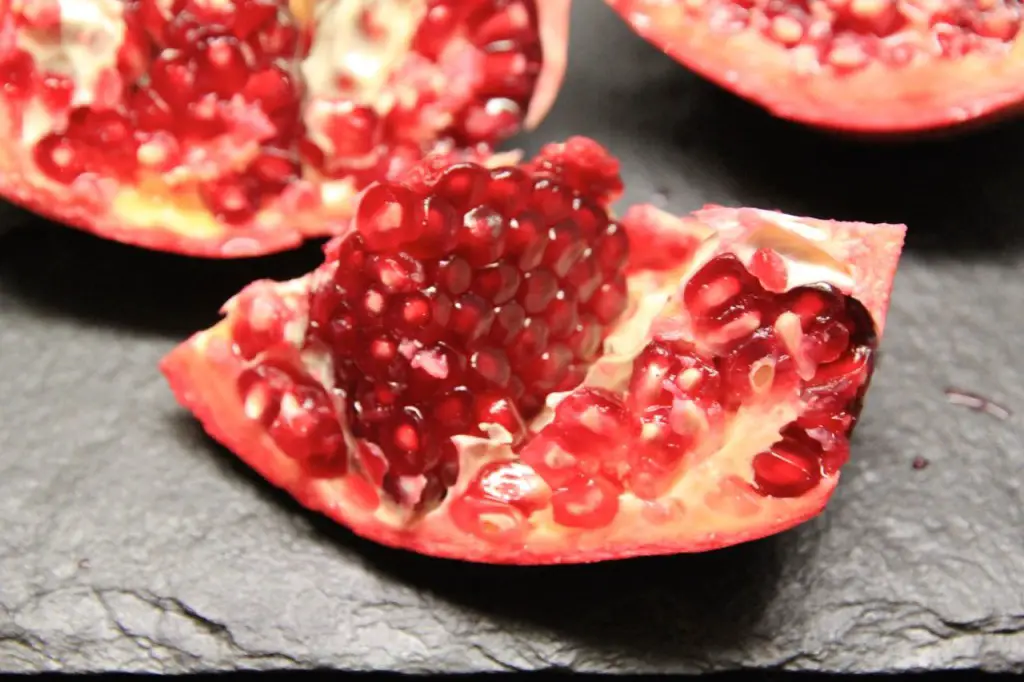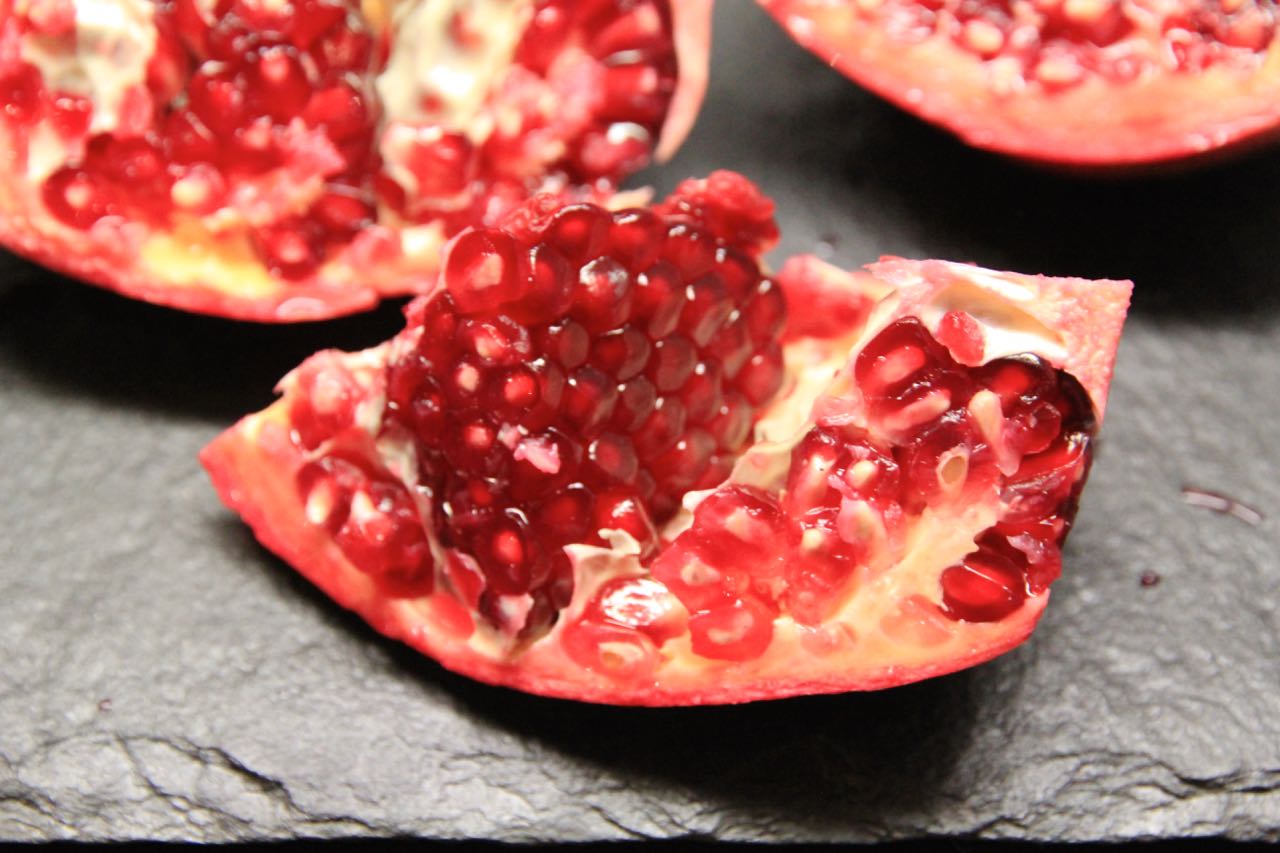 The pomegranate is a wonderful fruit but it take a lot of work to peel and deseed. If you ever tried to deseed a pomegranate, you know what a carnage it can cause to your kitchen. The red juice splashes everywhere and on everything. What a mess and the stains cannot be removed easily. To remove the tasty and healthy seeds easily, I have a really good tip for you. Cut the fruit in half, push out the center a little bit take one half of the pomegranate and hold it in your hands, cut side down. Spread your fingers slightly so the seeds can fall through in your bowl. Use a wooden spoon and hit the pomengrate and watch the seeds falling down right out into the bowl.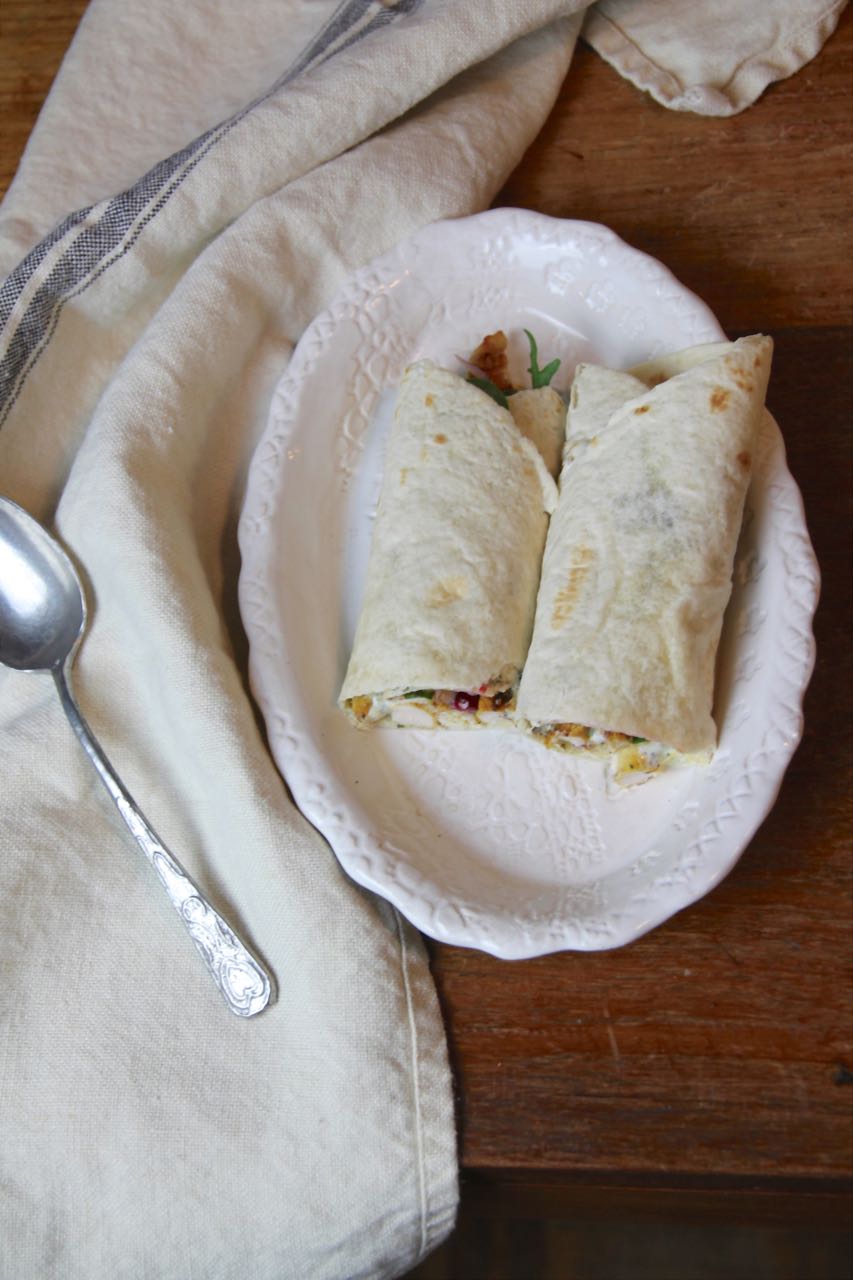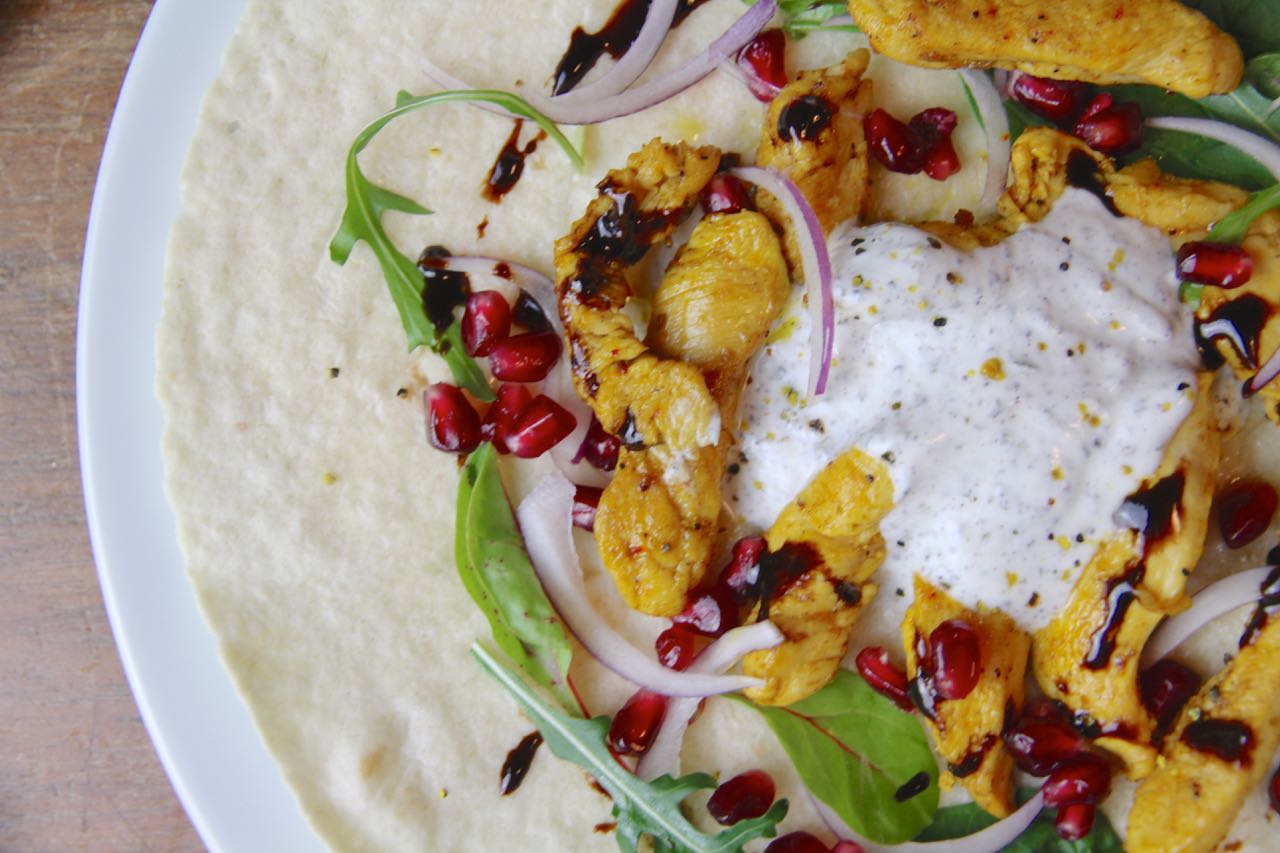 INGREDIENTS CHICKEN WRAP
for 4 wraps
2 Tablespoons Ras el Hanout
4 Tablespoons Olive oil
4 skinless chicken breasts
1 red onion halved and thinly sliced
4 flour tortilla wraps
1 pomegranate
1 Tablespoon pomegranate molasses
1 Tablespoon pomegranate syrup
1/2 handful young rucola leaves
1/2 handful baby spinach
1/2 handful red leaf beet
A pinch of salt and lemon pepper
INGREDIENTS MINT YOGHURT SAUCE 
500 g Greek yoghurt
1 Handful fresh peppermint or 2 Tablespoon dried peppermint
2 Tablespoon sumac
A pinch of salt and freshly ground black pepper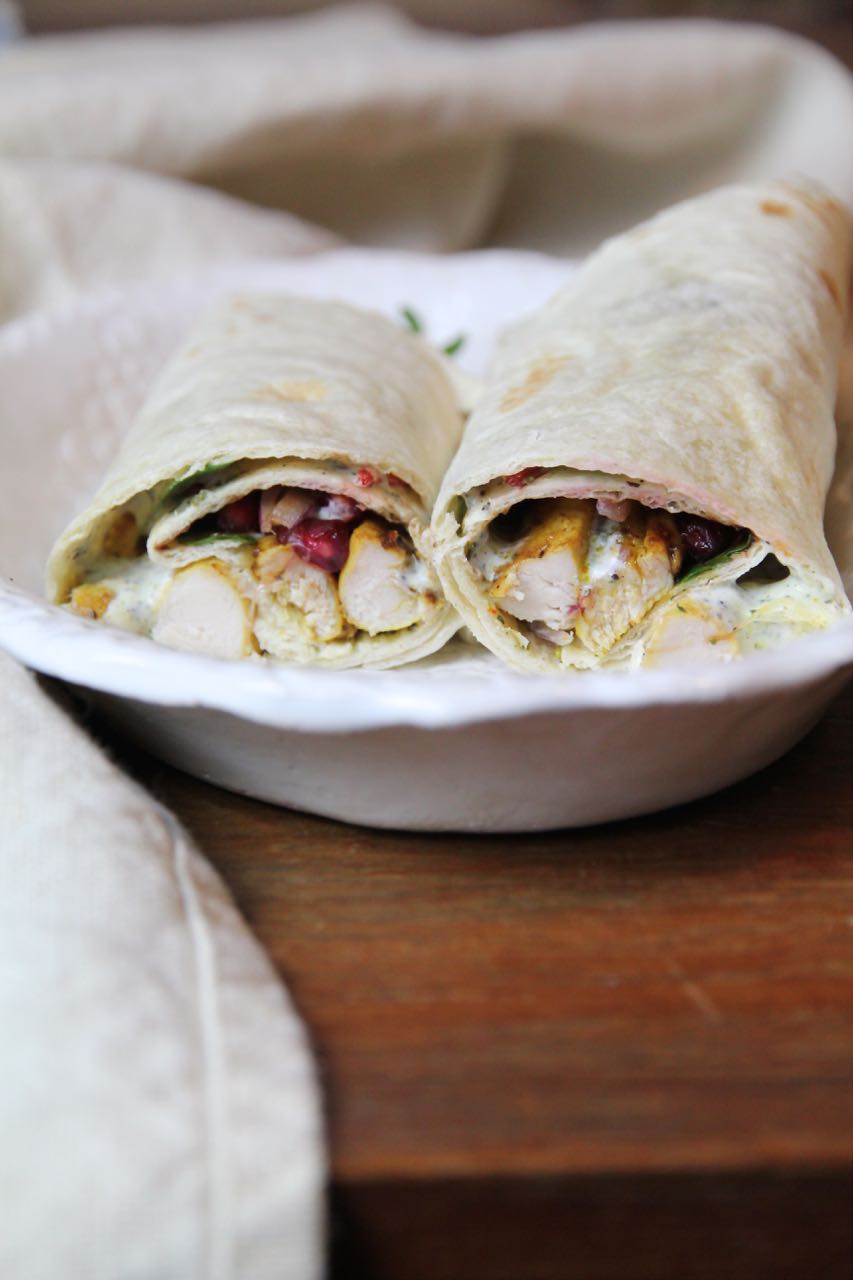 PREPARATION MINT YOGHURT SAUCE 
Make the yoghurt sauce first .
Place  all of the ingredients into a bowl and mix well.
PREPARATION CHICKEN WRAP
For the marinade mix the ras el hanout with 2 Tablespoons olive oil
to create a paste.
Cut the chicken breast in slices of strips and
rub the paste all over the chicken making sure it's completely coated.
Preheat 2 Tablespoon olive oil in a pan and fry the chicken breast slices.
Allow to cool down for a few minutes.
In the meanwhile you can start with filling your wrap.
Spread a small amount of the rucola, baby spinach and red leaf beet off-center,
make sure not to overfill.
Place some chicken, onions and pomegranate seeds on your wrap.
Dizzle over some molasses and syrup .
Flavor it with salt and pepper.
Add some peppermint yoghurt.
Roll up your wrap
cut in half and serve immediately.
Ready!
HEALTH BENEFITS OF POMEGRANATE 
Vitamins B und C
Minerals Calcium, iron, potassium, Phosphor
Antioxidant
Anti-inflammatory
Antibacterial
Antifungal
Reduces blood pressure
Cholesterol-reducing effects
Alleviates symptoms of menopause
Improving blood flow
Hearth health
Reduces arthrosis and joint pains
Cancer prevention especially breast-, colon- and prostate cancer
Alzheimer's desease
Eye health prevents cataract, macular degeneration
Liver desease
HEALTH BENEFITS OF SUMAC
Vitamin C
Omega-3-fattyacids
digestive
Antioxidant
BEFARMAYID!
Susan
How do you fill your wraps?