This year Nowrooz is overshadowed by the violence against the people of Iran. We do not feel like celebrating this year, so I have designed my Haft Sin in the sign of peace. I have directed my peace sign on porose facing upwards, as the tree growing upwards stands for life and its new beginning, hoping for a new Beginning in Iran.
The tree pointing downwards, as we know it from the Peace sign, means death or the end. I placed six wooden bowls with Samanoo, Sumach, Sekeh, Senjed, Sir, and Sib around my Sabzeh. I have explained the meaning of the symbols in this post. Flowers and candles in the trend color "Viva Magenta" are placed in vases and on glass and wooden chandeliers. I hope you like my Haft Sin Impressions 2023 هفت سین ۱۴۰۲.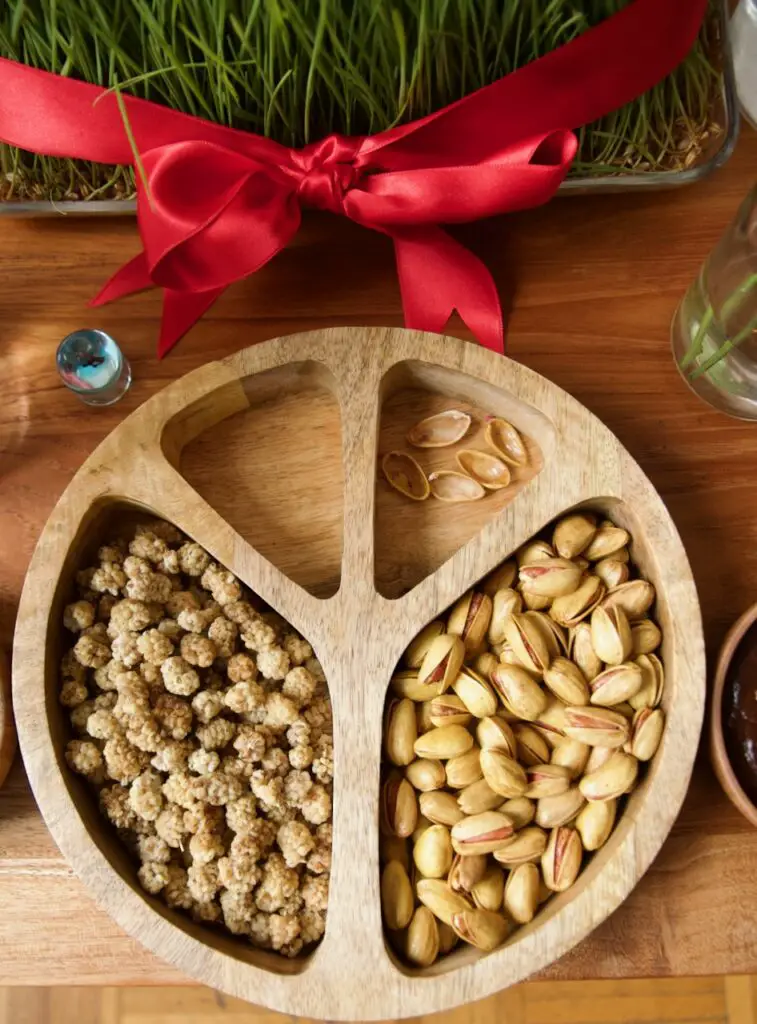 THE PEACE SIGN
The Peace sign, an upside-down Y in a circle, symbolizes a human being with arms extended helplessly downwards. It was used in the 1950s peace movement in England by anti-war and anti-nuclear activists to symbolize the death at the first Easter march. A campaign for nuclear disarmament chose this symbol to demonstrate that nuclear weapons bring death to humanity. Hippies from San Francisco, California, whose motto was "Make Love, Not War" also painted their VW buses with the Peace sign.
But the origin of the rune of death dates back much further, namely in the Latin and Greek alphabets. This symbol has a negative effect, so I turned my peace tray. Since in the upwards opened Y, the positive energy can flow into it so that it can be bundled and strengthened downwards.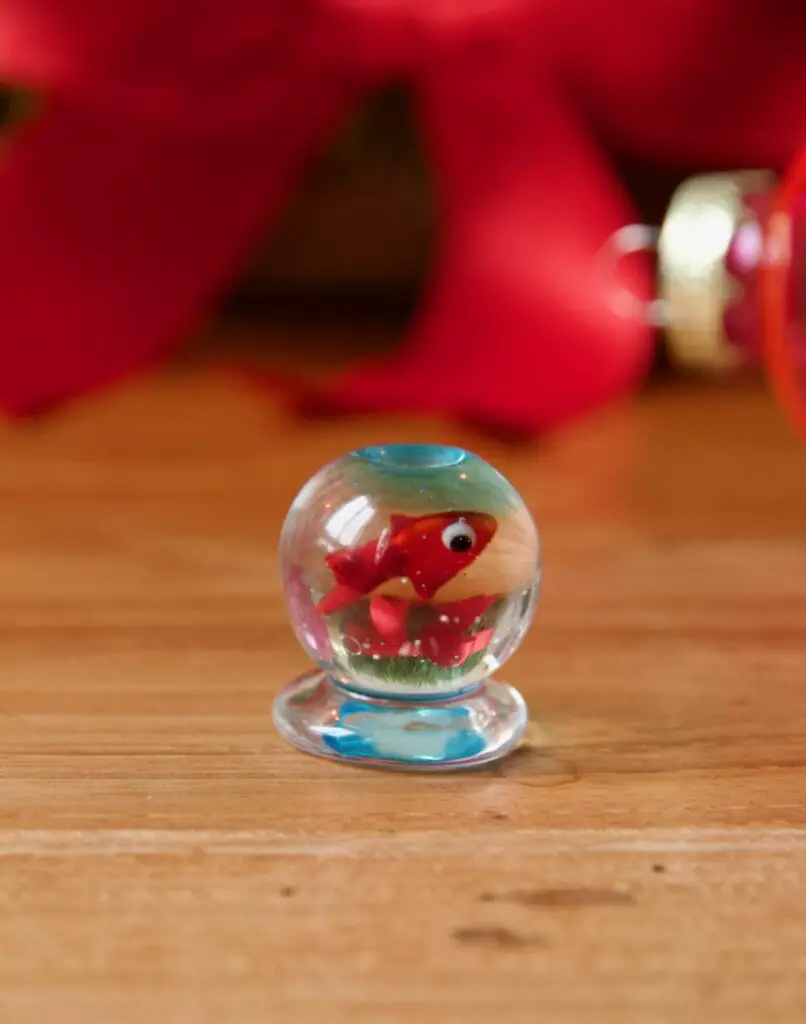 SALE KHARGOOSH – THE YEAR OF THE RABBIT
Khoda Hafez Sale Babr – Khosh Amadi Sale Khargoosh. Bye Bye Year of the Tiger, and Hello Rabbit! The Rabbit represents longevity, peace, and wealth. It is a calm, gentle, and elegant animal that is not looking for trouble and is rather blessed with luck. This year, therefore, fights and conflicts are forgiven easier, as we are more compromising and flexible.
This year marks romance, dreams, good nature, and sensitivity. Now harmonious togetherness is important to us as we discover our emotional side and can also show it. We find it easier to create a good work-life balance. We take advantage of new opportunities and unfamiliar situations.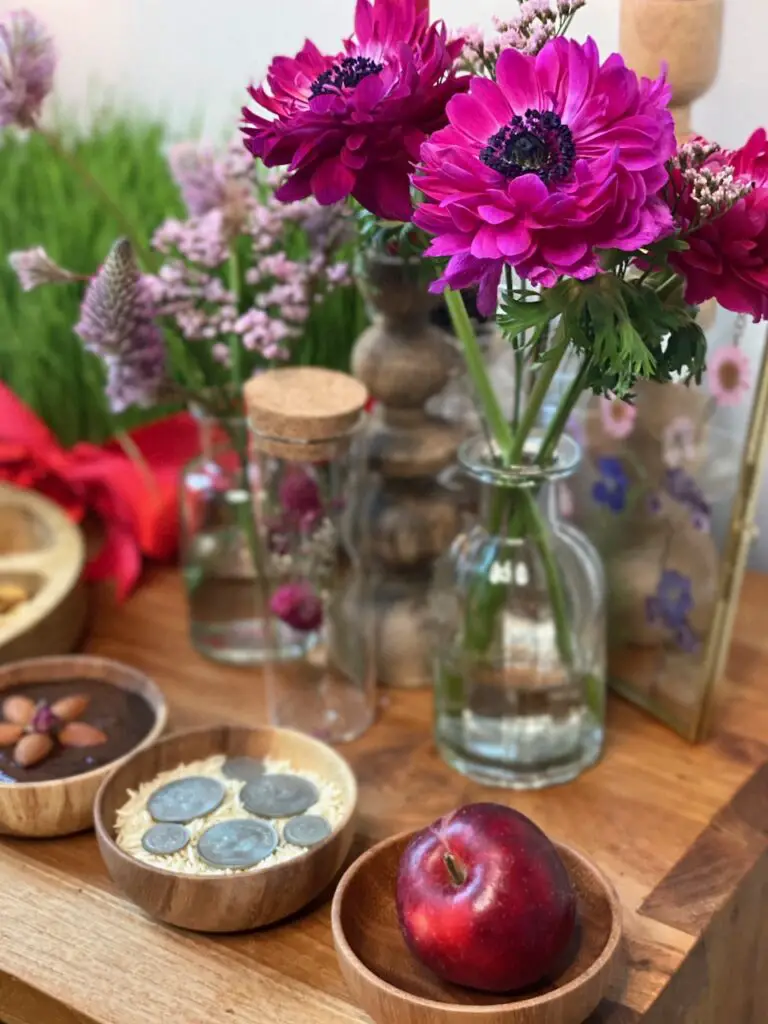 #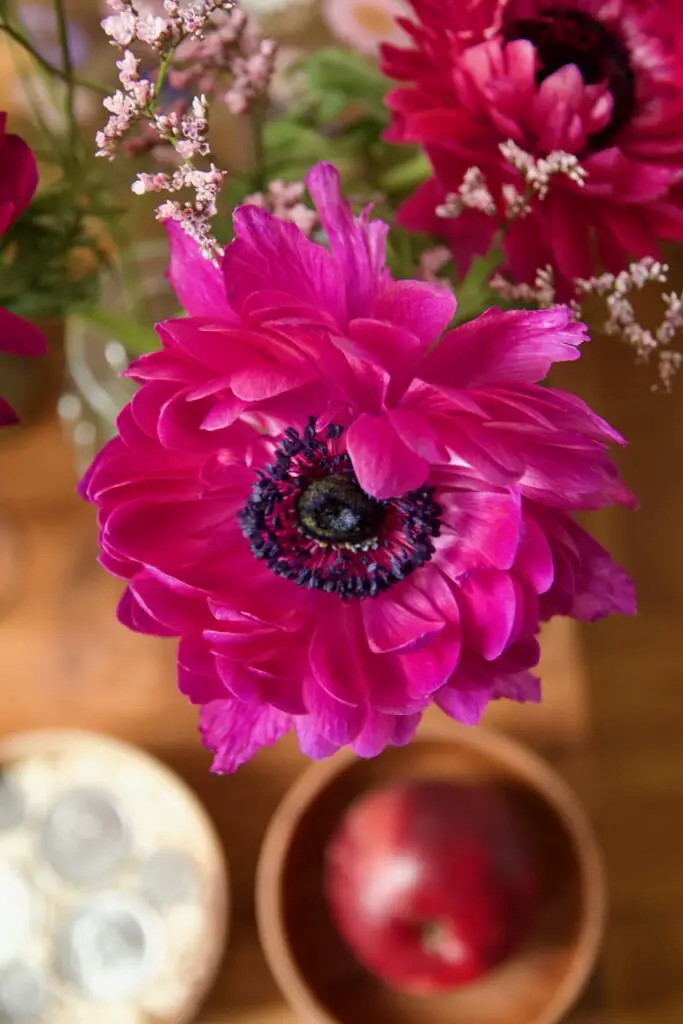 TREND COLOR VIVA MAGENTA
If you are following me for a while, then you know that I style my Haft Sin every year, at least with some touches of color, based on this years trend colors. The Trendcolor of this year is "Viva Magenta" according to the famous Pantone color institute. This vibrant and powerful color gives us the strength to boldly, fearlessly and positively take a new path. According to Pantone, it stands for Vitality, Progress, Strength, Nature and Renewal.
The Inspiration is from the carmine red of the cochineal insect from Nature, which is one of the most vibrant natural pigments. In this way, we are inspired by Nature in this technologized time, as it connects Nature with the digital world. In this way, the Nature helps us to revitalize the spirit and build our inner strength.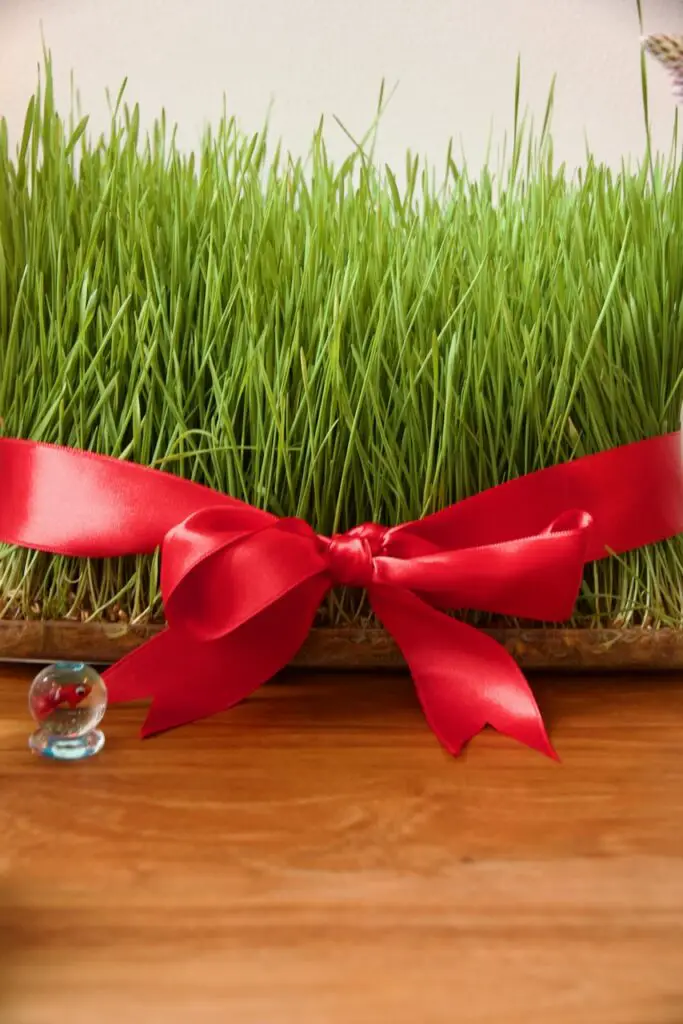 LOOKING FOR HAFT SIN IDEAS?
Haft Sin Impressionen 2021 – هفت سین ۱۴۰۰
I wish you a lovely arrival of spring and all my persian friends Happy Nowrooz and Norouz Mobarak 🌸🌷May the New Year bring you Health, Peace, Freedom and Joy 🕊️ My thoughts are with all those who lost their lifes while fighting for their rights for Freedom 🌸🌷
🕊️Zan Zendeghi Azadi 🕊️
🌸🌸🌸
🌷🌷🌷
دوستای خوبم
عید نوروز رو به همه شما رفقای نازنین تبریک میگم و براتون
سلامتى، شادى،آزادى
سالی پر برکت،
آرزو میکنم
🕊️🕊️🕊️🕊️
نوروز ۱۴۰۲ مبارک.
🕊️زن، زندگی، آزادی🕊️
BEFARMAYID!
Susan
The items marked with * are affiliate links, referral links. If you buy through this link, I get a small commission. The price stays the same for you and you can easily support my efforts. A big thank you ♥
Have you cooked this or maybe another delicious recipe of mine? Feel free to leave me a comment below. If you tag your picture on Instagram with @labsalliebe  and use the hashtag #labsalliebe, I won't miss a post and will be happy to leave you a comment as well. Can't wait to see your creations.
♥♥♥♥♥♥♥♥♥♥♥♥♥♥♥♥♥♥♥♥♥♥♥♥♥♥♥♥♥♥♥♥
This website is created by me in my leisure under proper use of coffee 🙂 If you like my posts I would be happy if you donate me one or a few cups of coffee!
♥♥♥♥♥♥♥♥♥♥♥♥♥♥♥♥♥♥♥♥♥♥♥♥♥♥♥♥♥♥♥♥♥♥♥♥♥
Sign up for my newsletter and I'll email you my latest recipes, travel reports and trends 1 at most 2x a week for free.