I love the pre-Christmas time.
It`s the time of excitement what christmas will bring,
fragrances, treasure shared moments and christmas lights.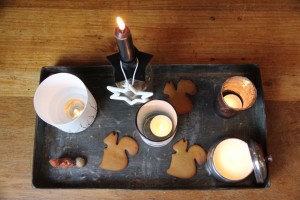 Candle-lights give a feeling of warmth, security and cosy atmosphere.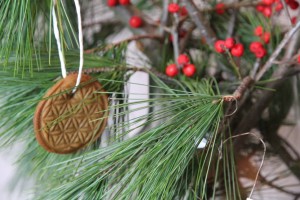 Pine branches in a vase, decorated with these wonderful crispy Gingerbread cookies.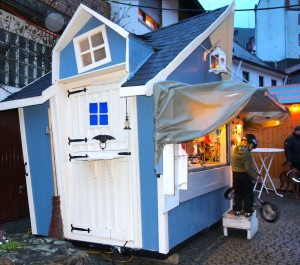 Christmas markets are set up in most cities during the Advent season.
We visited the christmas market in Lichtenberg/Odenwald.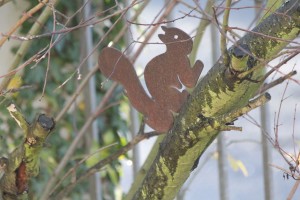 My Squirrel in the garden
surprises the pedestrians.
Hey, Look a squirrel!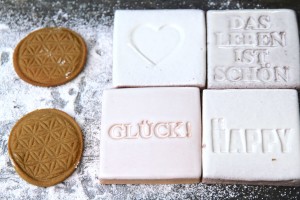 Pre-Christmas ist the right time for cookies.
We knead the cookie dough with our hands and
roll it out and the kids cut the cookies.
The baking oven is continuously hot and the
whole kitchen is filled with the sweet smell of cookies.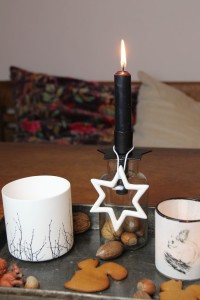 Sitting beside the candle light with a tasty cup of tea
reading on the blog of Fräulein Klein,
I found this wonderful recipe and just tried it out.
These are the most crispy gringerbread cookies, I have ever ever tasted.
The dough rolls out lightly and will keep the shape given by
the cutter, shrinking and bending in the oven are avoided.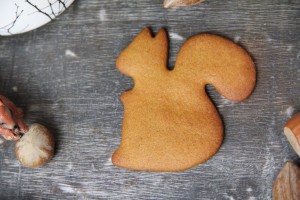 Ingredients
 2 Spoonful Water
1 teaspoon ground ginger
1 teaspoon ground cinnamon
just a trace powedered cloves
100 g brown sugar
200 g sugar syrup
130 g Butter
1/2 teaspoon sodium bicarbonate
375 g flour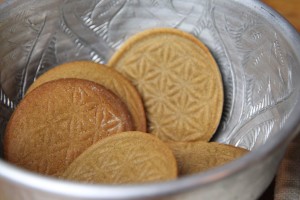 Preparation
Mix the water, brown sugar, sugar syrup and the spices into a pot
and stir constantly until it is creamy.
Now remove from the heat, cut the butter in pieces and
add it slowly to the sugar-spice-mixture and
stirr it well with a wooden spoon.
Allow mixture to cool.
After it got cool, add the flour little by little.
The dough should be a little sticky.
Wrap the dough in cling film and leave in a cool place for at least 2 hours.
I left the dough overnight in the fridge and baked it the next day.
Sparkle your working tray with flour and unroll the dough
until you obtain a 3 mm thickness and outdo forms and figures.
I punched a hole in some cookies.
Bake the cookies for about 8-10 minutes in the pre-heated oven at 180°.
First these gingerbread squirrels and the flowers of life
are baked by me and my little boy at home.
The next day we baked it with the classmates of my little boy
at school and found them to be sensational.
The kids and the moms with their wonderful helping hands are just excited as I.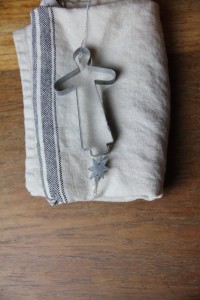 Every year I buy at least one cookie cutter at the christmas market.
To the delight of our children we have meanwhile a huge selection of special cookie cutters.
We love this ritual – same procedure as every year.
(siehe Bericht Weihnachtsrituale)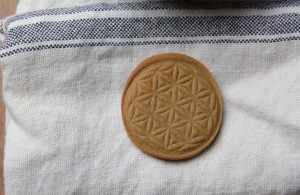 Use the cookies with the punched hole to hang them on your pine branches.
You can also hang them on your christmas tree or just use them as a gift tag.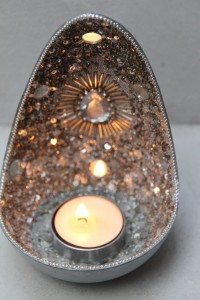 HEART<3 LIGHT
Susan