The Basil Seeds look to me like a
starry full moon night in the Damavand mountains.
The stars were so far away but within reach.
We used to sit on the porch of our house in Damavand
on a hot summer starry full moon night and
sweetened the evening with this delicious drink.
Basil Seeds Drink -Sharbate tokhme sharbati
is in Iran a popular Drink for the summer
to cool down the body, as we have really hot summers.
The basil seeds also improve hydration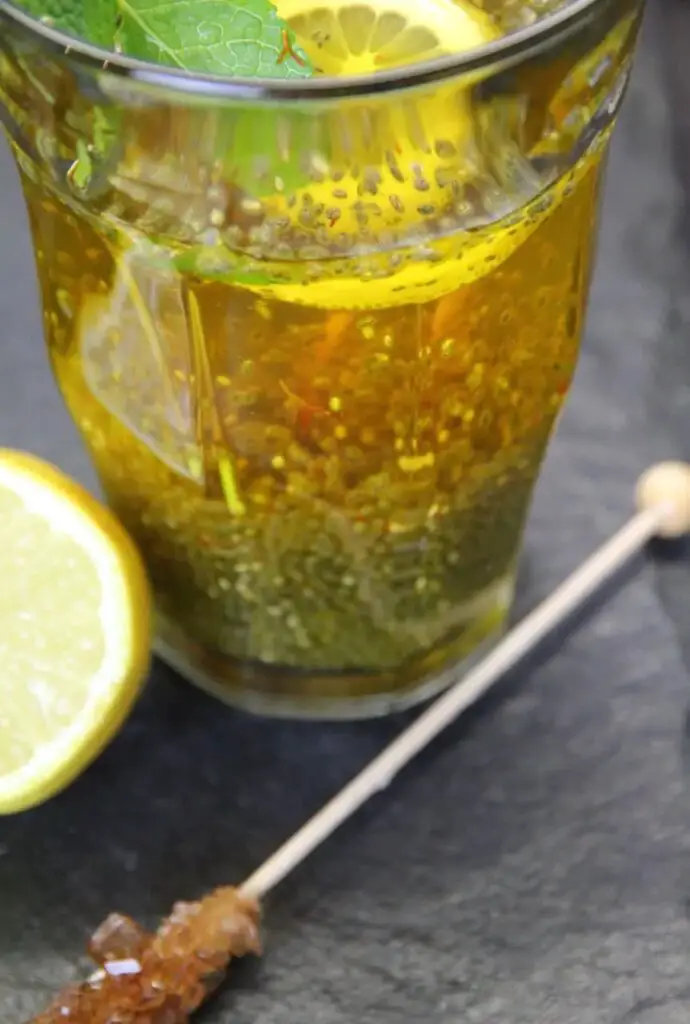 INGREDIENTS SHARBATE TOKHME SHARBATI
1 tsp Basil seeds*
1 cup of fresh cold or hot water
1 stick of saffron crystalized sugar*, or 1 tsp of honey or raw brown sugar
1/8 tsp of powdered saffron*
1/4 tsp of rose water*
2 thin slices of lemon
some peppermint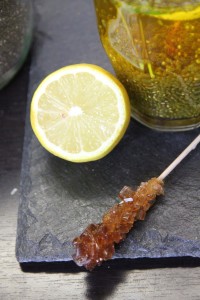 PREPARATION SHARBATE TOKHME SHARBATI
Mix all ingredients
except for the lemon slices, peppermint, and saffron sugar
, and let it rest for a couple of minutes.
Either you add hot water or cold water to it, whatever you prefer.
After all, add the Saffronsugar lemon slices to your Drink.
Garnish with peppermint leaves.

LOOSE WEIGHT WITH BASIL SEEDS
To lose weight with Basil seeds, drink daily for
one month a glass of Water with one teaspoon of Basil seeds
twice a day before lunch and dinner.
HEALTH BENEFITS OF BASIL SEEDS
Omega-3 fatty acids, Antixodiants, Vitamins and Minerals.
Assists in burning fat
Stimulates the metabolism
Benefits of fibre for gut
Natural tranquilizer
Effects against anxiety and stress
Gluten-free
BEFARMAYID!
Susan
The items marked with * are affiliate links, referral links. If you buy through this link, I get a small commission. The price stays the same for you and you can easily support my efforts. A big thank you ♥
Have you cooked this or maybe another delicious recipe of mine? Feel free to leave me a comment below. If you tag your picture on Instagram with @labsalliebe  and use the hashtag #labsalliebe, I won't miss a post and will be happy to leave you a comment as well. Can't wait to see your creations.
♥♥♥♥♥♥♥♥♥♥♥♥♥♥♥♥♥♥♥♥♥♥♥♥♥♥♥♥♥♥♥♥
This website is created by me in my leisure under proper use of coffee 🙂 If you like my posts I would be happy if you donate me one or a few cups of coffee!
♥♥♥♥♥♥♥♥♥♥♥♥♥♥♥♥♥♥♥♥♥♥♥♥♥♥♥♥♥♥♥♥♥♥♥♥♥
Sign up for my newsletter and I'll email you my latest recipes, travel reports and trends 1 at most 2x a week for free.