Sofreye Haft Sin
Sofreh is a Persian tablecloth.
On this tablecloth 7 symbolic elements are dished up for
Norooz our Persian New Year,
which begin with the letter "S" in Farsi.
The number seven is a sacred number.
SABZEH
Sabzeh is sprouted wheat, barley, or lentils and symbolizes
vivacity and vitality.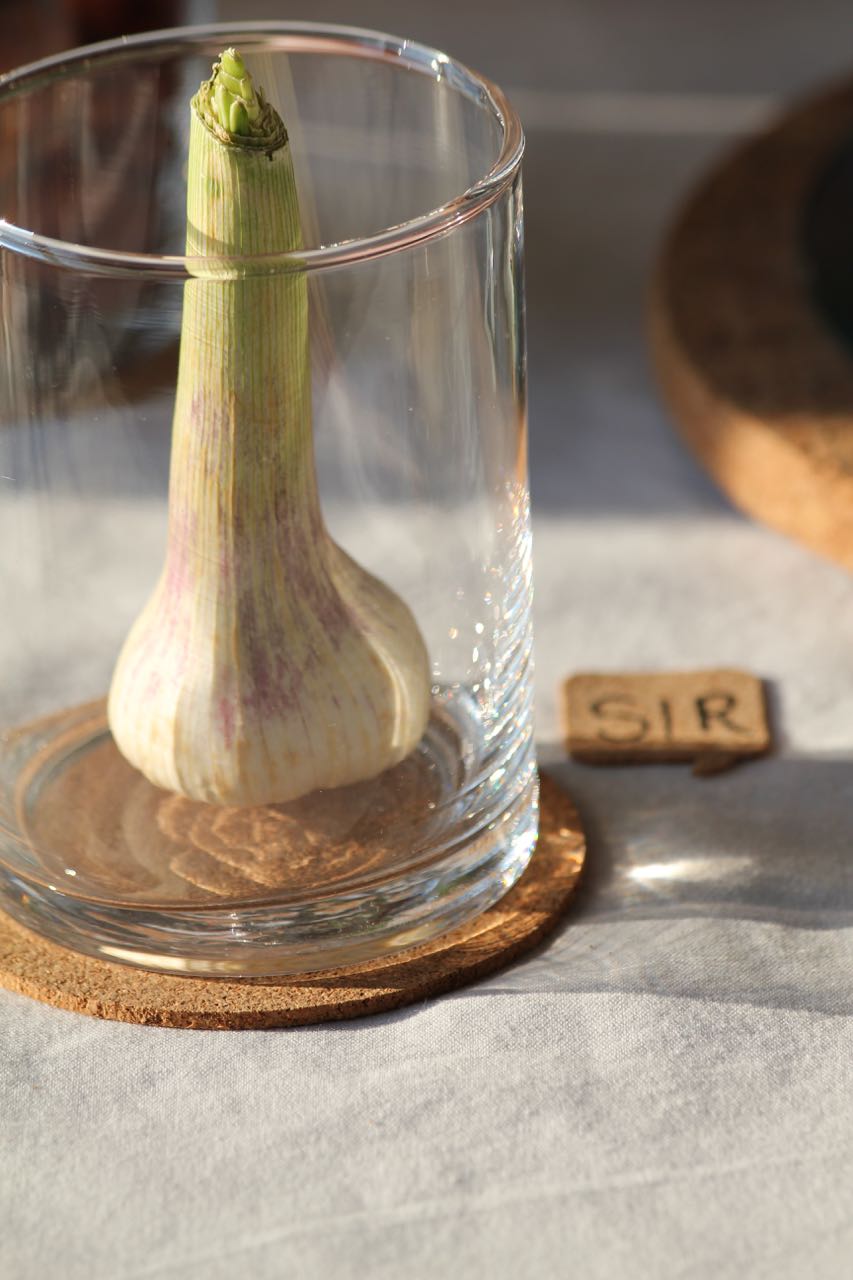 SIR
Sir is the garlic and symbolizes health and protection.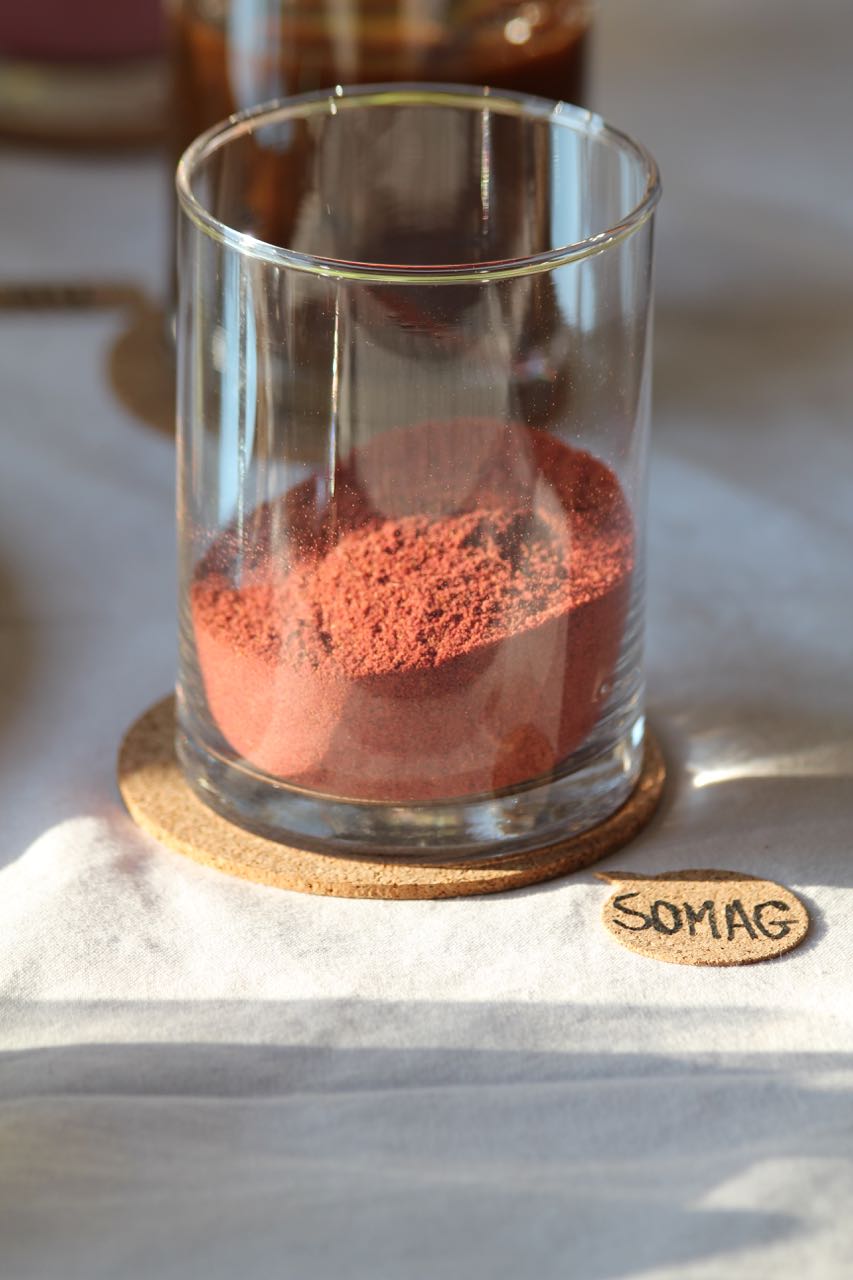 SUMACH
Sumac is a Spice and represents the taste of life.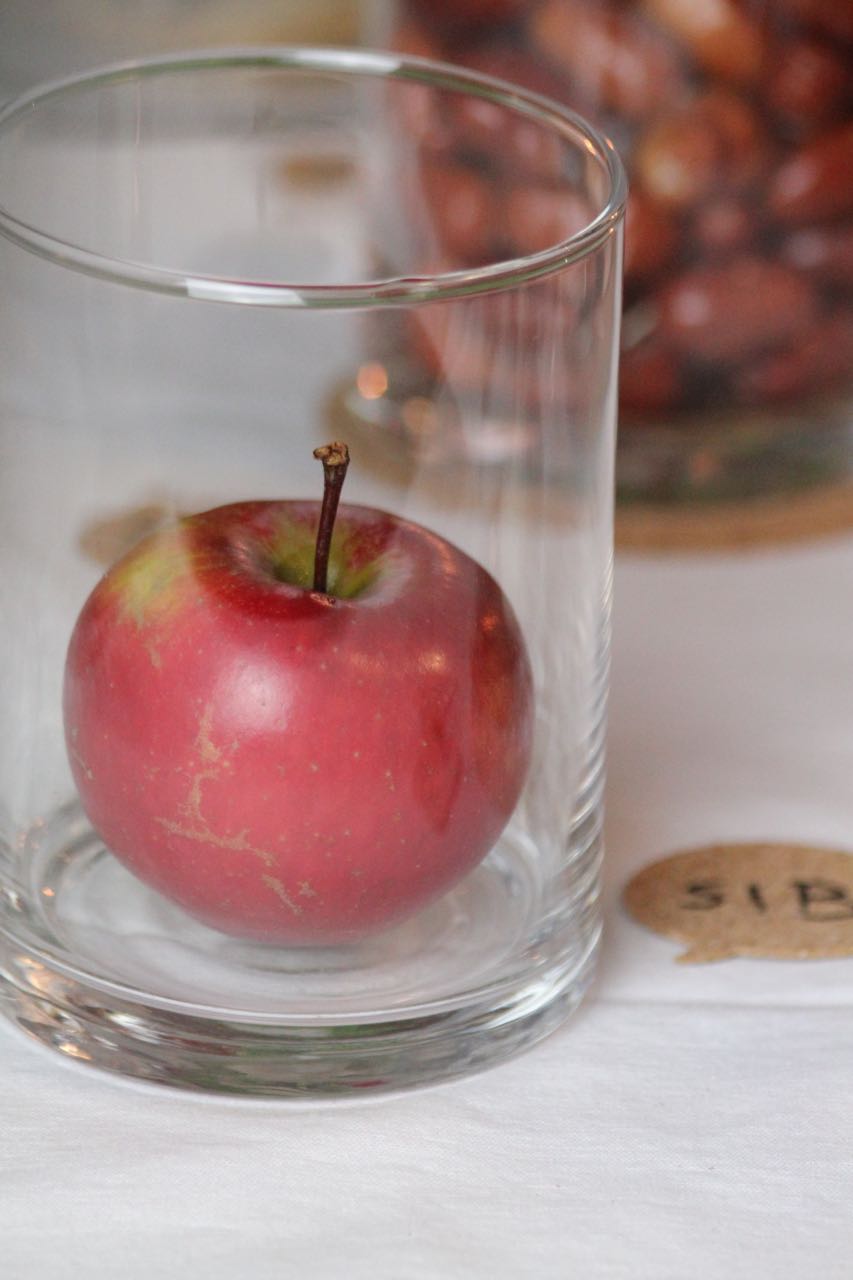 SIB
Sib is the apple and represents health.
SENJED
Senjed is a dried flour berry and stands for the love and joy of life.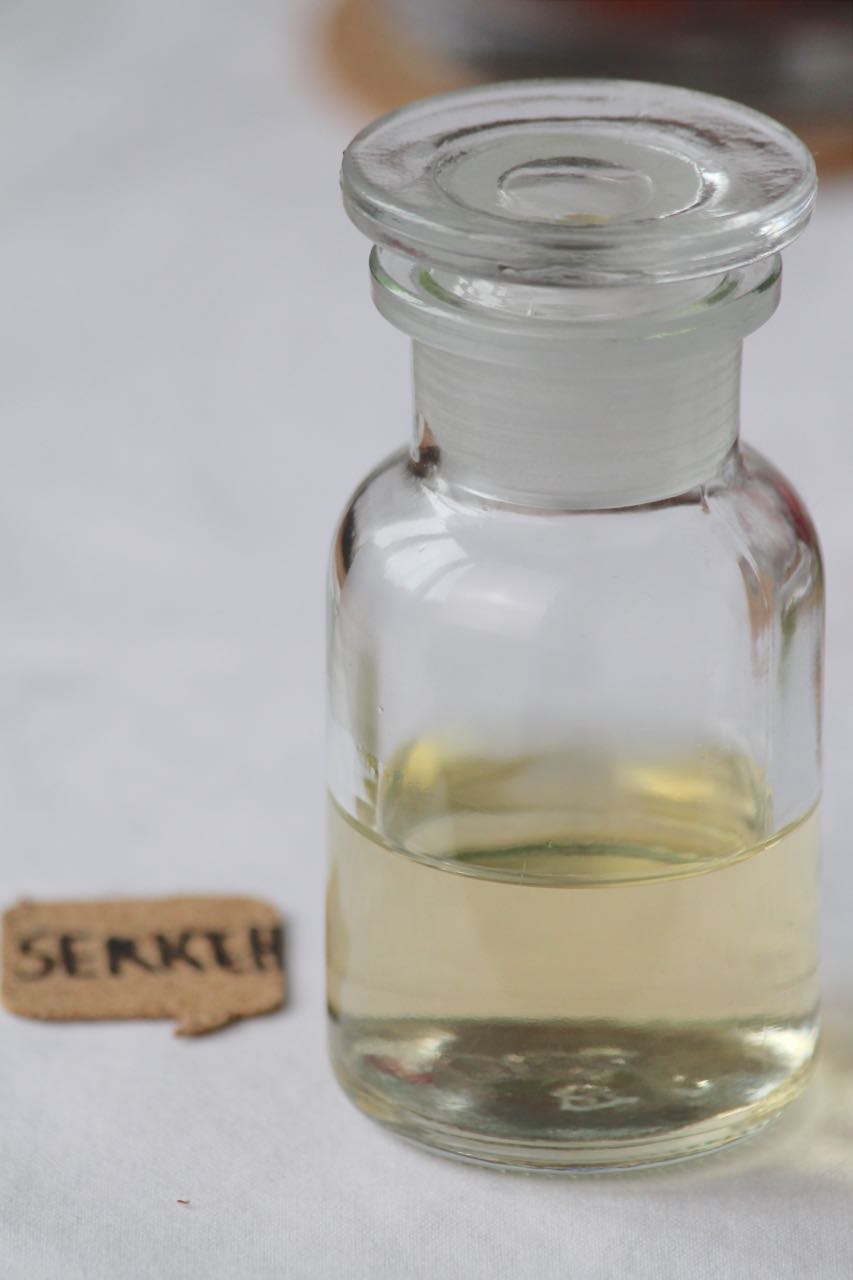 SERKEH
Serkeh is vinegar and is a symbol of patience and long life.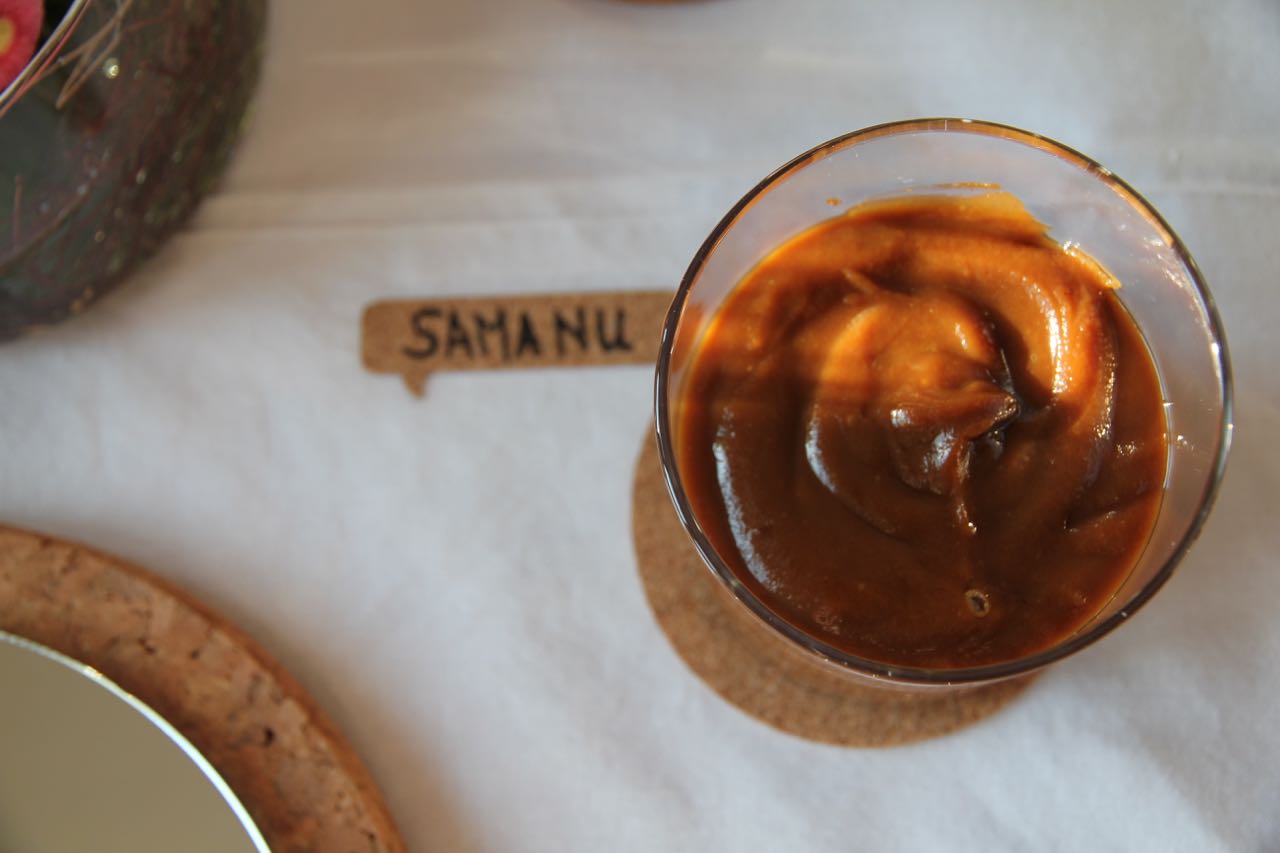 SAMANU
Samanu – is a sweet produced in a very time-consuming process
from wheat germ and wheat flour.
It symbolizes blessings and good fortune.
Eating it is supposed to bring joy and sweetness
to life in the New Year.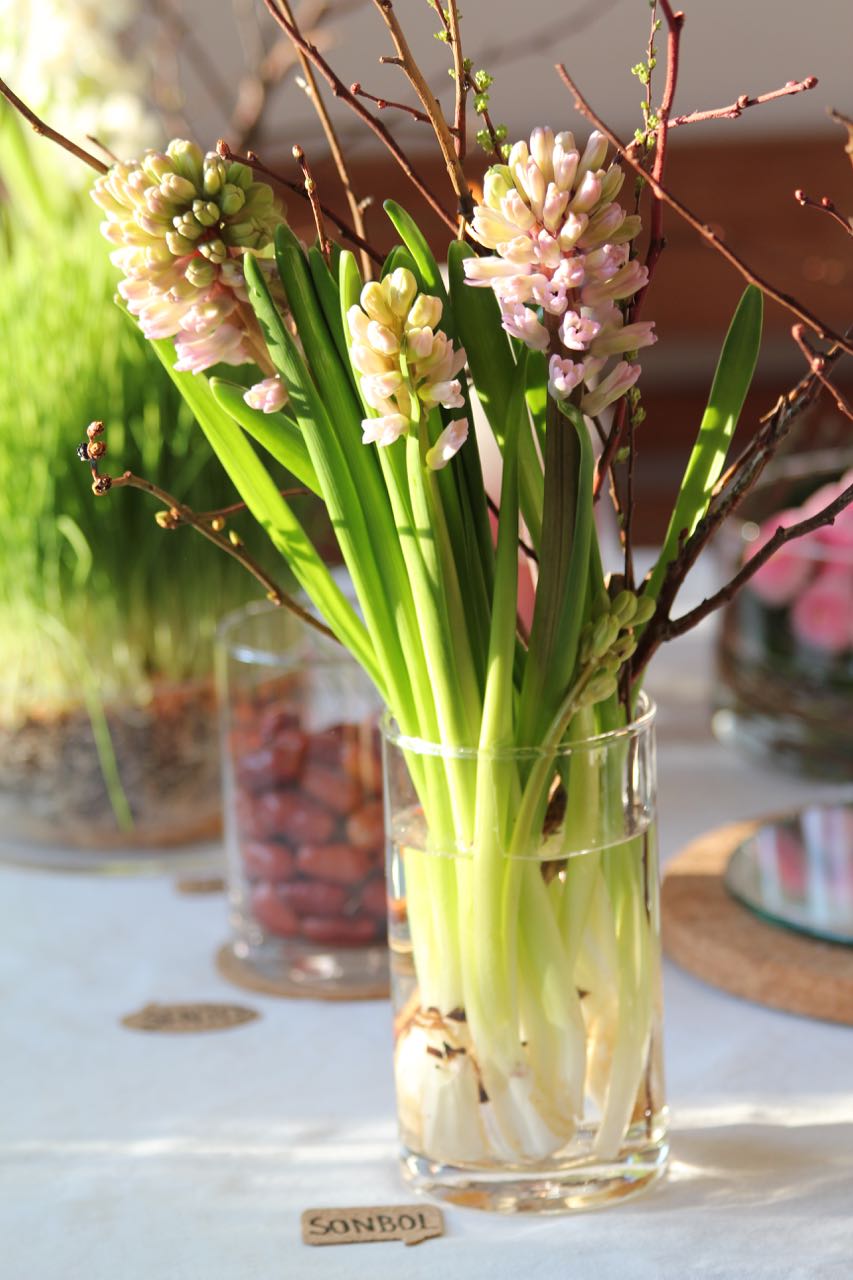 SONBOL
Sonbol is a hyacinth, and it symbolizes friendship.
Most Persians add other symbolic objects to their Haft Sin.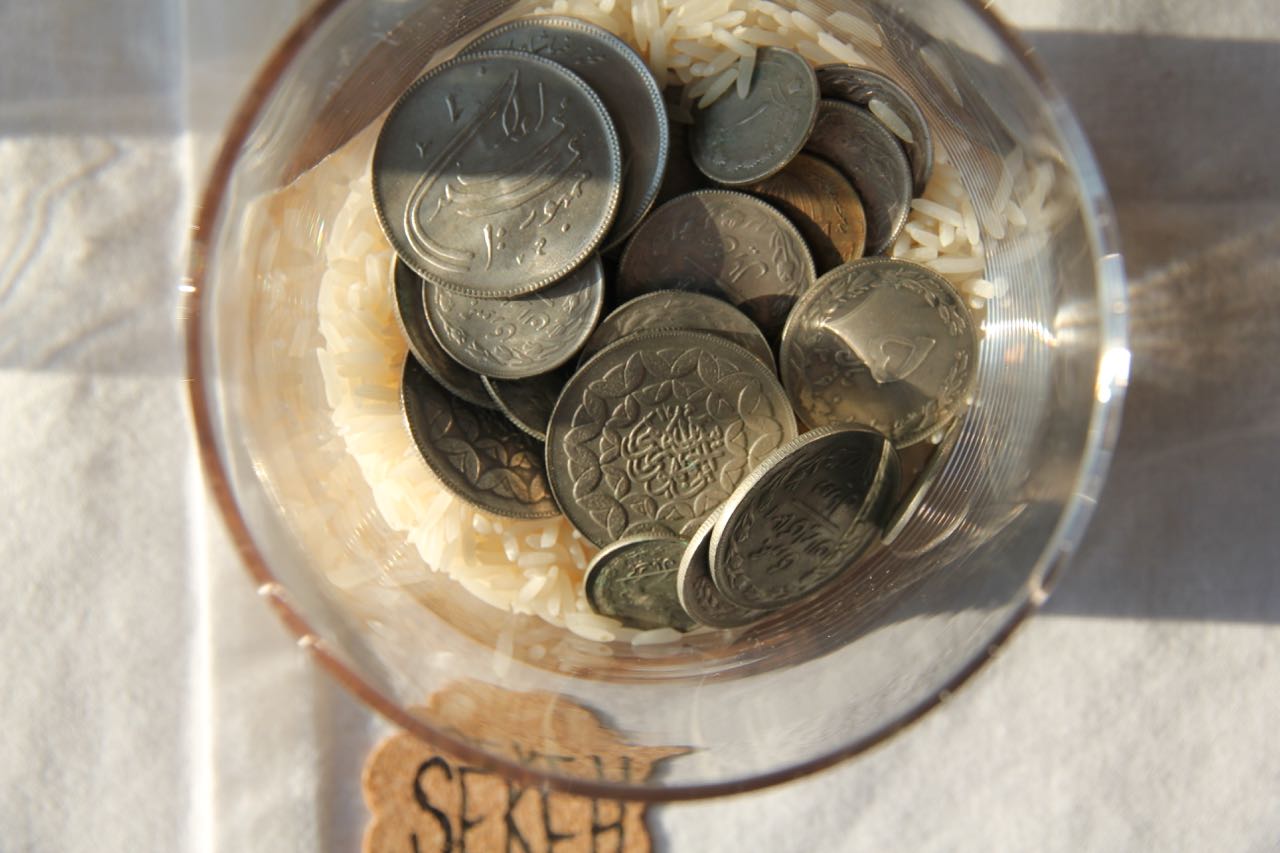 SEKEH
Sekeh, the silver coin symbolizes financial prosperity.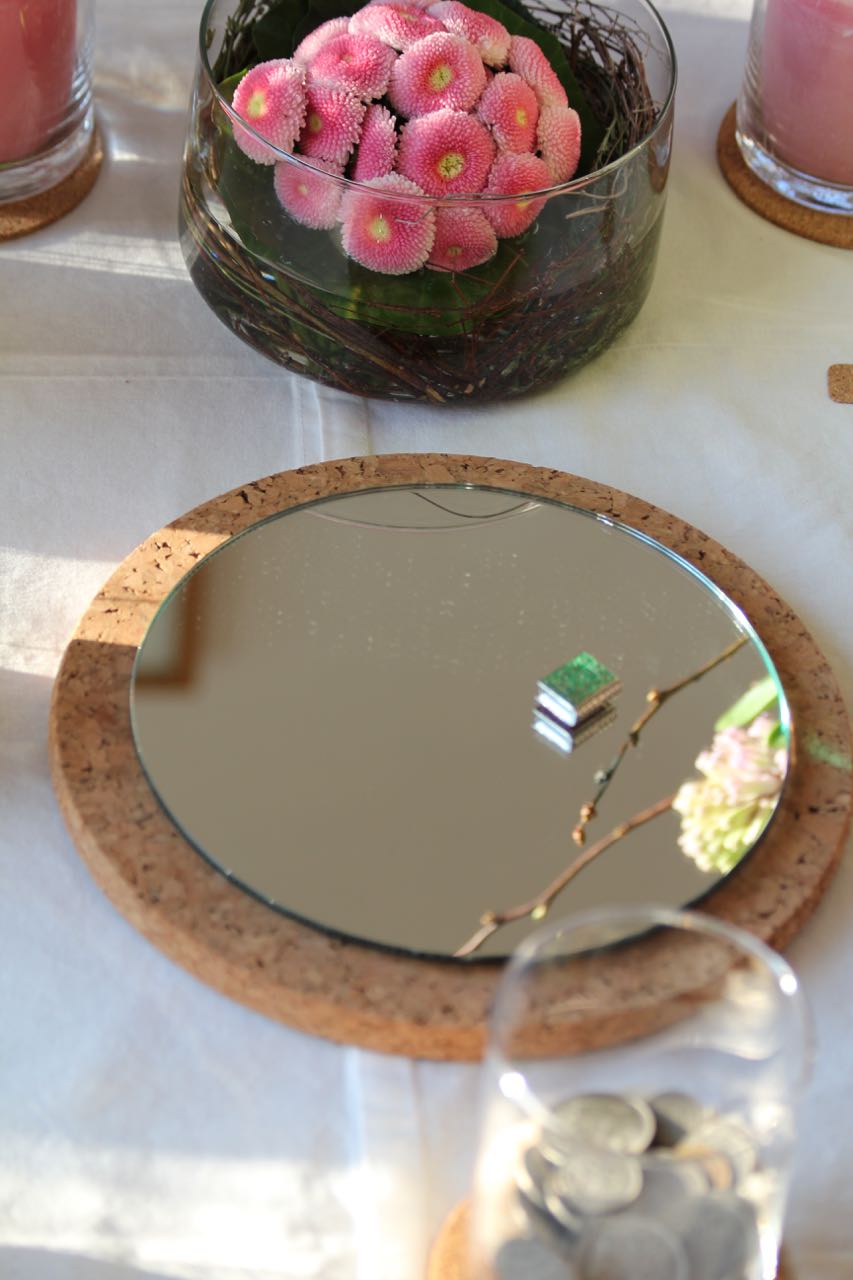 AYENEH
Ayeneh, the mirror symbolizes pureness and honesty.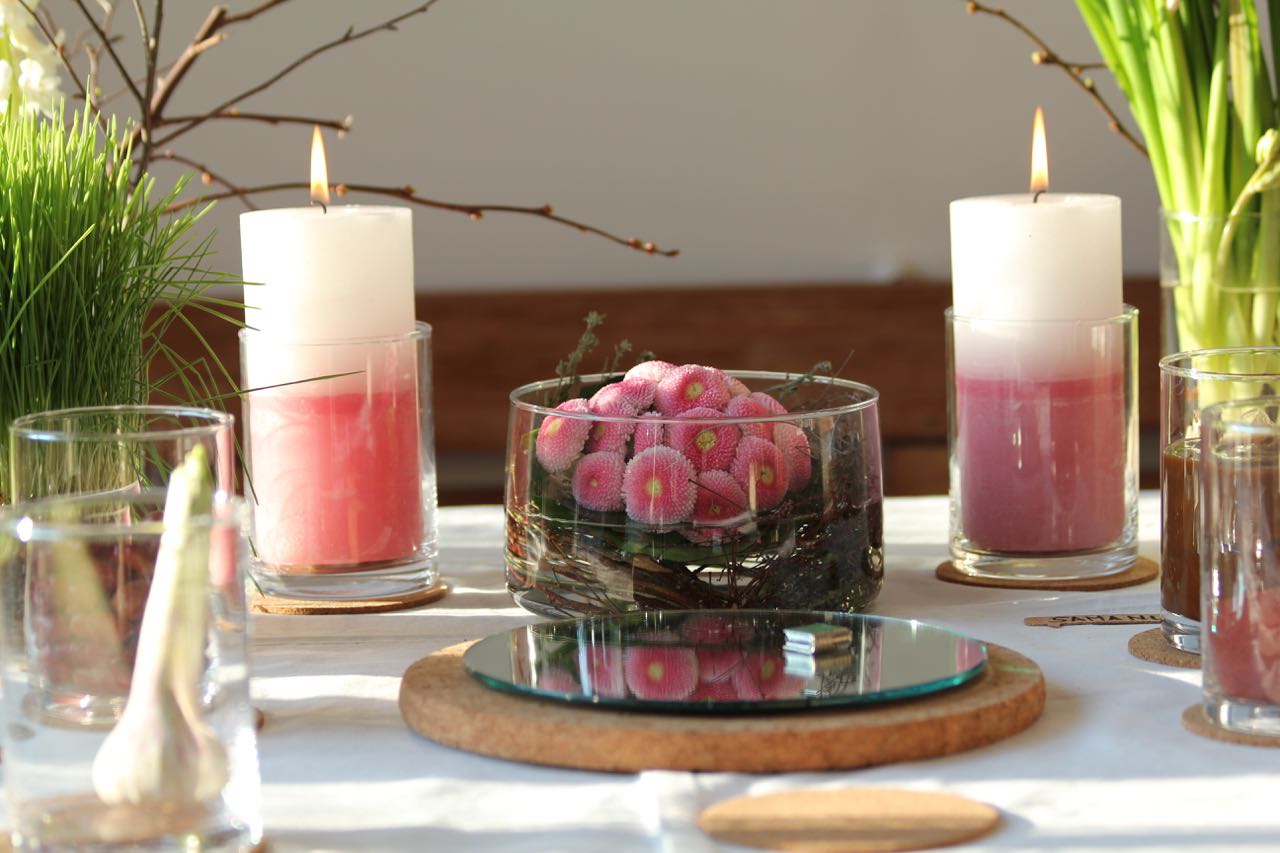 SHAMH
Shamh is the candle that symbolizes sacred fire,
enlightenment, and happiness.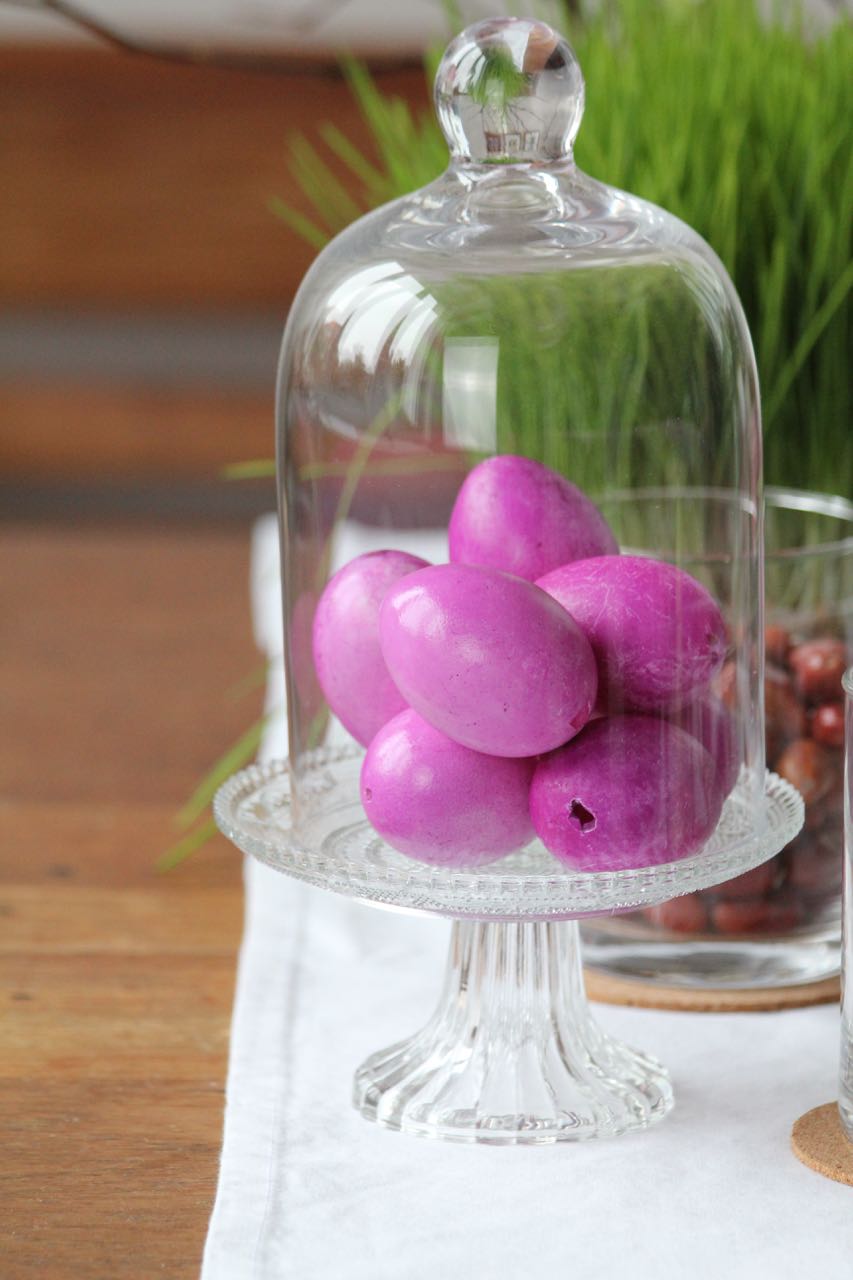 TOKHM-E MORGH
Tokhm-e Morgh is a colorful egg and symbolizes fertility.
I have dyed the eggs with a natural color (cochineal).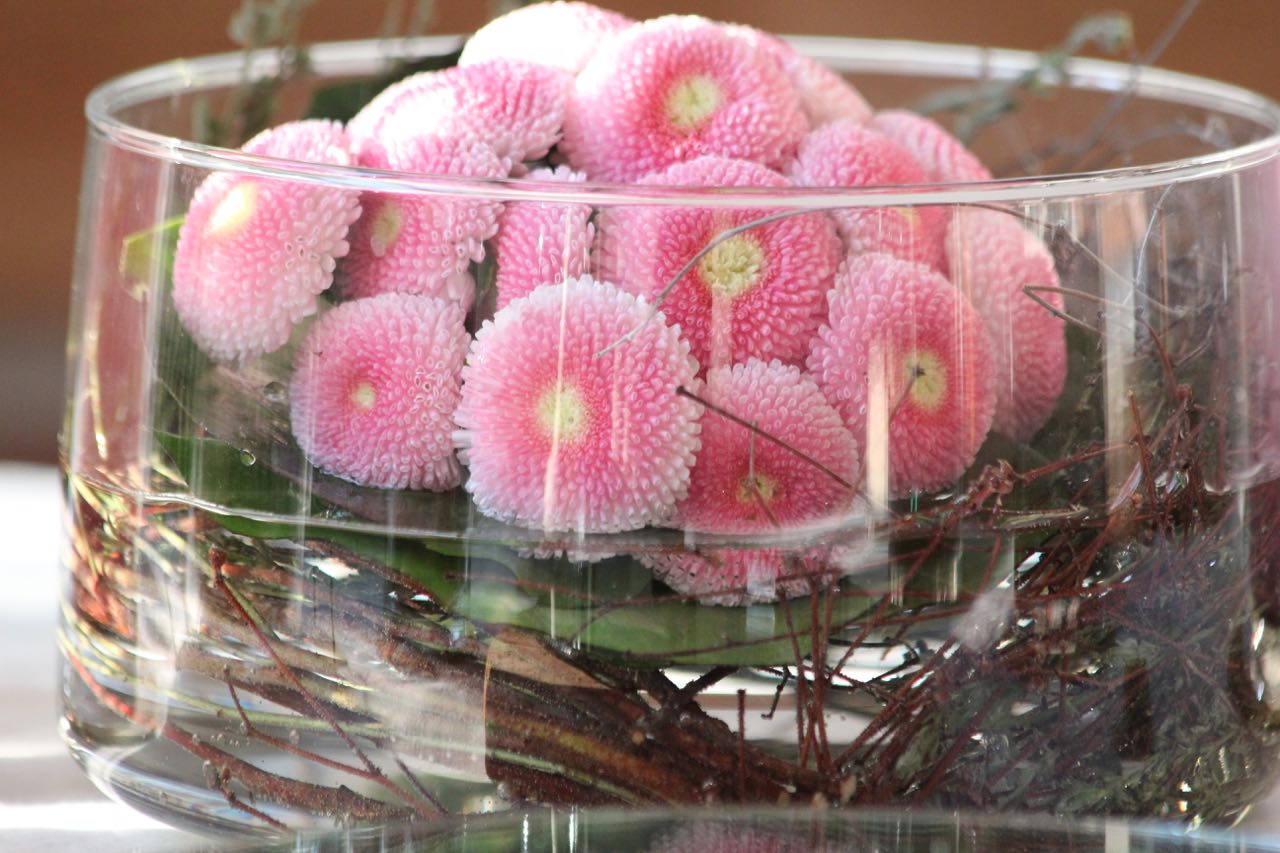 MAHI
Mahi are goldfish in water and symbolize happiness.
After the holidays, you have to put them in a stream or lake.
When my husband and I celebrated Nowrooz together for the first time,
I arrived home with some goldfish for my Haft Sin.
Of course I brought a round jar, the Iranian style I knew from Iran.
My husband was horrified and said that the poor fishes must
swim in circles in such a small glass.
He was not able to accept that.
He took a look at the whole thing for a few minutes and
immediately went to the aquarium dealer.
He asked him if it was acceptable to keep the goldfish in this way.
Of course, he then came home with a large aquarium and all the
accessories and started to set up everything on my Haft Sin.
Please imagine now an aquarium with heater, pump, lamp, etc.
on my beautifully decorated table.
I can still laugh about this today.
Since then, we no longer have goldfish on our Haft Sin.
GOLAB
Golab is rose water, a symbol of spiritual power and purification.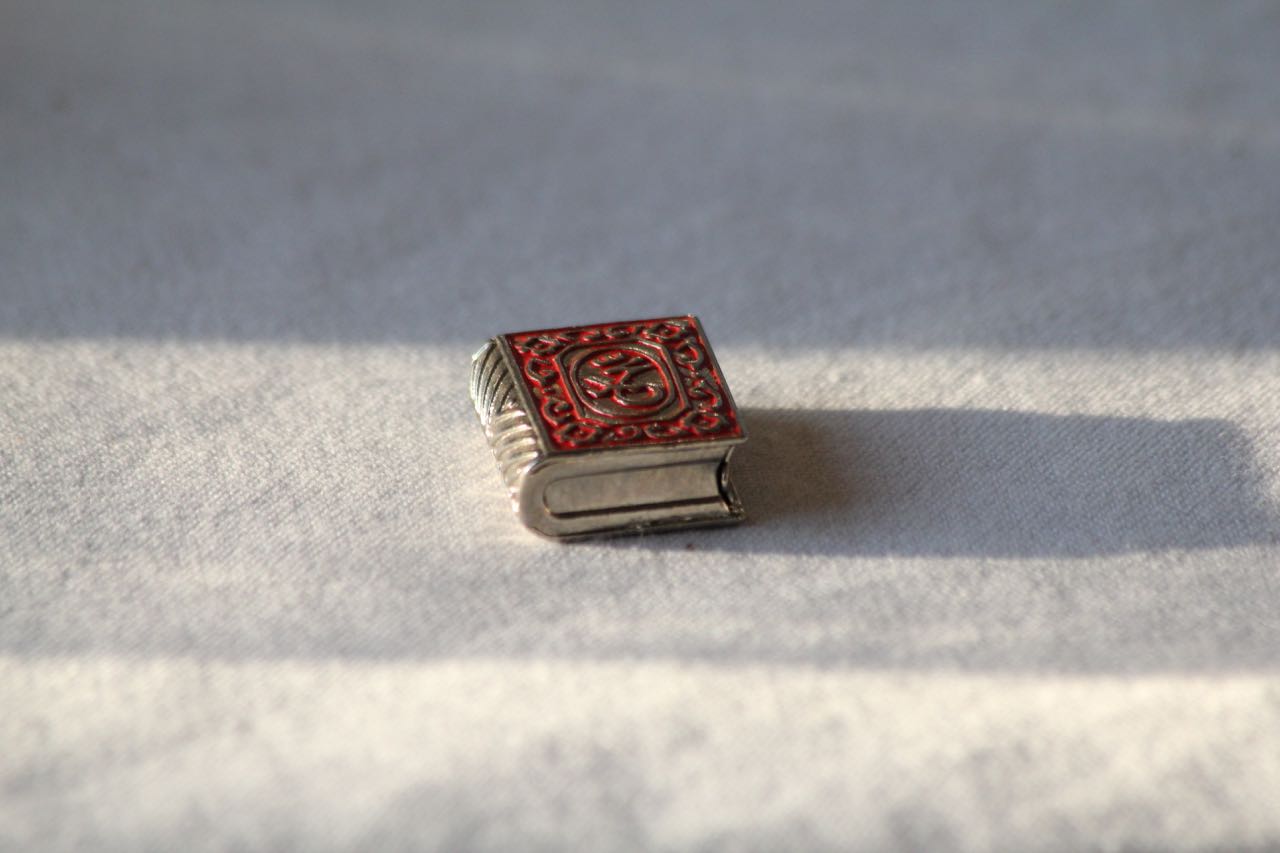 KETAB
Ketab is a book.
It symbolizes wisdom and knowledge.
This can be the Avesta, Shahname of Ferdowsi,
Divan of Hafez or the Koran.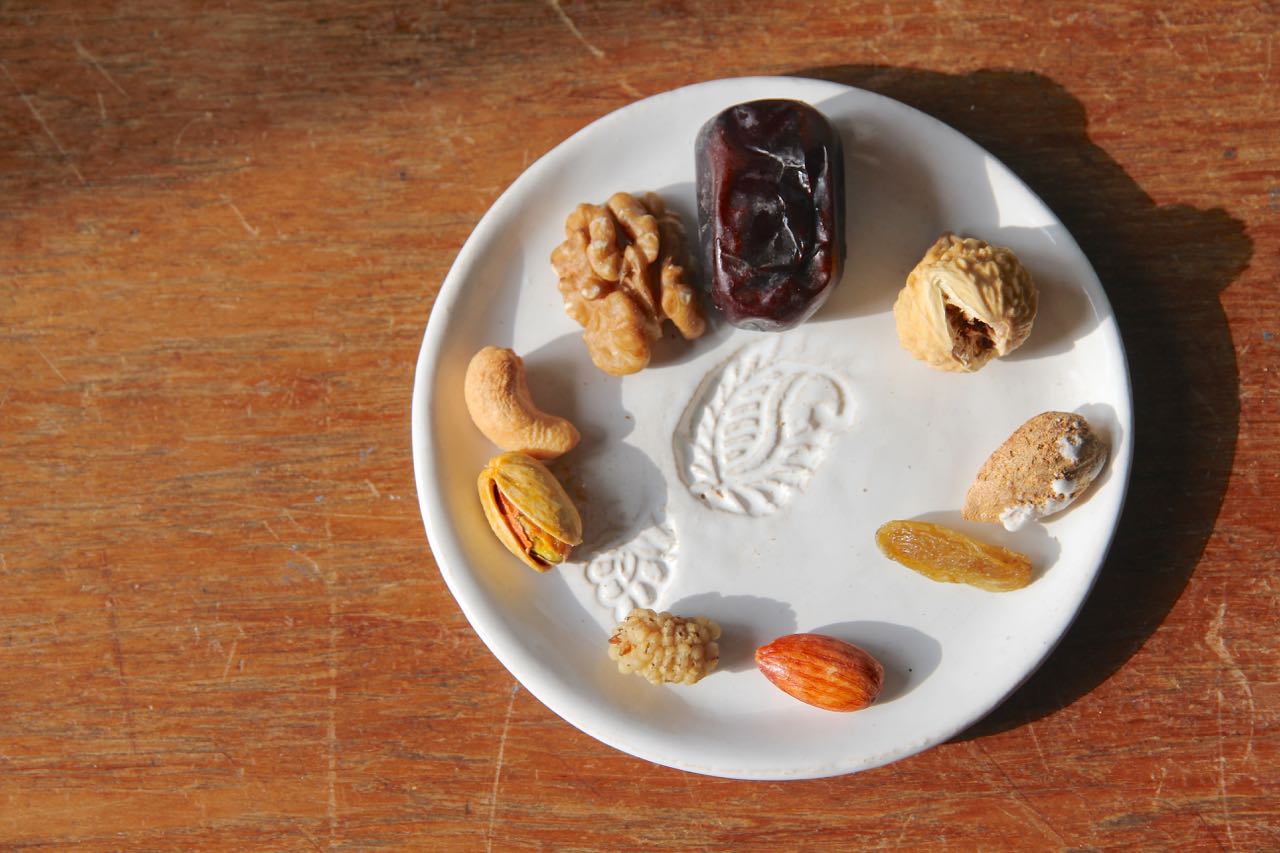 FURTHER ADDITIONS
Usually, the Haft Sin is completed with Toot and Ajil as well.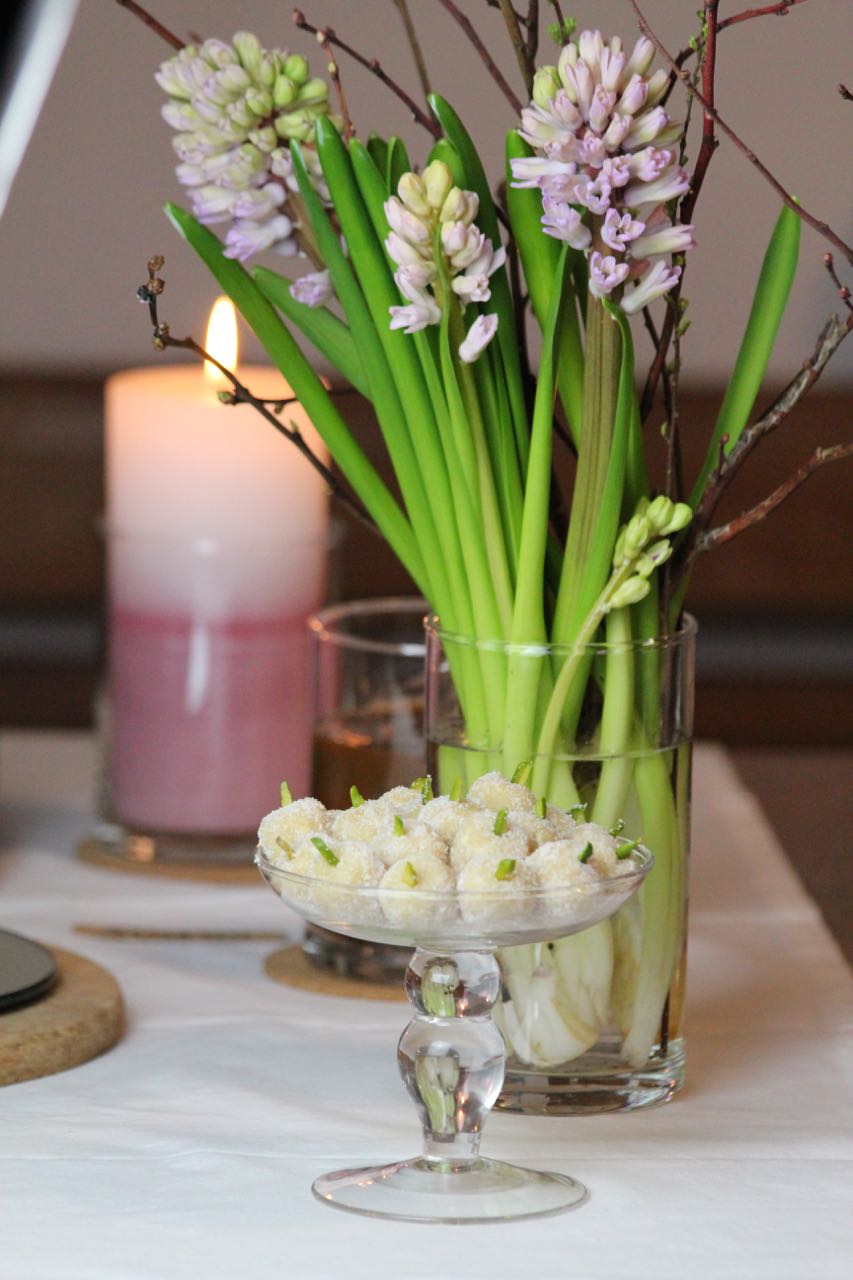 FAMILY MEMBER PICTURES
Besides, we put pictures of family members on the Haft Sin
with whom one cannot celebrate.
I wish all my Persian brothers and sisters
Harozetan Nowrooz, Nowroozetan Pirouz ♦
Haft Sin Impressions 2021 – هفت سین ۱۴۰۰
Haft Sin Impressions 2022  – ۱۴۰۱ هفت سین
Nowrooz Pirooz!
Susan