Cherries ring in the summer for me, whether sweet or sour, as the season begins in June/July. Did you ever hang the most beautiful double or even triple red cherries over your ears right and left, and it made you feel beautiful? This childhood memory is anchored deep in my memory. Tart cherries are a mouthwatering combination in savory stews, and so is my recipe of today, Khoresh-e Albaloo – Lamb meatballs in sour cherry sauce خورش آلبالو. In this dish, tart cherries stand in the spotlight and complete the taste of the lamb meatballs. The preparation is simple, super quick, and will blow you away.
THINGS TO KNOW ABOUT SOUR CHERRIES
Sour cherries suit a few people, as they have an astringent (astringent) effect and create a tart flavor. But combined with sugar, they develop an irresistible sour-sweet touch. If you want more information on the health benefits of sour cherries, check out this recipe Khoresht-e Albaloo ba Morgh – One Pan Chicken with Sour Cherries. And if you're lucky and own a sour cherry tree in your garden, I bet you're looking for some fancy dishes with sour cherries. I wonder if you know any other savory dishes with sour cherries? I am glad to receive your comments.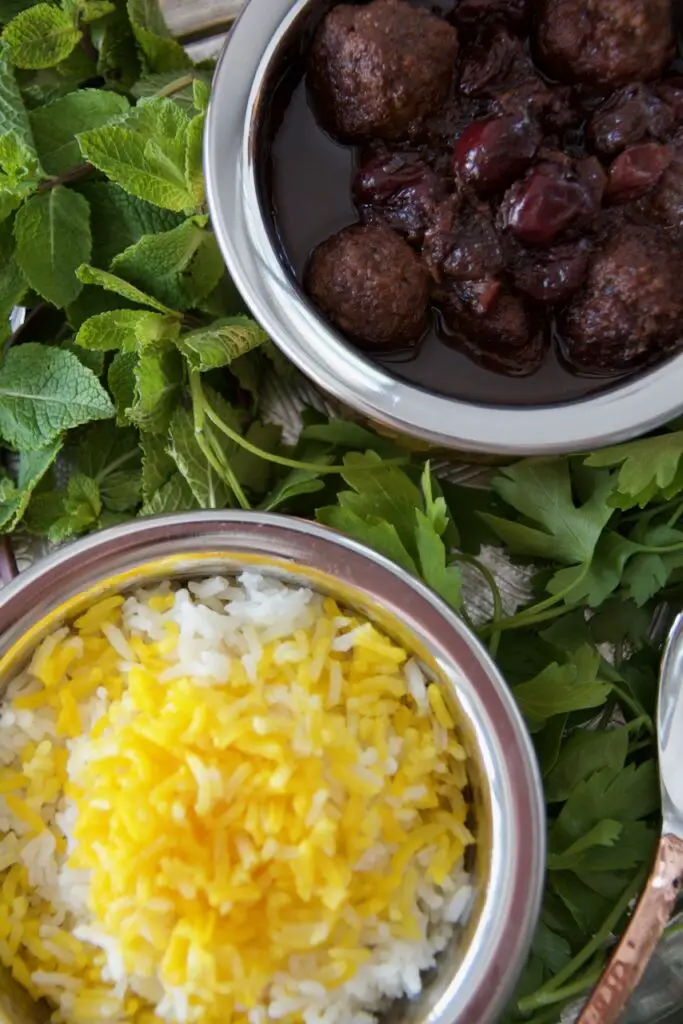 MORE RECIPES WITH SOUR CHERRIES
My favorite way to prepare sour cherries is to make Morabay-e Albaloo – Sour Cherry Jam or Sharbat-e Albaloo – Sour Cherry Lemonade. But I also like savory dishes made with them, such as Albaloo Polo – colorful sour cherry rice and Khoresh Albaloo ba Morgh – one pan chicken with sour cherries. A dessert in the form of sour cherry cheesecake ice cream also can be found on my blog. In Iran, we serve a dish called Khoreshe-e Sib ba Albaloo made of apples and sour cherries. Another dish is Khoresht-e Albaloo ba Beh, and we prepare this dish with sour cherries and quinces. Gheymeh Albaloo is also a great dish with sour cherries that includes much more spices, and we serve it with potato sticks. Check out the traditional Khoresht-e Gheymeh recipe.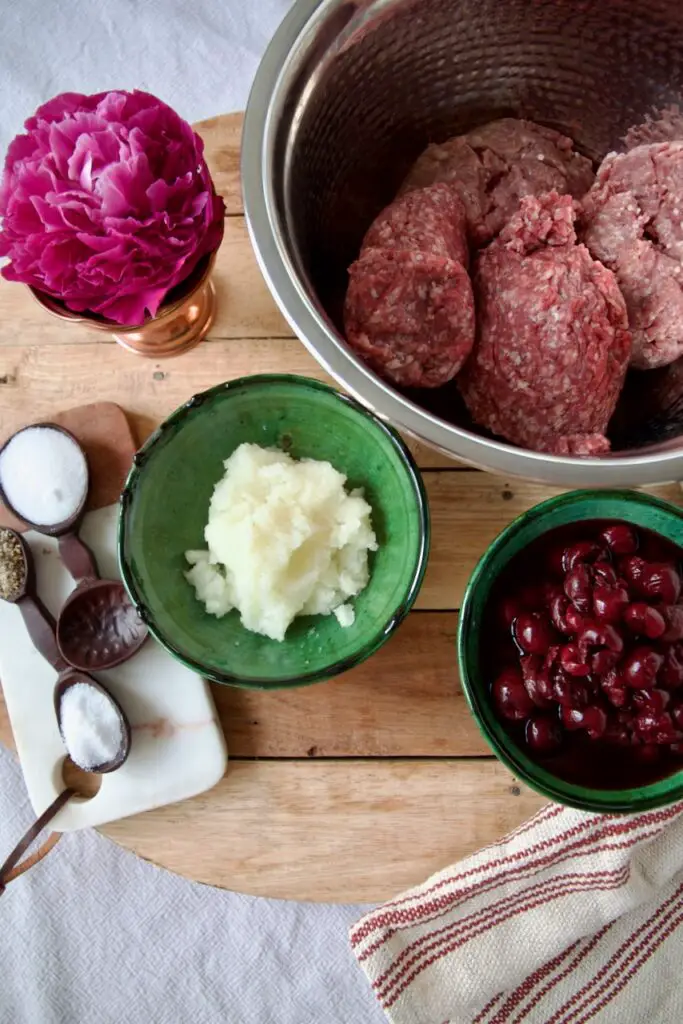 INGREDIENTS KHORESH-E ALBALOO
400 g sour cherries
4 tbsp sugar
1 onion
500 g minced lamb
1 tsp turmeric*
salt, pepper
2 tbsp butter
Tomato or pomegranate paste* (optional)
TOPPING
2 tbsp pistachio or almond sliver*
PREPARATION KHORESH-E ALBALOO
Wash the sour cherries, dry them well, and pit them. Place sour cherries in a pot with 1/4 liter of water and sugar and simmer for 10 minutes. The cherries are to stay in one piece and should not break up. Set aside.
Peel and finely grate the onion, and then discard the onion water, mix well with the minced lamb and spices. Roll the minced meat into small balls and fry them in oil. Add the juice of the sour cherries to the meatballs. Sauté the sour cherries in butter, add them to the meatballs, and simmer for another 15 min. If the stew is still tangy, adjust it to your taste with some added sugar. Since the dish is ready in 30 minutes, the sauce will not become as thick as in stews that simmer for a long time. If the sauce is a bit runny, add two tablespoons of tomato or pomegranate paste to thicken.
TOPPING (optional)
Pistachio or almond slivers add color (optional).
This dish goes well with Persian rice and dugh.
BEFARMAYID!
Susan
The items marked with * are affiliate links, referral links. If you buy through this link, I get a small commission. The price stays the same for you and you can easily support my efforts. A big thank you ♥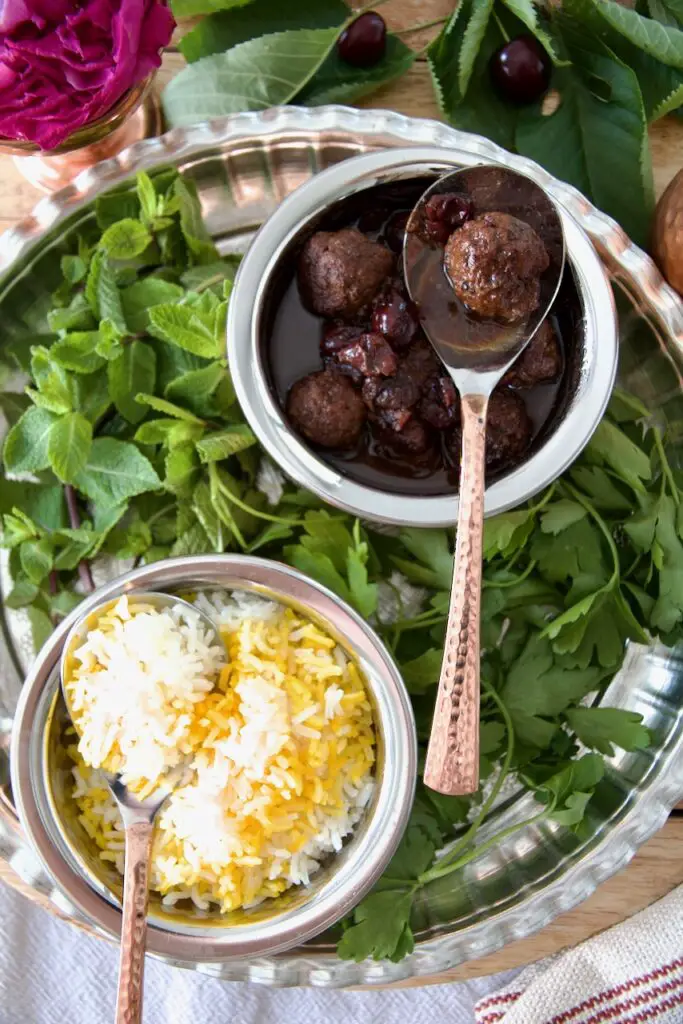 Save the recipe for later on Pinterest!
Have you cooked this or maybe another delicious recipe of mine? Feel free to leave me a comment below. If you tag your picture on Instagram with @labsalliebe  and use the hashtag #labsalliebe, I won't miss a post and will be happy to leave you a comment as well. Can't wait to see your creations.
♥♥♥♥♥♥♥♥♥♥♥♥♥♥♥♥♥♥♥♥♥♥♥♥♥♥♥♥♥♥♥♥
This website is created by me at my leisure, under the proper use of coffee 🙂. If you like my posts, make me happy by donating one or a few cups of coffee!
♥♥♥♥♥♥♥♥♥♥♥♥♥♥♥♥♥♥♥♥♥♥♥♥♥♥♥♥♥♥♥♥
Sign up for my newsletter, and I'll email you my latest recipes, travel reports, and trends once or maybe 2x a week for free.