A healthy Snack
In my homeland Iran
we use to pop the squash seed in our mouth,
we crack the salty outer shell between our teeth,
now crack carefully bit by bit backwards.
seperate the inner seed from the shell
use your tongue and your teeth to pull them apart.
Crack!
Mmmmmh!
The salty taste on my lips and the nutty flavour
remember me of my childhood.
When we were going to the cinema in Teheran,
we took all kinds of seeds with us.
The sunflower seeds were the favourite ones,
secondly the squash seeds.
Imagine one hundred people sitting in the cinema
and cracking the nuts.
This was a special crack concert.
The best is yet to come.
At the end of the film we walked on a
carpet of sunflower- and squash seed shells.
This feeling under my feet and the cracking of the shells
were all part of the fun.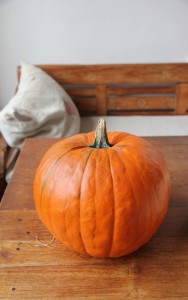 After our wonderful walk in Odenwald
we continued our tour to Einhausen
to the Einhäuser Pumpkin farm of the Würsching family.
Our little one had to make a decision.
That´s not easy when you have a choice of 150 different sorts.
Which one of those wonderful pumpkins shall I take for Halloween?
He picked out this one.
Now we can start preparing the roasted squash seeds.
He had a lot of fun digging with his hand
into the squash reaching for the slimy seeds.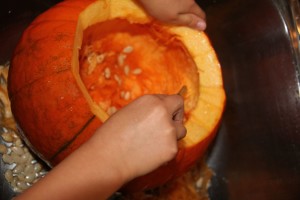 INGRIDIENTS ROASTED PUMPKIN SEEDS 
seeds from 1 squash
1 Tablespoon sea salt
PREPARATION ROASTED PUMPKIN SEEDS
cook the squash seeds in a pot of water with 1 teaspoon salt.
Bring it to boil and reduce the heat to simmer for about 10 minutes.
Preheat the oven on 400 Fahrenheit/200°.
Drain the seeds in a colander and dry lightly with a tea towel
Spread seeds onto a baking sheet and
add a generous sprinkle of sea salt,
roast seeds for  at 200°
for about 10 – 15 minutes until golden brown
Keep your eye on it – Roast the seeds without burning them
When golden brown remove from oven
and let them cool out.
If you prefer sweet roasted squash seeds.
look here
https://labsalliebe.com/blog/suess-geroestete-kuerbiskerne/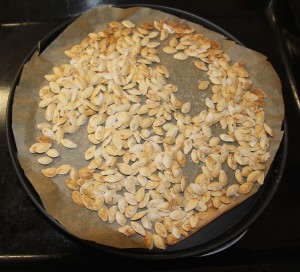 Either crack them from the outer shells or
like my husband and kids
eat them whole, along with the shells.
I prefer the small squash seeds
as they taste better, than the bigger pumpkin seeds,
they taste like straw.
Ugh.
Crack, Crack, Crack.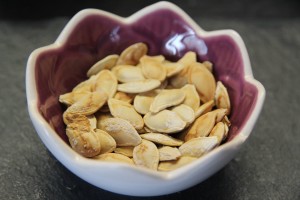 Health Benefits of Squash Seeds 
Reduces Cholesterol
L-Tryptophan lifts the mood
complaints of the bladder
complaints of the prostate
A handful of seeds every day protects.
Befarmayid
Susan