Autumn has been mild so far in Germany, but now it's here and it s time to heat the oven again. Pumpkin is one of the healthy autumn favorites! But it doesn't always have to be the Hokkaido pumpkin, so why not try the butternut squash? When the aroma of Hasselback butternut squash with feta, pistachio pesto, and pomegranate seeds spreads throughout the kitchen, an autumn feel-good feeling is sure in very quickly. Doesn't it look colorful on the plate? I love the colors. It is also proven that the more colorful it looks on your plate, the healthier your food is. My recipe is really easy peasy, quick to prepare, low carb, vegetarian and perfect as an after-work dinner.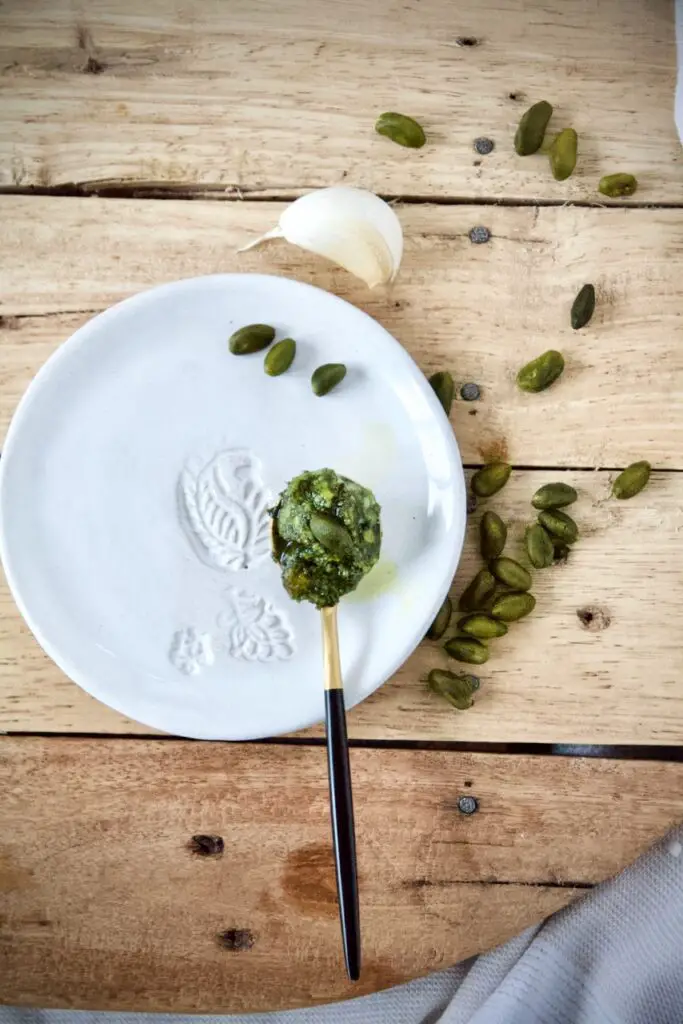 WHAT IS HASSELBACK?
Hasselback is a preparation method originally used for potatoes and is known as Hasselback potatoes. But you can also cut any vegetable or fruit, even meat a la Hasselback, such as potatoes, sweet potatoes, carrots, beet, tomatoes, zucchini, apple or chicken to name a few. There are no limits to your creativity or imagination. This preparation method requires the whole vegetable or meat to be cut very thinly and almost to the bottom. It is then brushed with oil or/and butter, seasoned and roasted in the oven until crispy. It looks really nice and tastes delicious too.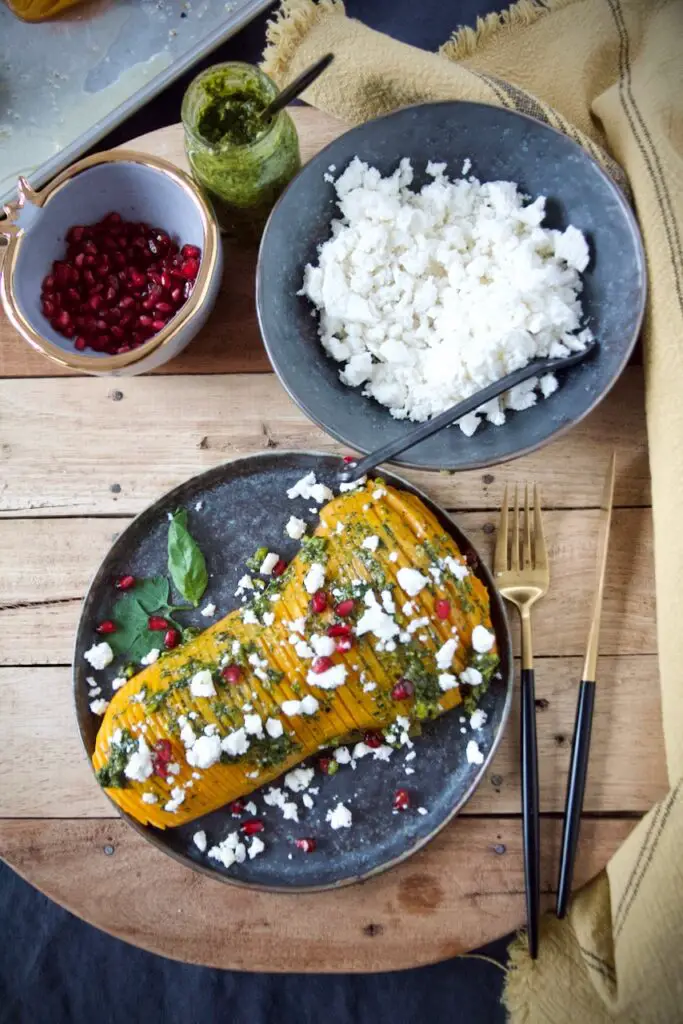 WHO INVENTED THE HASSELBACK METHOD?
In 1953, the Swedish chef Leif Elisson served his guests at the Hasselbacken restaurant in Djurgården, thinly sliced and roasted potatoes. In this way, he raised the potato to its next level. Since the restaurant was called Hasselbacken, the potato became famous as the Hasselback Potato. The news spread quickly, no wonder as it looks beautiful and tastes delicious too. Also today, the potato a la Hasselback is baked world-wide. Mr. Elisson can be proud of his amazing recipe going around the world. Few manage to develop a fantastic signature dish out of a simple potato.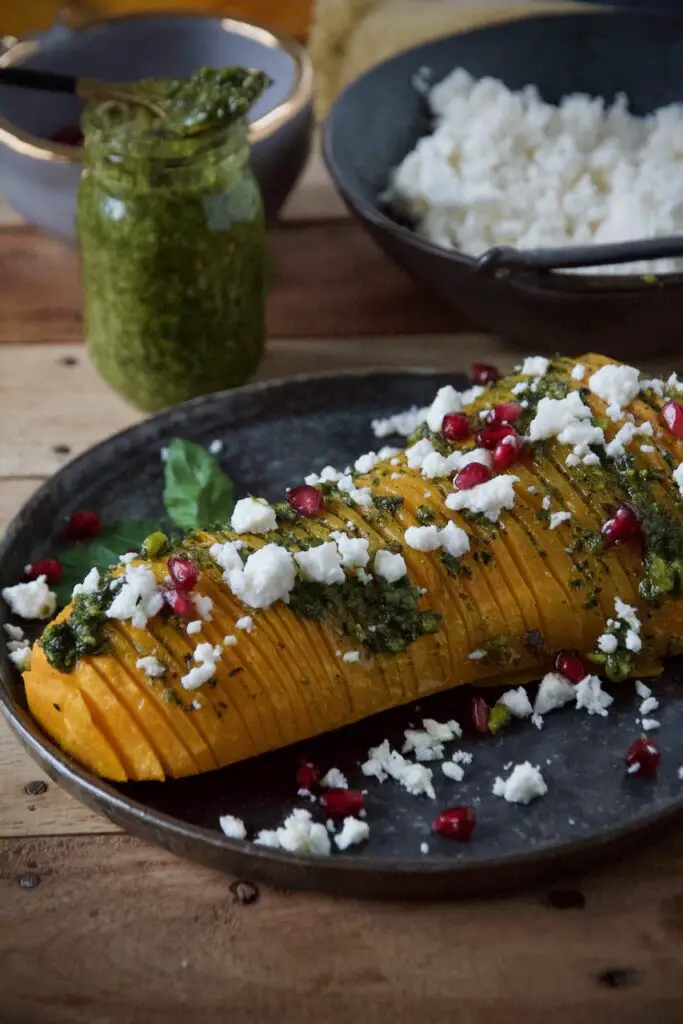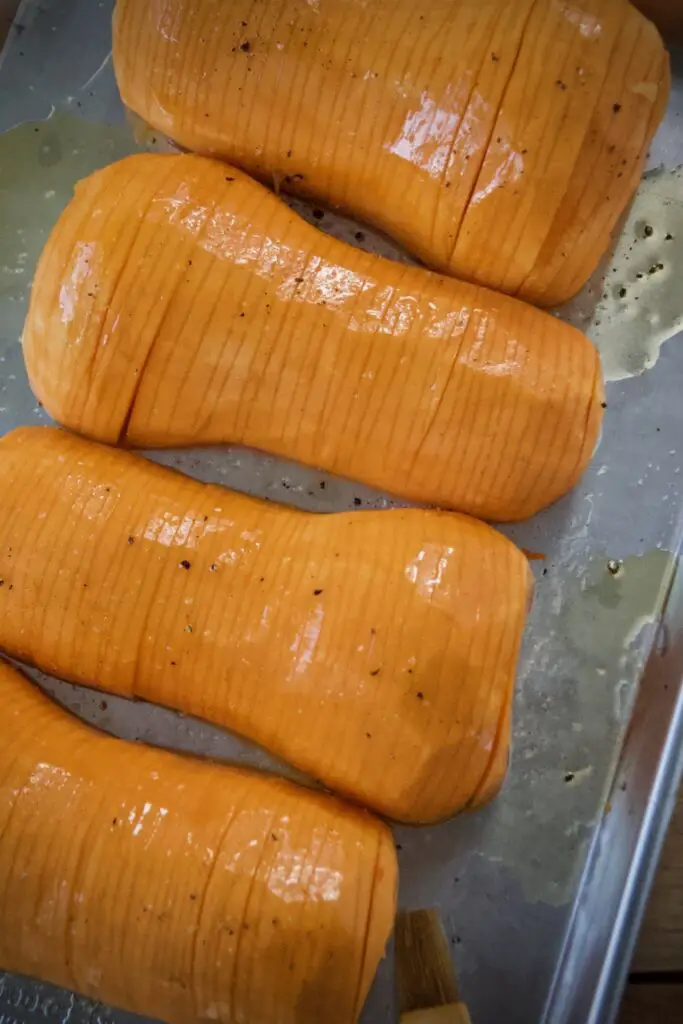 HOW TO HASSELBACK
There is a simple trick in order to Hasselbacking. Place two chopsticks or wooden spoons to the right and left of your vegetables and cut them evenly. The chopsticks will prevent you from cutting all the way through. It also works great if you use two wooden cooking spoons or pencils. Cut the butternut squash a la Hasselback and roast in the oven with oliveoil, salt and pepper. For a real eye-catcher, you can also leave the stems just attached. Once the butternut squash is roasted, add some feta cheese and a bit of my homemade pistachio pesto. You can find the recipe for the pistachio pesto here.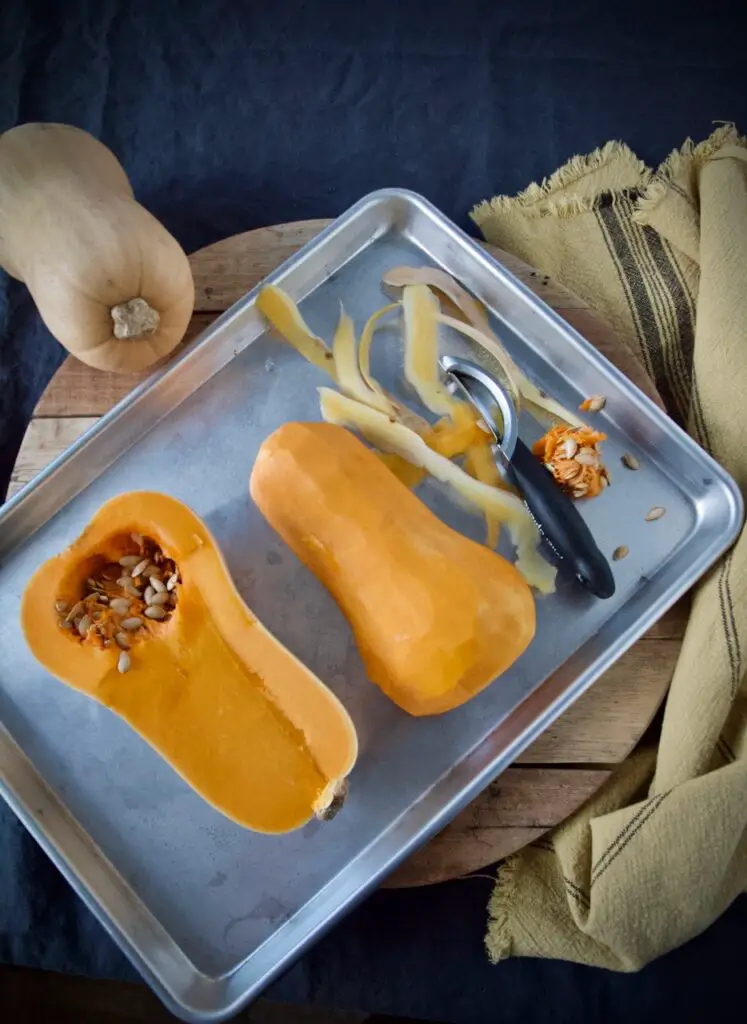 INGREDIENTS HASSELBACK BUTTERNUT SQUASH
2 butternut squashs*
4 tablespoons olive oil*
salt, pepper
TOPPING
300 g feta cheese*
200 g pomegranate seeds*
PREPARATION HASSELBACK BUTTERNUT SQUASH
Preheat the oven to 200°.
Cut butternut squash lengthwise in half, remove seeds and peel by using a sharp peeler. Place squash halves with cut side down on a cutting board. Lay a chopstick or wooden spoon on eather side of the butternut squash and use a sharp knife to cut the squash a la Hasselback.
Transfer squash halves on a baking sheet lined with parchment paper, brush with olive oil on both sides even the space between each slice, and season with salt and pepper. Roast in the preheated oven for 45 minutes.
In the meantime prepare the pistachio pesto, find the recipe here.
Remove butternut squash from oven, place one half on each plate and spread with pistachio pesto. Crumble with feta cheese and top with pomegranate seeds. Serve immediately.
BEFARMAYID!
Susan
The items marked with * are affiliate links, referral links. If you buy through this link, I get a small commission. The price stays the same for you and you can easily support my efforts. A big thank you ♥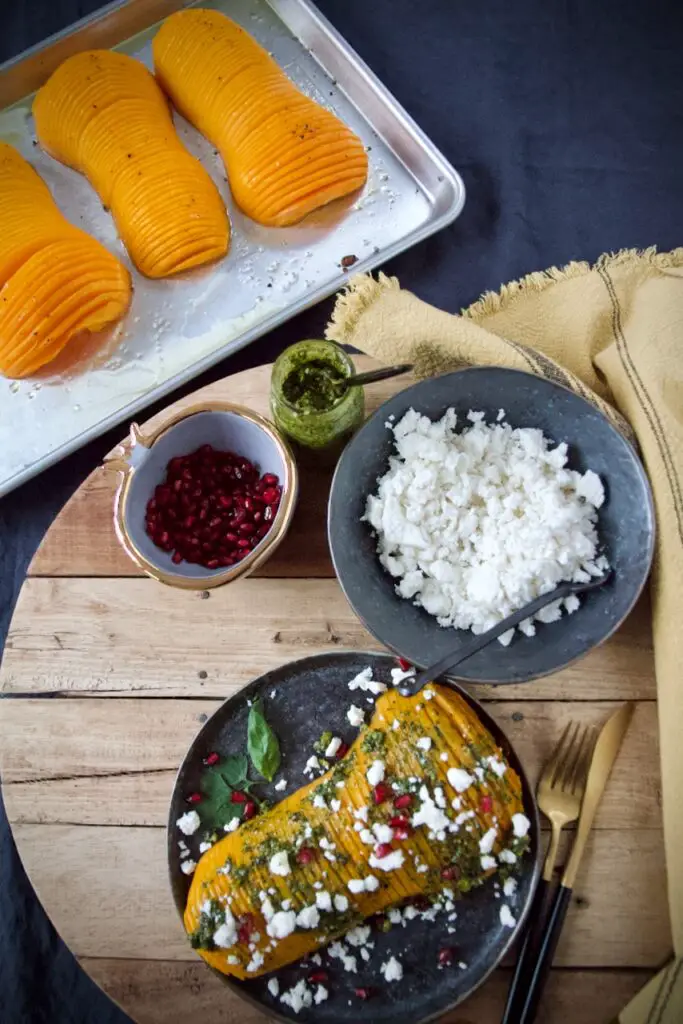 Save the recipe for later on Pinterest!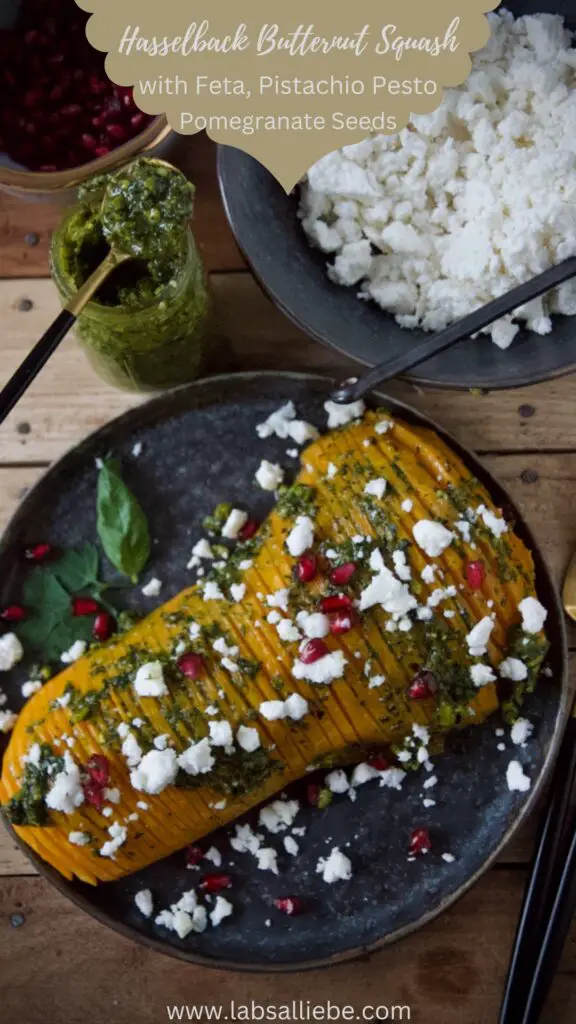 Have you cooked this or maybe another delicious recipe of mine? Feel free to leave me a comment below. If you tag your picture on Instagram with @labsalliebe  and use the hashtag #labsalliebe, I won't miss a post and will be happy to leave you a comment as well. Can't wait to see your creations.
♥♥♥♥♥♥♥♥♥♥♥♥♥♥♥♥♥♥♥♥♥♥♥♥♥♥♥♥♥♥♥♥
This website is created by me in my leisure under proper use of coffee 🙂 If you like my posts I would be happy if you donate me one or a few cups of coffee!
♥♥♥♥♥♥♥♥♥♥♥♥♥♥♥♥♥♥♥♥♥♥♥♥♥♥♥♥♥♥♥♥♥♥♥♥♥
Sign up for my newsletter and I'll email you my latest recipes, travel reports and trends 1 at most 2x a week for free.