Do you like to cook Moroccan?
There`s nothing like a Moroccan or
North African Homemade Ras el Hanout Spice Mix.
Each family has their unique secret blend.
If you don´t have all of the spices, don`t worry!
You can leave out some spices because spice mixes are pretty forgiving.

To ensure a fuller flavor, try to purchase whole spices and grind them yourself.
I use the Ad Hoc – Herb & Spice Slicer Aroma
to get a really fresh taste of the spices.
Whole spices last longer, and you can be sure there are
no other add-ins as in ground spices.
You`ll never buy the spice again at the grocery store.
I prefer the ayurvedic organic spices.

This is my favourite blend
I love this warm scent of spices hanging around my kitchen.
Try to purchase whole spices.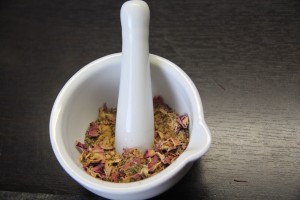 INGREDIENTS HOMEMADE RAS EL HANOUT 
for 50 g  Homemade Ras el-Hanout
2 tsp cinnamon
2 tsp Turmeric
3 tbsp cumin
2 tsp long pepper
2  tsp tellicherry pepper
2 tbsp coriander seeds
2 tsp freshly gratet nutmeg
2 tbsp ginger powder
8 cloves
2 dried maces
2 bay leaves
2 g saffron threads
4 cardamom capsules
3 tsp rose blossoms
2 dried chilli peppers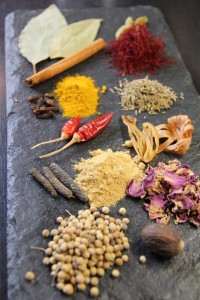 PREPARATION HOMEMADE RAS EL HANOUT
Ground the nutmeg.
Carve the cardamom capsules and scratch out the small black seeds.
Spices can benefit from a slight toasting before grinding to bring out their flavors.
All you need is a small pan.
Heath the pan, add cumin, Cubeb pepper and black pepper,
the cardamom seeds, the cloves and give the pan a shake.
Toast for 2-3 minutes, till the sensual, aphrodiasic teasingly scent
brings a touch of Morocco in your kitchen and your daily routine.
Watch out that the spices do not burn or get brown.
Remove the spices from the pan and allow them to cool off completely.
Grain the bay leaves in a spice mill.
Add the spices from the pan and the other spices to the spice mill and
grind until very fine.
Combine all spices and place into an airtight container.
You can use Ras el Hanout in marinades,
as a rub for meat or vegetables,
in stews or tajines.
Some believe in its aphrodisiac effect.
Here are a couple of other recipes for you to try
Roastet spiced oriental Pumpkin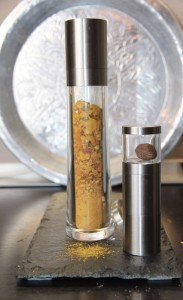 Befarmayid
Susan
Do you also have a homemade spice blend?