Now we say goodbye to summer and welcome fall with this 
Roasted oriental spiced Pumpkin
It´s time for pumpkins.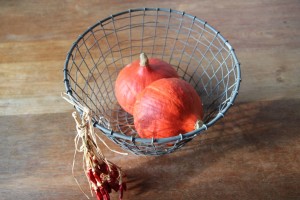 During our visit to the Pumpkinfarm
we bought some hokkaido squashes.
They gave me a hot tip.
In the past I washed and cut the Hokaidopumpkin right away,
but with his advice this is really easy to go for.
Just leave the whole Hokaidopumpkin for
5-10 minutes in the hot oven and take it out.
Now you cut the pumpkin in half and reach in for the seeds,
either with your hand or with a table spoon.
You can rinse them and roast them.
Don`t throw them away.
Don't waste anything.
Use everything
Do not peel and cut into slices.
Here you  find some Recipes for sweet or salty roasted squash seeds.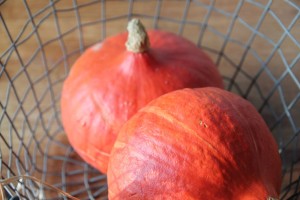 INGREDIENTS ROASTED ORIENTAL SPICED PUMPKIN
1 Hokaido squash
3 red onions
2 teaspoon Ras el Hanout Spice
here you find a Homemade recipe
3 table spoon Olive oil
Sour Cream
Salt and Pepper
PREPARATION ROASTED ORIENTAL SPICED PUMPKIN
Preheat the oven 180°C/ 375°F.
Mix 3 table spoon olive oil with 2 teaspoon Ras el Hanout.
Bath the squash slices in a big bowl.
cut the onions into slices.
Transfer the  all your slices on a baking sheet covered with parchment paper.
Bake for approximately 15-20 minutes in the oven,
till the squash is tender.
Add salt and pepper to the sour cream,
serve with the hokkaido slices.
Now enjoy a really healthy and tasty dish.
To your health!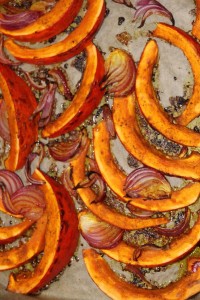 HEALTH BENEFITS PUMPKIN
Beta-Carotene have an immune strengthening and
cancer prevention effect due to the anti0xidants
helps to balance the level of blood sugar
assists in healthy weight loss
has a satiating effect owing to their high fibre content
Befarmayid
Susan