Sweet roasted squash seeds are tasty, healthy, and really easy to make at home.
I roasted the spaghetti squash seeds from this recipe:
roasted spaghettisquash with Tomato-Fetacheese-Topping
You can use any other squash seeds.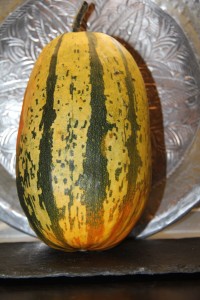 INGREDIENTS SWEET ROASTED SQUASH SEEDS
4 tbsp squashseeds
1/2 tsp chili
1 tsp coconutoil
2 tsp honey
1/2 tsp cinnamon
1/2 tsp nutmeg
1 tbsp raw sugar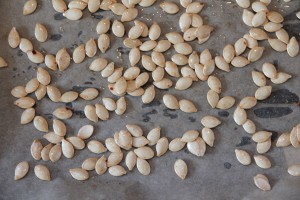 PREPARATION SWEET ROASTED SQUASH SEEDS
Preheat your oven on 200°
Reach in for the seeds, either with your hand or with a table spoon.
You can rinse them and dry them with a cloth.
Don`t use a kitchen roll, as the paper will stick to the seeds.
Melt the oil in a pan – please don`t fry the oil.
Add the spices and honey.
Mix the seeds with the spicy oil mixture.
Spread the seeds onto a baking tray and
sprinkle with raw sugar,
then roast them at 200° for
about 15 minutes until golden brown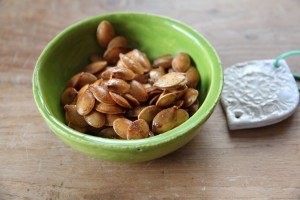 Health Benefits of Squash Seeds
Reduces Cholesterol
L-Tryptophan lifts the mood
complaints of the bladder
complaints of the prostate
A handful of seeds every day protects already.
 Maybe you prefer salty roasted squash seeds .
Befarmayid
Susan